2020 Winter Institute Scholarship Run/Walk
Description
Join your classmates for an afternoon fun run/walk to raise money for Institute Scholarships!
Last year we had 57 people participate and raised over $1,300 for the scholarship fund!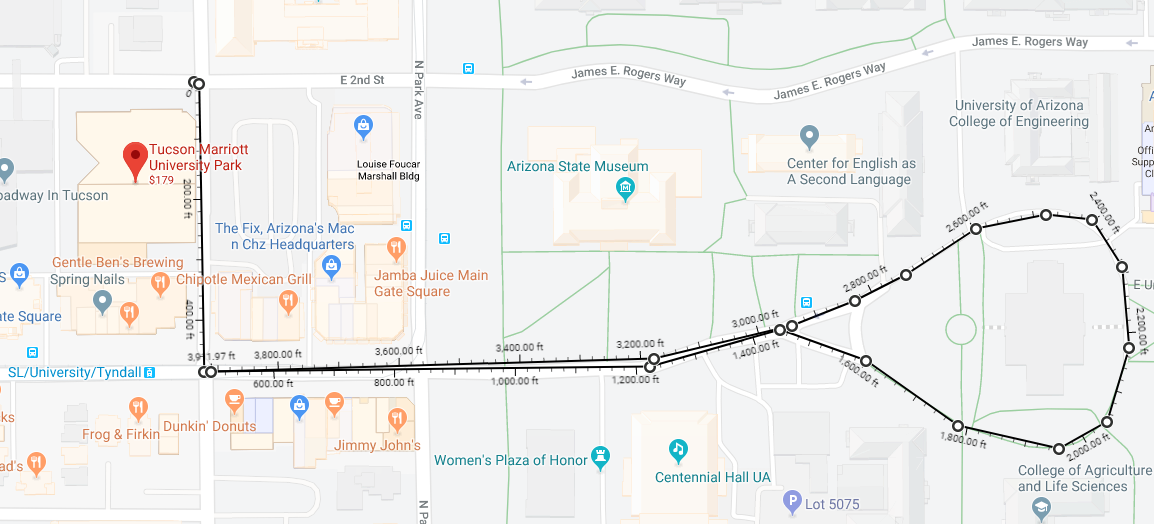 NOT A RUNNER?? NO PROBLEM! Sign up for our 1 mile walk (see map above), utilizing Tyndall, University, around the "fountain loop" (College of Letters, Arts and Science) and back to the hotel where we started. OR....be a part of the Sloth Club and make a donation to the scholarship fund by going to the ticket section of this eventbrite link.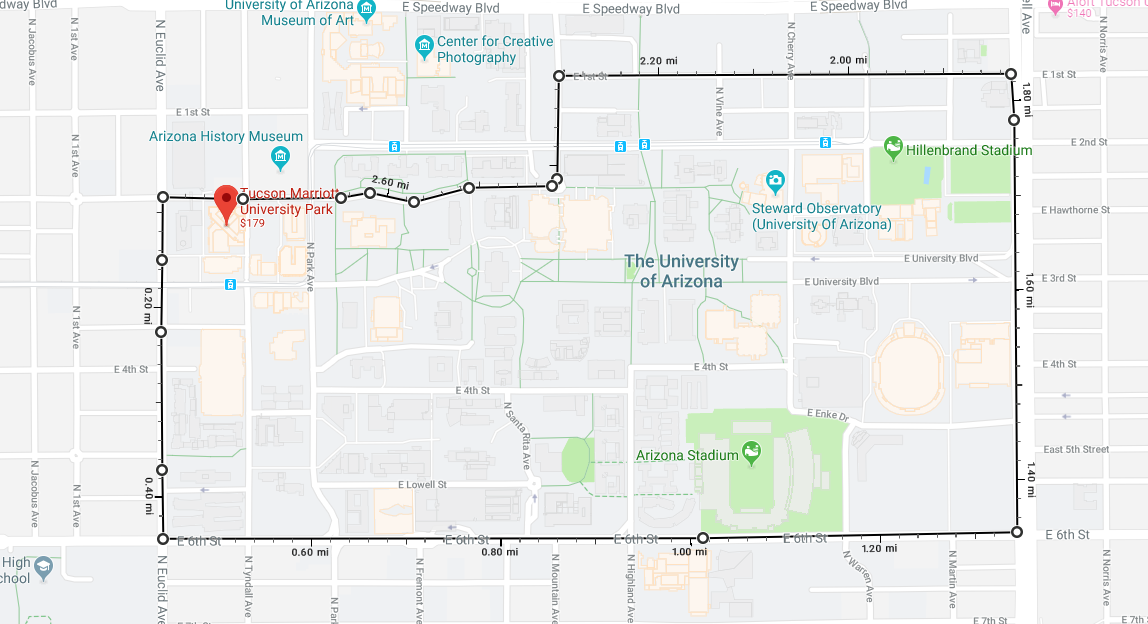 5K route for 2020, utilizing (in order) 2nd Street, Euclid, E. 6th Street, N. Campbell, E. 2nd Street, Park Avenue, then back onto 2nd street to the hotel.. This is approximately 4.25 Km, but the safest route and starts and finishes from the Tucson Marriott University Park Hotel.

The cost for EITHER of the 2 events is $30 per person, which includes a T-shirt (IF pre-registered by December 10th, 2019). YOU DO NOT HAVE TO BRING YOUR EVENT TICKET.
NO REFUNDS.

Top 3 male and female runners receive a $25 gift card to local eating/drinking establishments!

ADVANCED REGISTRATION (FREE T shirt): Register before December 10th and get a commemorative t-shirt. After registering on Eventbrite please email your shirt size to Steve Halter at shalter@poplarbluffchamber.org. We will have men's and women's shirts.
ON-SITE REGISTRATION: Registrations with cash or check payments will be accepted on-site (no t-shirt provided).
QUESTIONS: Text or email Steve Halter at 573-429-8361 or shalter@poplarbluffchamber.org.
Join your classmates for an afternoon fun run/walk to raise money for Institute Scholarships!
IT DOES GET DARK BY 5:45ish so if you can not run the 5K within 45 minutes, please sign up for the 1 mile walk. We want everyone to be safe! Class is over at 5 that day so please be at the starting line at 5:15pm or earlier. Also, if you aren't staying in the Marriott, you may want to bring your running/walking gear with you.
2019 5K Men's winner Andrew Davis 20:17 (2-time winner), Ladie's winner Kris Mattera 20:41 (2- time winner).