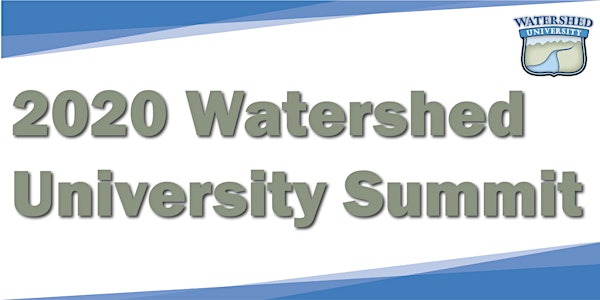 2020 Watershed University Summit
Learn and connect with floodplain management professionals at this two-day FREE forum focused on flood risk reduction topics in California.
About this event
Join other professionals in floodplain management, water management, emergency management and related fields to learn about innovative projects and technology, as well as new approaches to projects. Connect with peers from local, state, and federal agencies on these issues and build relationships for the future.
The Summit will now be held as webinars instead of an in-person event. While we were looking forward to meeting you in person, we are following guidance provided by public health safety experts to avoid spreading the coronavirus (COVID-19).
We hope that you will join us in April for great speakers and to connect with others in the floodplain management field.
Why should you join us at Watershed University Summit online?
It's a free educational and networking event.
You can learn about hot topics from experts in floodplain management.
You can earn CECs from the Association of State Flood Plain Managers.
What will our experts will be discussing?
Watershed Hydrology from Source to Sea
Urban Infrastructure and Floodplains
Nature-Based Approaches to Floodplain Management
Regulatory Trends and Challenges
Technology and Innovation for Communication and Engagement
Headwaters to Floodplains (DWR initiative)
Homelessness in the Floodplain
Community Resilience
Download the agenda for more information.
Note: if you were planning to attend in person before it was moved to a webinar and reserved a hotel room, please remember to cancel the reservation.
Who's organizing Watershed University?
The U.S. Army Corps of Engineers and the California Department of Water Resources have partnered through the Silver Jackets program to provide this two-day FREE forum. Silver Jackets brings together local, state, and federal agencies together to work on nonstructural flood risk reduction projects.