About this Event
What would you do if you knew you had no limits? How different would your life look if you had the strategies to accomplish your greatest goals? How valuable is having someone in your corner who has already walked the steps you are about to take? Teams don't win superbowls and championships by themselves. They have a team and a coach leading the team.
I am looking for people who are committed, that are willing to invest in themselves, and want to make a difference in their life - A tribe of badass individuals who are ready to level up and evolve to the next level of themselves. This is for those of you are ready to stop feeling like you're stuck, like you're not good enough, and to stop settling for an average experience of time on this earth. This is for you if you are looking to re-discover yourself, to find your purpose, and become the best version of yourself. If this is you, and you decide to spend this time together you are going to learn everything I know when it comes to success & fulfillment and be able to apply it into your lives so you can begin reaping the benefits and results immediately.
This course is for you if you want to: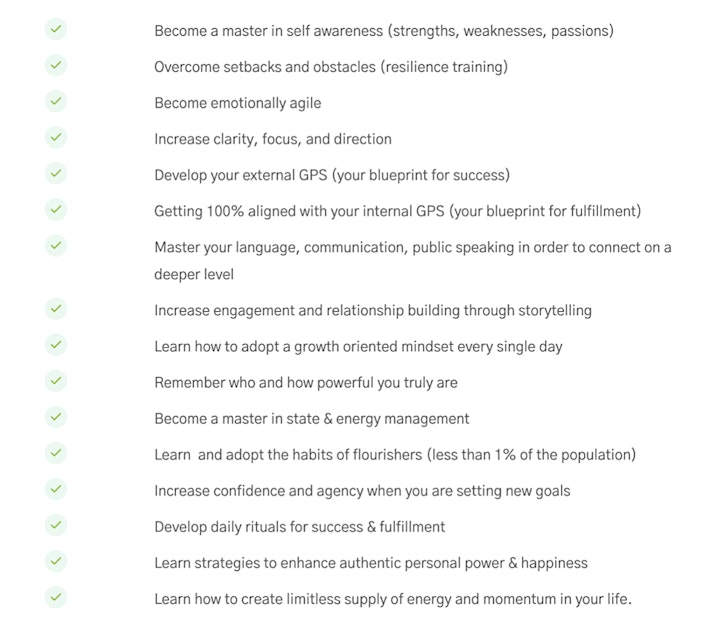 If you apply the principles you learn then you will wake up with purpose, energy, and excitement for the day and understand what it feels like to have an unstoppable sense of certainty, clarity and happiness. This will all begin by you adopting a mindset that is here to stay, and is here to serve you for the rest of your life.
Lets crush 2020 together!