To celebrate our community's recent advances in promoting healthier and happier lives among all South Asians.
About this Event
Dear 2020 Red Saree Gala Night Registrants,
We hope you and your family members are doing well during this pandemic.
As part of our ongoing outreach efforts, we have been hosting a bimonthly seminar series via Zoom since May 2020. Thus far, we have hosted 12 seminars on various topics designed to educate South Asians on how to live healthier and happier lifestyles. All webinars can be viewed at our YouTube Channel site https://studio.youtube.com/channel/UCa4GjR_GyFT4A3dR-o1ADaQAs you know, this pandemic has no end in sight. As a result, we cannot safely hold an in-person Red Saree Gala event within the next year. Therefore, we are now substituting the in-person Red Saree Gala events scheduled earlier this year with a combined virtual event to be held on December 12, 2020, from 4:00 to 5:30 pm EST. To facilitate this, all those who registered for the Red Saree Galas of the Cincinnati, Chicago and Birmingham chapters will be invited to this larger and more inclusive virtual event. You do not have to register to attend this virtual event and there will be no fundraising activities at this event.
Zoom Meeting: https://us02web.zoom.us/j/4213706212?pwd=WTlsaFlsZlBxdDlUVVVnTWh3UmNTdz09
Meeting ID: 421 370 6212 & Passcode: 1234
We, like you, are disappointed that COVID-19 restrictions and policies will prevent us from being able to host an in-person event this year. If you registered online earlier this year to attend a Red Saree gala, your registration fee can be used either as donation to Red Saree or to attend a future in-person Gala event. Please let us know your preference. If you decide to donate your registration fee, we will send you a receipt for your tax-deductible donation.On the brighter side, our virtual event will provide an amazing opportunity to socialize with other Red Saree chapters and become familiar with all our current activities. The virtual event will include short presentations by the Red Saree Presidents of Cincinnati, Chicago and Birmingham and a panel of experts who will discuss issues of concern to our members. We hope that you will participate in our Virtual Gala qnd help us with our mission to promote a healthier and happier lifestyle among South Asians.
Thank you again for your continued support and consideration! Please feel free to share our invitation with your friends and family.
Thank you again for your consideration and/or continued support!
Best regards,
Red Saree Inc.
https://redsaree.org/event/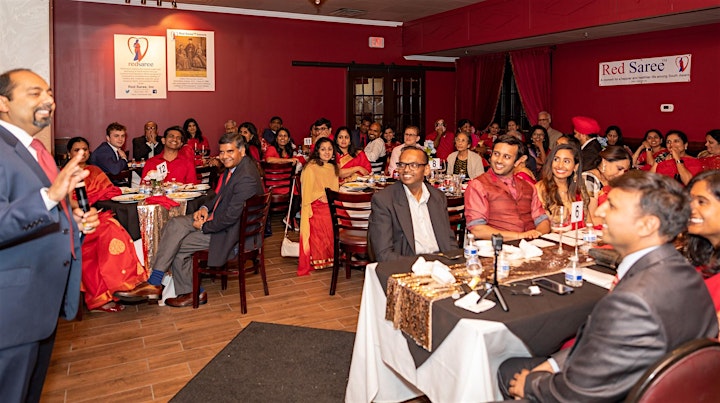 Date and Time
Location
Refund Policy