Description "WE'RE IN THIS TOGETHER" S.I.S.T.E.R.S for Sistahs... Action Tools for Self-Care and Reset
About this Event
Description
Thank You For Your $15 Ticket Purchase Today To Keep The 40 Year Legacy of The work and this space for urban woman vibrant. You Are Appreciated and This Day Was Designed for Your Edutainment. Make This a Mindfulness Experience, Allow Yourself to Be Present RELAX..RELATE...RELEASE...
"WE'RE IN THIS TOGETHER" S.I.S.T.E.R.S for Sistahs...
Action Tools for Self-Care and Reset
This is BWN's Signature Event Created in 1980 by Our Organizing Founder Marva Smith Battle-Bey.
 OUR SPEAKERS - Are curated professionals for such a time as this in our personal and collective American experience. To Help us beyond survive thrive during and post Covid-19 and the Racist Oppressive enabled over the past 4-years.
Bring Your Favorite Breakfast-Lunch and Snack Foods
Panel of Subject Matter Expert Speakers
Vendor Exhibitors Spotlights
Major Networking opportunity Pre and Post Program in Zoom Breakout Rooms
Speakers & Marketplace Referral List Post Conference E-Blast
Membership Available
Purchase your tickets today!
If you are a women in business or a woman in the business of living your best life,
You want to be in this ZOOM Room on November 7th 2020 of inspiring women and a few good men. There is a Speaker on our panel for every season of a woman's life.
Our Consistently Best-In-Class Panel of Speakers and Featured Vocalist will be announced by our tradition with the publication of the brochure . BWN has had the fortune of being the place where virtually the who's who of Business, Education, Hollywood and Politics have chosen to give back from our Breakfast Business-Career-Best You-Networking Forum Stage for 40 years now.
Get your ticket Today to experience the Love energy and this Edutainment morning planned especially with you in mind. We're so excited you are planning to join us.
Call for information if you like 323.964.4003 VM or (323) 418-8563VM someone will get back to you within 48 hours, Do get your ticket Today This Event Customarily is a Sold Out Affair.
2020 BWN President ShawnLaRe Brinkley
BWN Event Chair and PR Director Gwendolyn Goodman
more about us: www.blackwomensnetwork.net
facebook.com/bwnetwork
Instagram.com/blackwomensnetwork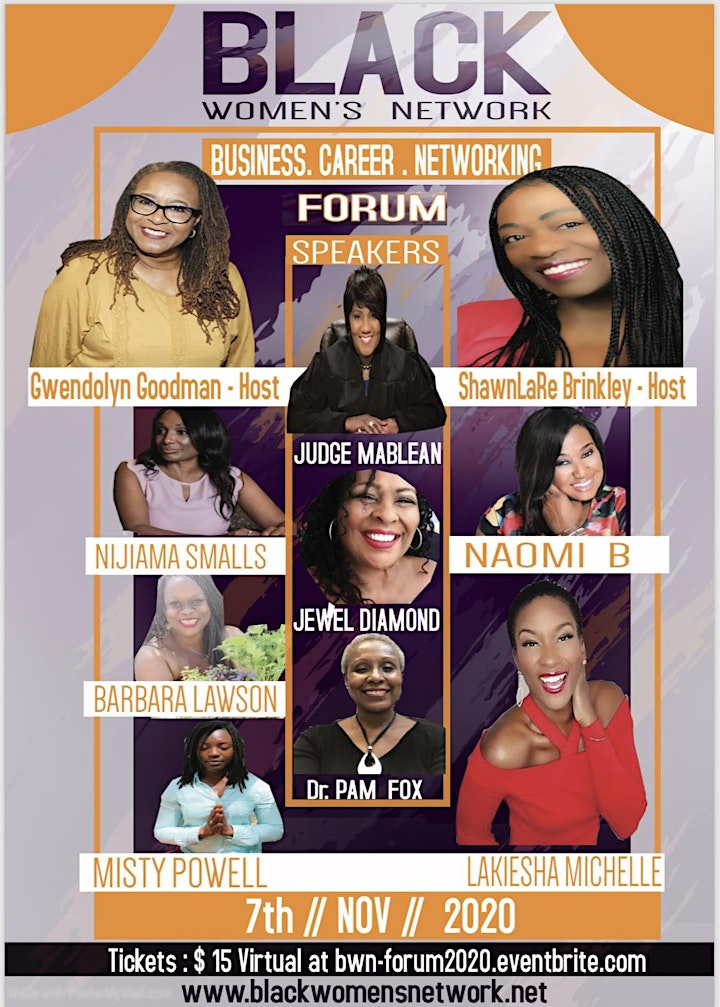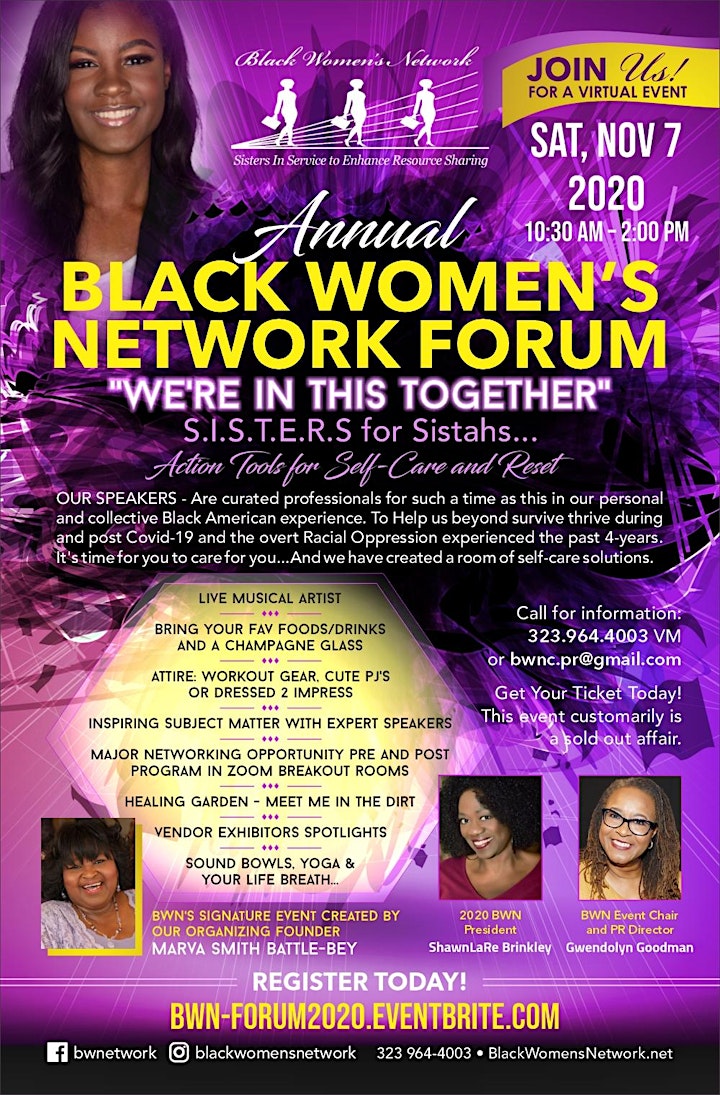 Date and Time
Location
Refund Policy