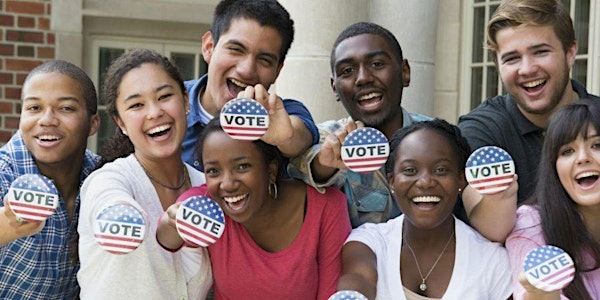 2020 Victorious! Citizen-Youth Accountability * Community Organizing
2020 Victorious! | Communities United is on a mission to educate communities and highlight the issues and policies that impact our nation.
Refund Policy
Contact the organizer to request a refund.
Eventbrite's fee is nonrefundable.
About this event
Welcome to 2020 Victorious! | Communities United.
We are in the planning phase of this year 2021 to allow 2020 Victorious! | Communities United to identify long-term Youth Leadership Teams and Independent Influencers. The Citizen-Youth and Independents are the official youth-independent division of 2020 Victorious! | Communities United. The intent is to equip all member-participants to be effective community leaders-organizers and have a more widespread, impactful voice within more of the nation's most affected communities.
Q: Are you between the ages of 18-25-35? Are you a registered Independent? ... (or Democrat, Republican, infrequent voter, or unregistered potential voter). Are you concerned about the political future and security of the nation? Then come join us for our upcoming monthly engagement meeting-discussion.
2020 Victorious! | Communities United has specific target goals to increase voter participation in elections by closing the voting age gap, the race age gap, and to change the cultural perspectives related to voting. Our intended goals are to expand access to the ballot, educate new voters, and bring all voters to the polls by increasing-improving the knowledge-information base with comprehensive voting.
Important Note: The attendee-participants, Community Participants, Community Members, and Community Advocates of 2020 Victorious! | Communities United are welcome to attend-participate in "Citizen-Youth Accountability * Community Organizing" only if "Accompanied by a 'Minor' (age 18-25-35) attendee-participant." Register all affiliated attendee-participants simultaneously to confirm-facilitate eligibility for other related event programs. Please register both yourself and youth participant simultaneously for acknowledgement.
General Admission is intended for individual special conditions which cannot be categorized by generation-age and require advance approval-permission (describe circumstances-permission). Otherwise register via the generational category for appropriate information and proper placement.
- - - - -
We are building a grassroots team of activists, community organizers and volunteers to lead the effort-initiatives in their respective states and communities to empower more people with information-knowledge. By joining the 2020 Victorious! | Communities United team, you will receive access to (i) regular updates on the latest political action news, (ii) invites to regional-state-local programs-events that directly impact the community, government and the nation, and (iii) relevant educational training to provide the information-knowledge to be effective within your region-states and local communities.
Please advise whether you have (i) an immediate community concern in your region-state-community related to a national priority or community proposal and/or (ii) would like to join (or be invited) to the next 2020 Victorious! | Communities United bi-weekly meeting discussion.  Thank you.