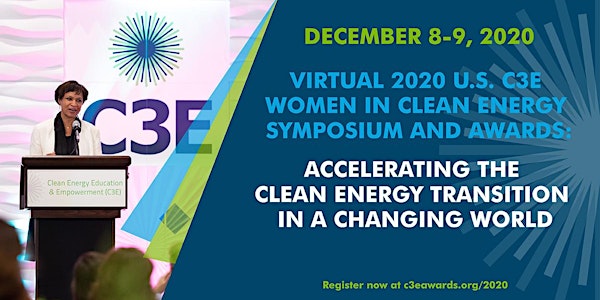 2020 U.S. C3E Women in Clean Energy Symposium and Awards
2020 U.S. C3E Women in Clean Energy Symposium and Awards
By C3E Women in Clean Energy
Date and time
December 8, 2020 · 9am - December 9, 2020 · 1:30pm PST
About this event
December 8-9, 2020
12:00-4:30 pm ET each day
Live poster presentations
December 8, 4:30-5:30 pm ET and December 9, 11:00 am-12:00 pm ET
Visit the virtual poster competition gallery.
ACCELERATING THE CLEAN ENERGY TRANSITION
IN A CHANGING WORLD
We must move faster and smarter to transform and decarbonize our energy system. Climate change, the COVID-19 pandemic, related economic challenges, and social inequity are among the challenges we are facing as we work to accelerate the clean energy transition. Join thought leaders to discuss opportunities to effectively scale new low- and no-carbon technologies, rapidly deploy capital to mitigate global warming, and provide affordable, reliable energy solutions to all.
For the first time, this normally invitation-only event will be open to all.
A full agenda with speakers, sponsors, and more information is available at www.c3eawards.org/2020.
Visit the virtual poster competition gallery.
Keynote speakers:
Kate Gordon, Senior Policy Advisor on Climate, Office of the California Governor
Kristina M. Johnson, President, The Ohio State University
Panel discussions:
Framing the Issues: Clean Energy Challenges and Opportunities Today and Tomorrow
Recent global events have greatly disrupted the energy sector. This session will discuss today's clean energy landscape, how to boldly move forward with the energy transition, and the implications for ongoing efforts to address climate change and sustainability.
Decarbonizing Industry through Technology Research, Development, and Deployment
New and next-generation technologies—and bringing them to scale—offer challenges and exciting opportunities to current and future generations. This session will highlight recent advances in clean energy technologies and current research within the energy sector.
Ensuring Equitable Access to the Clean Energy Transition
Now, more than ever, we need to chart a sustainable energy transition that is inclusive, just, and economically profitable—especially during the pandemic and subsequent economic recovery. This session will discuss how we can get people back to work and provide training for the clean energy jobs of the future.
Financing the Innovators and the Infrastructure 
Investment is increasing into clean energy across all asset classes—public markets, clean energy projects and technology development—due to multiple drivers including increased interest in ESG investing; regulatory momentum; and a greater appreciation of the urgency to address climate change globally. This panel will discuss opportunities to further grow the scale and pace of clean energy investment through innovative structures and policies and how to attract capital to also address issues of equity.