About this Event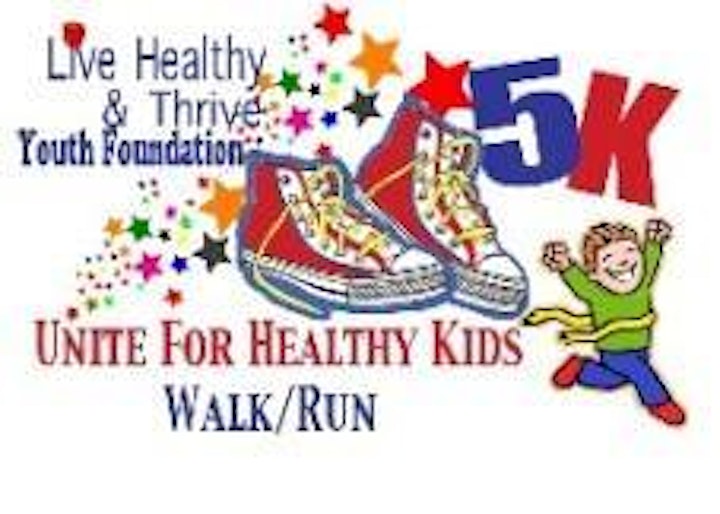 Attend the 10th Annual UNITE FOR HEALTHY KIDS 5K WALK/RUN
to benefit... The Pinnacle Youth Scholarship Fund
produced by...Live Healthy & Thrive Youth Foundation, Inc.
We are committed to help our youth get moving, get healthier and stay fit!
JOIN THE MOVEMENT!
We aim to get kids healthy for life so they avoid obesity, diabetes and hypertension!
REGISTER YOUR GROUP, COMPANY, ORGANIZATION, SORORITY, FRATERNITY, CHURCH & FAMILY or NEIGHBORS!
**LOCAL RUNNING GROUPS WELCOMED**
Event details:
We will begin in front of the Recreation Center
Look for tents and signage.
Check in/On Site registration~ 8:15 a.m. to 8:45 a.m.
Warm up/Live DJ~ 8:45 a.m. to 9 a.m.
Walk/Run begins ~ 9:00 a.m. sharp
Wind down~ 10:30 a.m-10:45 a.m.
Kids Race (12 & under) ~ 10:45 a.m.to 11:00 a.m.
Post Party/Prizes/Awards ~ 11:00-11:30 a.m.
COURSE:
The course is a peaceful and safe course on the trail. Park is located in a residential neighborhood. The 5K begins & culminates in the front parking lot of Mason Mill Park (Recreation Center)
SWAG:
All finishers in the 5K will receive a swag bag full of prizes and goodies.
POST PARTY!
After the walk/run, enjoy a FRUIT & FITNESS party with LIVE DJ, great music, yummy food and tons of fun! We'll dance and end the event on a HIGH note.
PRIZES:
1st place runners male and female receive either Fit Bit or ATL Braves home game tickets
2nd & 3rd place runners receive: premium swag bag
Kids Race Prizes:
1st place Kid Winner receives Atlanta Braves or Atlanta Dream or other entertainment event tickets
ATTENDEES:
All registered attendees receive a T-Shirt, swag bag and FREE HEALTHY SNACKS
Kids 12 and under are FREE but does NOT include T-Shirt
Kids participating in the race must be with a registered adult.
REFUNDS
NONE allowed. This is a fundraising event, no refunds on registrations. No exceptions.
BECOME A SPONSOR or PARTNER!
PLEASE CONTACT US.
1- 800-551-3775 or visit our website www.livehealthyandthriveyouth.org
LIVE HEALTHY & THRIVE YOUTH FOUNDATION IS A 501C3 NON-PROFIT ORGANIZATION BASED IN ATLANTA.
THANKS TO ALL OF OUR SPONSORS!