2020 Ultimate Survivor Cruise Empowerment Ticket (book cruise separately)
About this Event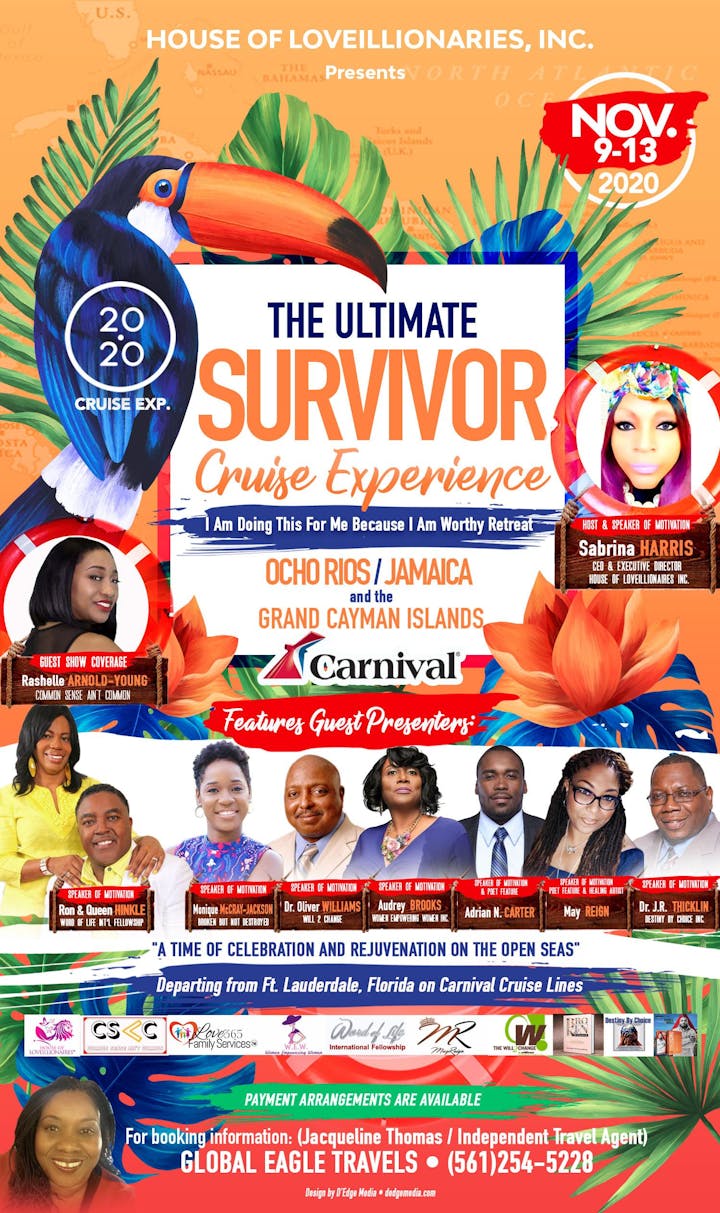 THE HOUSE OF LOVEILLIONAIRES INC. PROUDLY PRESENTS:
2020 The Ultimate Survivor Cruise Experience
THEME: "I Am Doing This Because I Am Worthy"
Prepare to set sail and enjoy a uniquely designed (5)-day survivor cruise experience to: Ochos Rios, Jamaica (and) The Grand Cayman Islands during which we will exhale, elevate, rejuvenate and celebrate the survivor within us all. We SURVIVED, and now it is time for us to LIVE!
DATES: November 9-13, 2020
DEPARTING LOCATION: Ft. Lauderdale, Florida on Carnival Cruise Lines
SPECIAL REQUEST: Please read all details carefully, and call (561) 254-5228 or (561) 352-5418 for any questions and/or inquiries.
As a part of your on-board cruise experience with the House of Loveillionaires Inc., you can pre-purchase your tickets for three (3) impactful empowerment events as follows:
1. "POETICALLY-INFUSED COCKTAIL HOUR" featuring poets: May Reign & Adrian N. Carter -
DAY 2: Prepare your mind and heart for an on-board meet-n-greet, survivor introductions, poetically-infused words of enlightenment, empowerment, inspiration, and a cohesive moment of exhale and release.
2. "NEXT LEVEL HEALING & RECOVERY " Empowerment Forum -
DAY 3: Prepare to hear words of education, motivation, inspiration and elevation from eight (8) of the industry's most powerful professionals on topics detailing how to take your stabilization, recovery, healing, forgiveness and forward progression to the next level. Positive life changes will happen aboard this cruise; you will be all the better for the experience.
3. "SOUL HEALING ON THE SUN DECK" with Poet May Reign
DAY 4: We have designated a safe place aboard this cruise just for us during which will purge, re-connect, honor, respect, heal, awaken and rejuvenate every core mind, body and spirit. Join us for a journey overflowing with inspiration, coping, calming and healing strategies that welcome peace and love as a protective sanctuary all around us.
*****************************************************************************
HOW DO YOU BOOK YOUR CRUISE & PARTICIPATE IN THESE AMAZING EVENTS???
TO PURCHASE A (3)-DAY EMPOWERMENT ACCESS TICKET:
Simply process your $70 payment fee through the Eventbrite link which guarantees that you will have access to all three (3) events, and be at liberty to fully participate while aboard the cruise.
TO BOOK YOUR SPOT ON THIS AMAZING CRUISE:
Please immediately contact Jacqueline Thomas, Independent Travel Agent with Global Eagle Travels (561) 254-5228 to plan your trip:
GLOBAL EAGLE TRAVELS - CALL TO RESERVE YOUR CABIN NOW - The initial deposit is only a $100.00 per person!
Multiple cabin options, all room based on double occupancy, gratuity included in the price, travel insurance quotes provided with easy and convenient PAYMENT PLANS AVAILABLE! Cabins are booking quickly, and space is limited, so please do not miss out (561) 254-5228 - ****YOU MUST BOOK YOUR CRUISE THROUGH THE HOST TRAVEL COMPANY***
DISCLAIMER: The House of Loveillionaires Inc. assumes no responsibility for and shall not be liable for any refund, personal injury, property damage or other loss, accident, delay, inconvenience or irregularity which may be caused by: (1) any defaults, wrongful or negligent acts or omissions of the Suppliers; (2) any defect in or failure of any vehicle, craft, equipment or instrumentality owned, operated or otherwise used or provided by the Suppliers; [and] (3) any wrongful or negligent acts or omissions on the part of any other party.
© 2019-2020 House of Loveillionaires Inc. (all creative rights respectfully reserved).