Come join the Run & Walk to honor the sacrifice of firefighter Stephen Siller who laid down his life to save others on September 11, 2001
About this event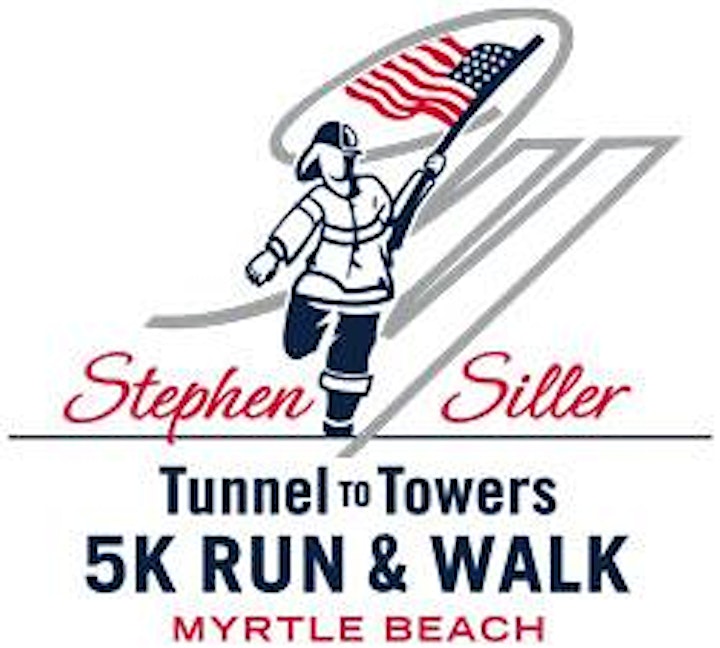 What is a Tunnel to Towers 5K Run & Walk?
The Tunnel to Towers 5K Run & Walk Series was created to honor the heroic life and death of Stephen Siller, a New York City firefighter (FDNY) who lost his life on September 11, 2001 after strapping on his gear and running through the Brooklyn Battery Tunnel to the Twin Towers.
Honor all of those who lost their lives on September 11, 2001 and support our first responders and military who make extraordinary sacrifices in the line of duty! For more information on the Stephen Siller Tunnel to Towers Foundation, please visit www.tunnel2towers.org.
This will be the third annual Tunnel to Towers 5K Run & Walk in Myrtle Beach in 2020. The Tunnel to Towers 5K Run & Walk in Myrtle Beach is currently one of two 5K events currently held in South Carolina (the other is in Columbia).
How far is a Tunnel to Towers 5K Run & Walk?
This is a 5K (3.1 miles). You are welcome to walk or run this event.
Where can I pick up my packet?
Packet pick up will be available on Friday, September 4th – Black Dog Running Co. from 4:30 pm-7pm. We will be setting up outside this year to prevent large crowds in the small store. We will remain socially distant during packet pickup.
You can also pick up your packet the morning of the race from 7:00 AM to 8:00 AM. Due to COVID-19, we HIGHLY ENCOURAGE participants to pick up their packets in advance. Registration will NOT be available at packet pick up in 2020.
Can I register the day of the run?
Unfortunately, for 2020, we will not have same day registration. All participants must register online in advance. The event will be limited to 250 participants of less for the safety of our volunteers and participants.
When does online registration close?
Online registration will close on Wednesday, September 2nd at 11:59 PM EST. There will be NO in person registration in 2020.
Is this a timed event?
Yes, this event will be chip timed.
Is there parking available?
Yes - there is plenty of parking at Market Commons and around the park area.
Do I have to wear my bib number?
Yes, please display your bib on the front of your outermost garment. Those who run without a bib will be asked to leave the course and will not be allowed to finish.
I am a fast runner. Can I get a front line position?
Runners predicting a pace faster than 6 minute/mile will be seeded in the front corral (Arrive early).
Will water be available?
Yes, a water station will be available along the route and there will be water available at the square.
What can you bring to the event? Can I run with a stroller, backpack, wheelchair, roller blades, dogs, bicycle, etc?
Strollers and wheelchairs are permitted. Firefighter turnout gear and military backpacks are also permitted. Please leave all personal items and valuables in your vehicle. All items should be stored securely at the owner's risk. The Tunnel to Towers Foundation will not be responsible for the loss of any items.
Dogs are welcome on leash only and owners must be responsible for clean up.
Does my registration fee count towards my fundraising goal?
Your registration fee does not count toward the fundraising goal on Go Fund Me.
Registration fees help offset some of the expenses associated with making the Tunnel to Towers 5K Run & Walk one of the country's greatest annual events, however your fundraising efforts enable us to continue to make a difference in the lives of so many in need.
Can someone else pick up my packet for me?
Yes, they can. They must present a copy of your registration receipt. And don't forget to thank them!
Can I still donate to a team and/or individual after the start of the race?
Yes. Donations will be accepted for 6 weeks after the event.
How can my company/organization sponsor this event?
Please send all sponsorship correspondence myrtlebeach@tunnel2towers.org with your contact information and someone will be in touch with you within 24 hours.
I would like to donate goods or services to this event. How do I do that?
You can contact us at myrtlebeach@tunnel2towers.org. We make every effort to keep costs down to allow us to give the most to the Tunnel to Towers Foundation in Stephen Siller's name. Your generosity will be greatly appreciated.
As a participant, can I fundraise/encourage others to donate?
Yes! Once you are registered, you will be given directions to start your own fundraising page and you will be able to accept donations online. Do you want to donate cash/money? We can help you with that. Contact us at myrtlebeach@tunnel2towers.org and we can walk you through the process or you can send donations directly to 2361 Hylan Boulevard., Staten Island, NY 10306 - please give us your information so we can add it to your fundraising page. It's easy!
What are the fundraising levels & prizes?
WE ARE CURRENTLY REVIEWING FOR 2020 – STAY TUNED!
Organizer of 2020 Tunnel to Towers 5K Run & Walk Myrtle Beach, SC