2020 Trouble with Tribbles 1M, 5K, 10K, 13.1, 26.2 - Wichita
Description
2020 Trouble with Tribbles 1M, 5K, 10K, 13.1, 26.2
*THIS IS A VIRTUAL RACE!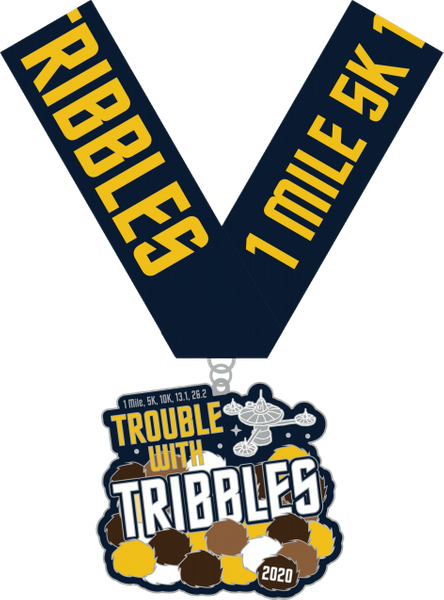 Trouble with Tribbles 1M, 5K, 10K, 13.1, 26.2 is our seventh annual race inspired by one of the greastest shows ever made. Participants asked us to do a Tribbles inspired medal, so that's what you'll get for this year's medal! We will be donating at least 15% of every registration to
Operation Underground Railroad (O.U.R.)
, which is an incredible organization that exists to rescue children from sex trafficking. January is Human Trafficking Awareness month and we want to do our part to spread awareness.
*For a limited time you can purchase an official t-shirt and/or hoodie
HERE.
What:
This is a 1 Mile, 5K, 10K, 13.1, 26.2 virtual run (or walk) to celebrate all of you fans out there! You choose which distance you'll complete.
When:
Complete your race any time in January 2020!
*Medals and bibs will start shipping out mid-December 2019. After that they will ship out within 2 to 5 days of signing up.
Where:
You choose the course and you time yourself (you'll report your finishing time to us).
Why
: Because this is our way of celebrating one of the greatest shows ever!
Cost:
The price is $22 and that includes your medal, bib and shipping. Plus, at least 15% of every entry will be donated to
Operation Underground Railroad (O.U.R.)
*We are in no way affiliated with this charity, we like to choose a different charity for each of our races and are happy to raise funds for them.