TI:GER® (Technological Innovation Generating Economic Results)
About this event
2020 TI:GER® Innovation Conference
The Future of the Legal Industry: How Innovation Can Enhance Access to Justice
This year's theme is the Future of the Legal Industry. We are motivated to act by the rapid changes occurring in the legal industry and the need for a public debate about the impact of these changes on the delivery of legal services and education.
Speakers Include:
Dan Rodriguez, Northwestern Pritzker School of Law
Cat Moon, Vanderbilt University School of Law
Keith Robinson, SMU
Diego Alcala, Legal Tech Founder
Charlotte Alexander, Georgia State Law
Scholastica Baker, Faegre Baker Daniels
Julien Bowers, UPS
Alyson Carrel, Northwestern Pritzker School of Law
David Colarusso, Suffolk University Law School
Anusia Gillespie, Eversheds-Sutherland
Gayle Gorvett, General Counsel & Strategic Advisor
Melonie Jones, Assurant
Elizabeth Lester, Equifax
Maya Markovich, (Dentons) NextLaw Labs
Mike Whelan, LegalTech Consultant & Strategist
Deloris Wilson, Social Impact Strategist
Tarun Wadhwa, Entrepreneur
Program Agenda:
8:30 a.m. – Welcome Remarks
8:45 a.m. - Opening Remarks "The Future of the Legal Industry" by Dan Rodriguez
9:15 a.m. – Legal Educators Panel: What Should Law Schools be Doing Now?
10:00 a.m. – Legal Services Providers Panel: How Can Innovation Enhance Access to Justice?
11:00 a.m. – Networking Break
11:30 a.m. – Emerging Roles for Lawyers in Technology
12:15 p.m. – Closing Remarks – How Will Legal Tech Shape the Future of Legal Practice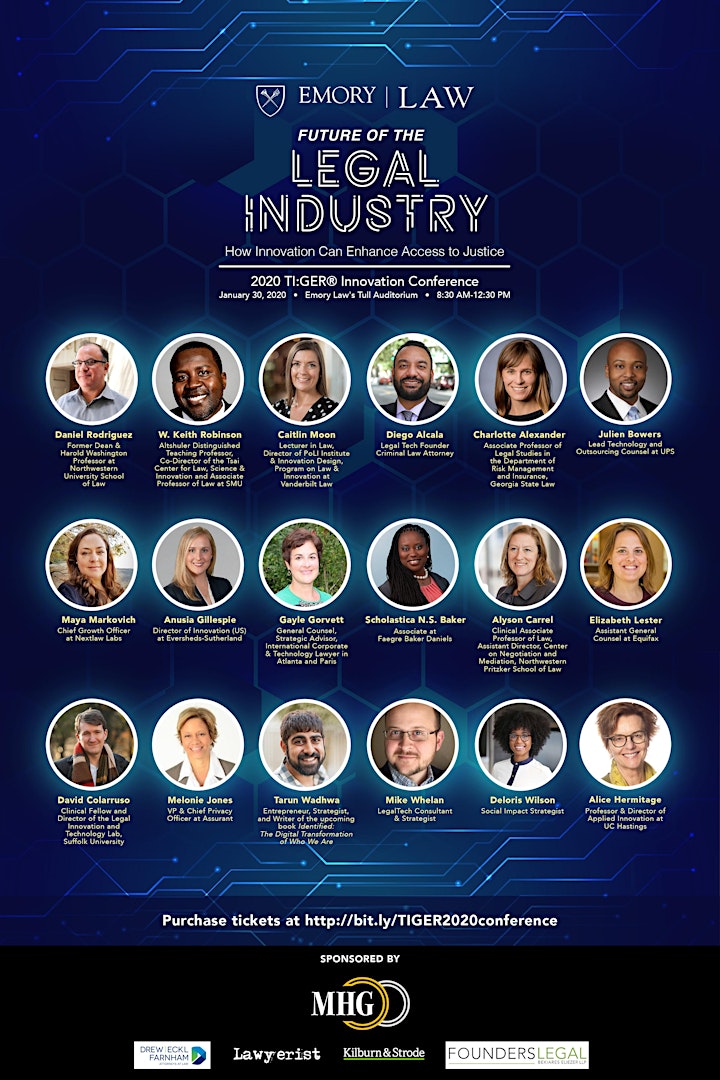 Organizer of 2020 TI:GER Innovation Conference