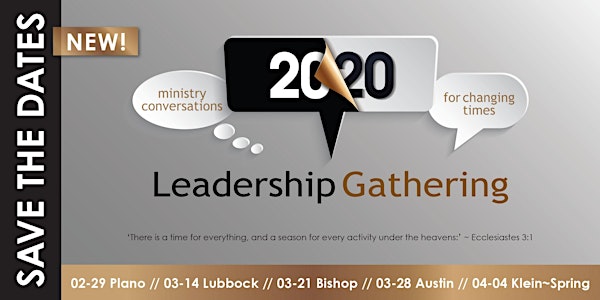 Multiple dates
2020 Texas District Leadership Gatherings—POSTPONED
Date and time
February 29, 2020 · 9am - April 4, 2020 · 3pm CST
Location
A Congregation Near You TX
Description
PLEASE BE AWARE THE REMAINDER OF THE GATHERINGS HAVE BEEN POSTPONED DUE TO COVID-19.
This is a new event hosted by the Texas District, LCMS, Texas CEF and Legacy Deo. This partnership is offering a one-day engaging and informative gathering at different congregations near you. We invite you to join us as we joyfully embrace this multi-dimensional ministry approach for the purpose of equipping congregational leaders, church members and friends with vital information and resources.
You will have various opportunities to hear and learn from Texas District President, Mike Newman; Texas CEF Executive Director, Becca Jones; Legacy Deo CEO, Jerry Kieschnick; Director of School Ministry, Bill Hinz and Texas District Treasurer, Linda Hagge.
2020 TEXAS DISTRICT LEADERSHIP GATHERINGS SCHEDULE
9:00 am Registration
9:30 am Welcome & Dialogue from Texas District President, Rev. Michael Newman and Texas CEF Executive Director, Becca Jones
10:00 am Devotion
10:15 am Transition/Break
10:30 am Break Out Sessions #1
CEF 101 Chat (Texas CEF Executive Director, Becca Jones)
Leading from the Second Seat: How you as the Church Treasurer can help the Congregation Thrive (Texas District Treasurer, Linda Hagge)
Gospel DNA: Five Markers of a Flourishing Church (Texas District President, Rev. Michael Newman)
Money. Gotta have it? You Betcha! (Legacy Deo CEO, Rev. Dr. Gerald Kieschnick)

Reaching the Community for Christ - Early Childhood Centers (

Director of School Ministry, Dr. Bill Hinz and the ECE Council

)
11:15 am Transition/Break
11:30 am Break Out Sessions #2
A Discussion of CEF's Best Kept Secrets (Texas CEF Executive Director, Becca Jones)
Global Trends and Local Church: Change is Good! (Texas District Treasurer, Linda Hagge)
Gospel DNA: Five Markers of a Flourishing Church (Texas District President, Rev. Michael Newman)
Money. Gotta have it? You Betcha! (Legacy Deo CEO, Rev. Dr. Gerald Kieschnick)
12:15 pm Lunch/Awards/Table Talk
1:30 pm Transition/Break
1:45 pm Break Out Sessions #3
Promoting CEF in Changing Times (Texas CEF Executive Director, Becca Jones)

Gospel DNA: Five Markers of a Flourishing Church

(Texas District President, Rev. Michael Newman)
Money. Gotta have it? You Betcha! (Legacy Deo CEO, Rev. Dr. Gerald Kieschnick)

Reaching the Community for Christ - Early Childhood Centers (

Director of School Ministry, Dr. Bill Hinz and the ECE

Council)
2:30 pm Transition/Break
2:40 pm Closing Message
3:00 pm Optional Opportunity: Kid's Programs at Texas CEF (Texas CEF Marketing Specialist, Raelyn Pracht)