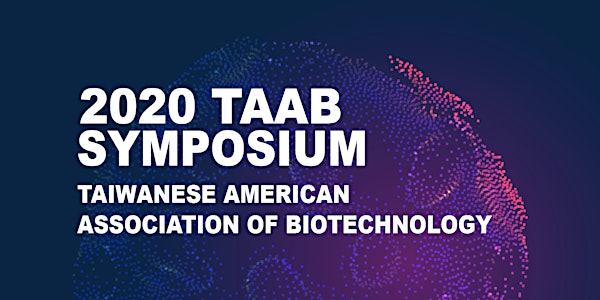 2020 TAAB Symposium [#3 of 3: Career Development Panels]
Join us for the 2020 Taiwanese American Association of Biotechnology Symposium this Fall! This page is Part 3 of the 2020 virtual symposium
About this event
At the "2020 Taiwanese American Association of Biotechnology Symposium" this Fall, speakers from academic, public, and private sectors will talk about breakthroughs in controlling the COVID-19 pandemic. Series of career panel discussions will follow. Don't miss out!
Who: EVERYONE is INVITED!
When: Saturday/Sunday, October – December, 2020
Where: Register for virtual event access. Note registration is divided into 3 Parts!
For more info, connect with us:
TAAB website (taab-us.org)
TAAB Facebook page (https://www.facebook.com/taabusorg)
TAAB LinkedIn page (https://www.linkedin.com/company/taabusa/)
Part 3 of the 2020 TAAB Symposium consists of 4 sessions on Saturdays in November and December. All talks in Part 3 will be conducted in English.
There will be *no* sessions on the Thanksgiving weekend.
Schedule of Part 3
Time Zone: ET
November 07 (Sat) 16:00-17:30 Opening Remarks & Introduction
Leaving Your Comfort Zone: First Industry Job
Panelists:
Hsiao-Ling Hung, Ph.D. RAC, Senior Director, Global Regulatory Sciences at Bristol-Myers Squibb Company
Chiamin Liao-Bullaughey, Ph.D. Scientific Expert at Century Therapeutics
Cheng-Han James Chung, Ph.D. Postdoctoral research fellow at Pfizer
November 14 (Sat) 16:00-17:00 Strategy for Career Advancement
Panelists:
Xianglin (Alex) Zhai, Ph.D. Scientist at GlaxoSmithKline
Yu-Chih Jay Hsu, Ph.D. Director at WuXi Biologics
November 21 (Sat) 16:00-17:30 Alternative Career Paths: A World Outside the Lab
Panelists:
Takashi Nakamura, Ph.D. Candidate, University of Pennsylvania
Brandon Chan, Ph.D. Patent Attorney, Duane Morris LLP
Shaoyu Chang, M.D. MPH, Associate Director, Innovation and External Research, Vertex Pharmaceuticals
December 05 (Sat) 16:00-17:00 Starting your Lab-Journey of Becoming A Principal Investigator
Panelists:
Catherine Pei-ju Lu, Ph.D. Assistant Professor Hansjorg Wyss Department of Plastic Surgery and Cell Biology, New York University School of Medicine
Stanley Chun-Wei Lee, Ph.D. Assistant Professor
Fred Hutchinson Cancer Research Center
In addition to this part, please also check out Parts 1 and 2 and register at their respective Eventbrite pages:
https://2020-taab-symposium-1-of-3.eventbrite.com
https://2020-taab-symposium-2-of-3.eventbrite.com
Virtual symposium Webex links will be sent to registered attendees in the near future.