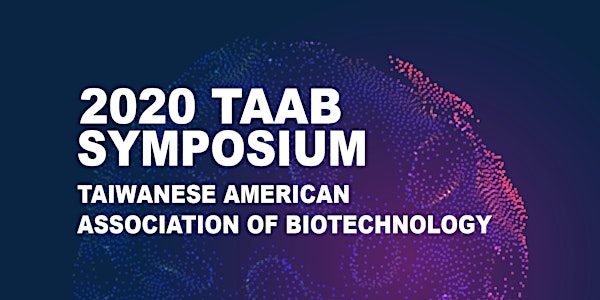 2020 TAAB Symposium [#1 of 3: Therapeutics, Medical Devices & COVID-19]
Join us for the 2020 Taiwanese American Association of Biotechnology Symposium this Fall! This page is Part 1 of the 2020 virtual symposium
About this event
At the "2020 Taiwanese American Association of Biotechnology Symposium" this Fall, speakers from academic, public, and private sectors will talk about breakthroughs in controlling the COVID-19 pandemic. Series of career panel discussions will follow. Don't miss out!
Who: EVERYONE is INVITED!
When: Saturday/Sunday, October – December, 2020
Where: Register for virtual event access. Note registration is divided into 3 Parts!
For more info, connect with us:
TAAB website (taab-us.org)
TAAB Facebook page (https://www.facebook.com/taabusorg)
TAAB LinkedIn page (https://www.linkedin.com/company/taabusa/)
Part 1 of the 2020 TAAB Symposium consists of 5 sessions on Saturdays in October. All talks in Part 1 will be conducted in English.
Schedule of Part 1
Time Zone: ET
October 03 (Sat) 16:00-18:00
Opening Remarks & Immunotherapy
Topics and Speakers:
Opening Remarks
Mark Kao, Ph.D. President, TAAB
Challenges and Opportunities in the Chemistry, Manufacturing & Control of Gene and Cell Therapies.
David Y.H. Chang, Ph.D., Chief Executive Officer, WuXi AppTec Advanced Therapies Business Unit
The Establishment of Immuno-Oncology as the 4th Pillar of Cancer Treatment
Arvin Yang, M.D. Ph.D., Vice President and Head, Hematology Clinical Development at Bristol-Myers Squibb
October 10 (Sat) 15:30-17:45
Medical Device/Materials
Topics and Speakers:
From Patient Charts to Term Sheets: Building A Medtech Startup from An Idea
Albert Huang, M.D. Chief Executive Officer at Allotrope Medical Inc.
AI Empowered Telehealth model
KJ Yang, Ph.D. Chief Executive Officer at KuraCare
Rapid Generation of Production Cell Lines with Superior Titers and >99% Monoclonality for Complex Antibody Molecules
Ke-Chih Lin, Ph.D. Applications Engineer at Berkeley Lights
October 17 (Sat) 16:00-18:00
COVID-19 Overview and Virus-Host Interaction
Topics and Speakers:
COVID-19 Therapeutics and Vaccine Development Status Update
Mark Kao, Ph.D. President, TAAB
COVID-19 Genomics and Beyond
Sheng-Chih (Peter) Jin, Ph.D. Assistant Professor, Washington University School of Medicine
Pre-existing T Cells in Vaccination and Relevance to SARS-CoV-2
Laura Su, MD. Ph.D. Assistant Professor of Medicine, University of Pennsylvania.
October 24 (Sat) 16:00-18:00
COVID-19 Clinical Frontline
Topics and Speakers:
NYC in the Time of COVID-19
Ee Tay, M.D. Clinical Site Chief for NYC Health+Hospital/Bellevue Pediatric Emergency Services, Assistant Professor of Emergency Medicine and Pediatrics at NYU School of Medicine
Integrated Clinical Pathways: Bringing Evidence and Guidance to the Frontline in the COVID-19 Pandemic
Cheng-Kai Kao, M.D. Hospital Medicine Physician, Associate Chief Medical Information Officer, University of Chicago Medicine
October 31 (Sat) 20:00-22:00
COVID-19 Detection, Vaccination and Beyond
Topics and Speakers:
Diagnosis of COVID-19: Can We Catch Them All?
Alex Hung, Ph.D. Head of Protein Science Department, Mesa Biotech
An Integrated Platform for Virus Detection and Vaccine Production: A novel Solution for COVID-19
Yu-Chan Chao (趙裕展), Ph.D. Research Fellow at Institute of Molecular Biology, Academia Sinica; Distinguished Research Fellow, Ministry of Science and Technology
In addition to this part, please also check out Parts 2 and 3 and register at their respective Eventbrite pages:
https://2020-taab-symposium-2-of-3.eventbrite.com
https://2020-taab-symposium-3-of-3.eventbrite.com
Virtual symposium Webex links will be sent to registered attendees in the near future.