About this Event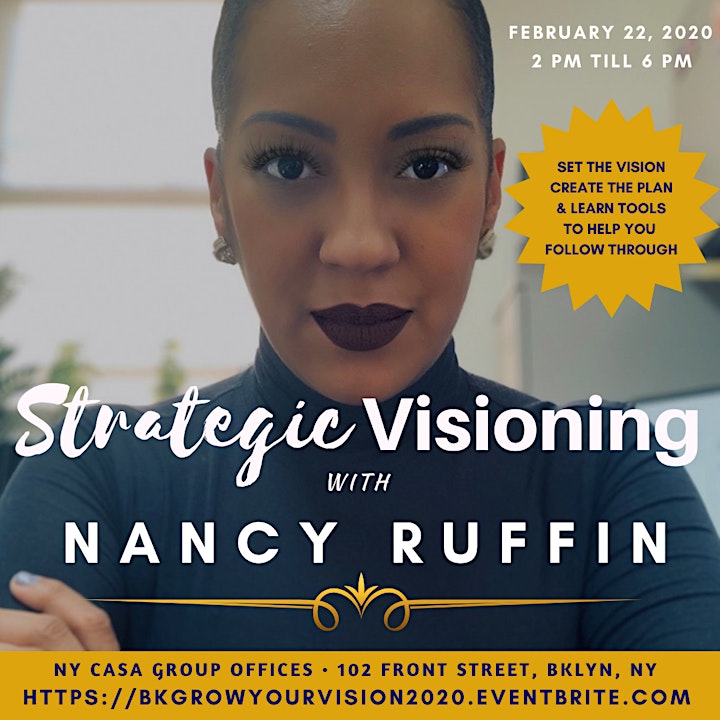 One of our most anticipated workshops of the year is back by popular demand. Our annual strategic visioning workshop is our most anticipated workshop of the year because you leave with a road map on how to accomplish every goal on your vision board. We have fun, but we also get to work!
If you're looking for a vision board party that is solely focused on gluing images to a poster board while sipping on mimosas, and having quality girl time this workshop is not for you. Our strategic visioning workshop is for the individual who has a vision for their life and is committed to doing the work required to make that vision a reality. Transformation doesn't have been by chance. It happens by choice, consistency, and discipline. Our Visioning, Strategic Planning & Goal Setting workshop is designed to help you plan out your future and create a plan/road map to get you there.
Our popular Strategic Visioning™ visual-planning workshop, brings the power of visualization to strategy development and personal/organizational transformation. Whether you're a business professional, entrepreneur, student, creative/influencer our model ties the philosophies of self-awareness and emotional intelligence with breakthrough thinking around strategy, vision, action plans, and accountability to implement and sustain effective change. It supports strategic development, alignment, and change for individuals at all levels of the organization or career path.In this workshop, participants will learn concepts of vision planning, including strategic goal setting, self-awareness strategies, and intention-based action mapping for personal or professional use. In these highly focused sessions, participants engage in a number of activities designed to boost their creativity, efficiency, alignment, focus and follow-through.
Our Strategic Visioning Workshop is designed for individuals/teams looking to get to the next level.
The purpose of the Workshop is to create or clarify:
Your vision (future state)
Why you exist (your purpose)
What you are trying to achieve (desired outcomes)
The ultimate aim is to clarify where you are currently (current state) against your vision, and design a logical road map to achieve your desired outcomes.When the vision and strategy is communicated effectively and understood and where resources, systems and cultural behaviors are in line with the achievement of the desired outcomes, this helps enable you to grow and remain fit for purpose according to existing, anticipated, and changing needs and desires.
What outcomes will participants leave with?​Participants leave with:
Clearly defined goals.
A comprehensive action plan/road map to achieve goals.
A data pack which includes a workbook and exercises that can be used as a reference to evaluate, reassess, and measure progress.
A framework/methodology that explains the material covered in the workshop.
New and expanded relationships with individuals from other industries and business sectors.
Seats for this event are limited and we sell out quickly. If you want to attend don't wait to purchase your ticket, buy it today! I look forward to seeing you in January.
WHAT YOU SHOULD KNOW:
Light refreshments will be served, but I encourage you to eat prior to arriving so that you can focus on mapping out and planning out your vision. We won't be taking any breaks as I want us to maximize our time together.
Also, all vision board materials will be provided, but we suggest you also bring at least one magazine of your own to use and share with your fellow attendees and any personal printables you'd like to use including quotes, sayings, scripture and pictures. Remember your vision board represents what YOU want to manifest into your life.
There is street parking, but give yourself enough time to look for parking if you're driving.
We will be starting promptly at 2 pm so please arrive on time as I wouldn't want you to miss any of the presentation.
If you have any questions, please do not hesitate to email me.
THIS EVENT IS OPEN TO BOTH WOMEN AND MEN, SO LADIES BRING YOUR HUSBANDS, SONS, BROTHERS, BFF'S AND START THE YEAR OFF FOCUSED AND READY!
ABOUT THE FACILITATOR: NANCY RUFFIN
The workshop is facilitated by modern thought leader, award winning writer, and personal development coach Nancy Ruffin. Nancy has over 18+ years in business leading and developing high performing teams and whether it's through her podcast, books, or one on one coaching sessions, she has one mission in life: To help individuals unleash their power, discover their purpose, and take inspired action so they create a life where they feel fulfilled and empowered. Her strategies are designed to teach you techniques on discovering your life's purpose and manifesting the life you've always envisioned through the power of intention, motivation, awareness, and action.
NO REFUNDS.
TICKETS ARE NON TRANSFERABLE.
YOU CANNOT USE UNUSED TICKETS FOR ANOTHER EVENT.