About this Event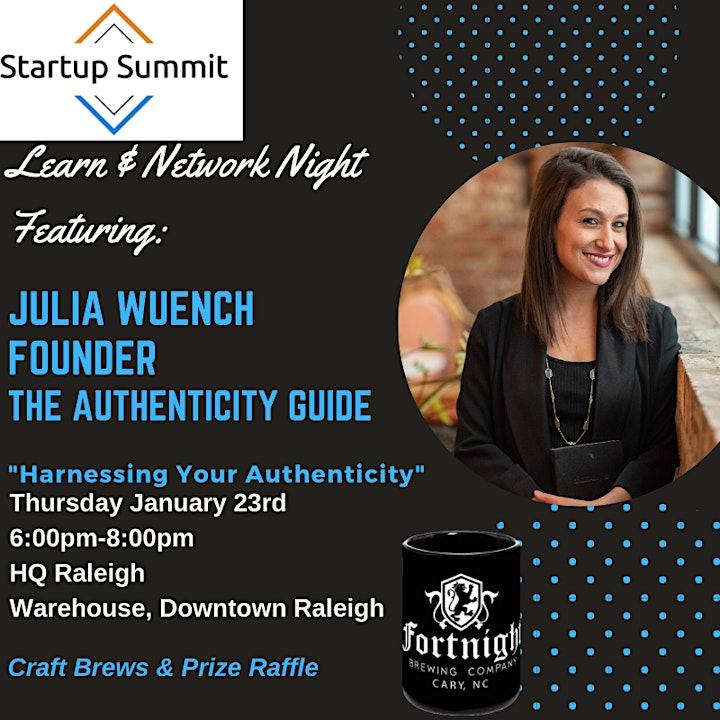 Come Kick-Off 2020 "New Year, New You" With Improved Entrepreneurship & Startup Success!
Join us to celebrate the new year meeting and learning from leaders in the Triangle and enjoy a beer from sponsor Fortnight Brewery! At this special event we feature speaker Julia Wuench, Founder of the Executive and Career Coaching Firm, The Authenticity Guide! Julia will deliver you a great talk around "Harnessing Your Authenticity for a Stellar 2020!" You will learn how to define and focus on your strengths at work and in life plus leave with actionable tools to be your best in 2020!
A great night at special venue, HQ Raleigh- Warehouse to meet some new friends, gather with colleagues, and learn something new that you can apply to reach the summit of your startup and entrepreneurs aims! Plus some great brews from our beer sponsor, Fortnight Brewery and win Startup Summit T-Shirt and Purebuds Earphones:
Plus check out a demo table sponsor with BlueRecruit, who has removed the inefficiencies of resumes and job posts, and is building the future for how America's workers will connect to companies desperate for their talent.Linkedin: https://www.linkedin.com/company/blue-recruit-inc
Facebook: https://www.facebook.com/BlueRecruitUSA
We would like yo welcome an addition to our consulting corner with CareerPro.
Career Pro Inc. is a veteran owned and North Carolina comprehensive Career Services firm with 29+ years of specializing in both Individual and Corporate Outplacement, HR
Consulting and Hiring Best Practices. We devote our time, energy and effort to help people maximize their careers, their small business brand and talent. We work with people and organizations through good and bad economic times. We know and continue to help start-up to established companies and people reach their full potential.
https://careerproinc.com/
Any questions reach out to co-founders of Startup Summit, Keith Washo or Mark Bavisotto on LinkedIn or StartupSummit.io
About: Julia Wuench: Julia is the Founder of The Authenticity Guide, an Executive and Career Coaching firm. She has a positive psychology, strengths-based approach to coaching, and loves empowering her clients to find authentic joy. An MBA from Duke University's Fuqua School of Business, she is a Contributor to Business Insider and writes and speaks on topics like The Positive Power of Failure, How to Combat Imposter Syndrome, Leveraging Strengths at Work, Intentional Networking, and more.
Thank you beer sponsor, Fortnight Brewery & Product Demo Sponsor BlueRecruit.