Description
HIGH QUALITY WEB CONTENT THAT'S USEFUL, USABLE AND ENJOYABLE IS ONE OF THE GREATEST COMPETITIVE ADVANTAGES YOU CAN CREATE YOURSELF ONLINE.

MODULE: E-COMMERCE PROCESS

TOPIC: EC201CN - CONTENT MANAGEMENT & STRATEGY
LANGUAGE: MANDARIN
About this class
Regardless of what you are selling, having a proper content management strategy is the key to success in the world of e-commerce. Crafting valuable and enticing content helps you build your brand and build trust with your existing and potential customers, enabling you to boost the reputation of your company and increase your sales.
Not only does quality content help you with brand building, but it also helps you convert your prospects into customers. Creating relevant and useful content enables you to provide your visitors with a much better user experience, which greatly impacts your ranking in search engines. Namely, it improves your SEO ranking, so that you can drive more traffic to your e-commerce store and increase your sales, ultimately generating more revenue and improving your ROI.
With the importance of content and the impact it can have on your e-commerce business in mind, take a look at some of the ways you can improve your e-commerce content strategy in order to keep enlarging your customer base and to turn a profit.
We bring you experts from the world of e-commerce to share with you helpful tips and knowledge that you can apply for your e-commerce business.
RSVP NOW BEFORE THE SEAT IS SOLD OUT. FREE OF CHARGE.
---
Agenda
13:30 Registration
14:00 Introduction to SITEC
14:10 Coach 1 - Will be updated soon
15:10 Coach 2 - Will be updated soon
16.00 Group photo session, refreshments & networking
* This class will be conducted in Mandarin.
Who should attend?
Online sellers, e-commerce service providers, SME business, retailers, chain stores, entrepreneurs, university graduates and anyone interested in the e-commerce
Enquiry & Registration:
Website: http://bit.ly/2020ECCLASSSCHEDULE
Email: ecclass@sitec.com.my
Tel: 0104419960 (Salman)
*This program is organized by SITEC with the support of Invest Selangor. FREE Admission
About SITEC:
SITEC (Selangor Information Technology and E-Commerce Council) was initiated by Selangor State Government in 2015. We conduct a series of seminars aiming at increasing the e-Commerce know-how for Small and Medium Enterprises. We also host forums and discussion panels inviting emerging and successful e-commerce entrepreneurs to share their stories and real-world experiences. We hope this can serve as the catalyst for the traditional industry to transform their business successfully online and help Selangor to stay at the forefront of social-economy growth driven by this new and fast growing world of e-commerce.
---
This event is free of charge. However if you cannot make it, do have the courtesy to alert us via email ecclass@sitec.com.my or just buzz me via WhatsApp at 010 441 9960 (so that we can tell the caterer as to how much food we need to prepare to minimise wastage).SITEC has also invited companies from the e-commerce industry to come and open counters. You can visit their counters before and after the class to find out more about e-commerce services offered.
Below are some reminder for you:
1) Registration
Event will begin at 1400 and registration starts at 1330. Check-in process is simple, just show us the barcode/QR code of your mobile ticket, or tell us your name will do.
2) Seats
Free seating. Please fill up the front row first. :)
3) Refreshments
Delicious local delicacies are waiting for you after the class.
4) Location
SDCC (Selangor Digital Creative Centre) is located inside i-City Shah Alam (https://goo.gl/maps/nd3Ma8sHUwm). Look for E-28-1, we are at 1st floor and there's a bunting at the staircase, you won't miss it.



5) Parking Rate
Monday to Sunday (6am - 7pm): 1st 2 hour or part thereof,RM3, Subsequent 2 hour of part thereof RM3.
Monday to Sunday (6pm - 6am): Per Entry, RM10
6) Upcoming Free Class Schedule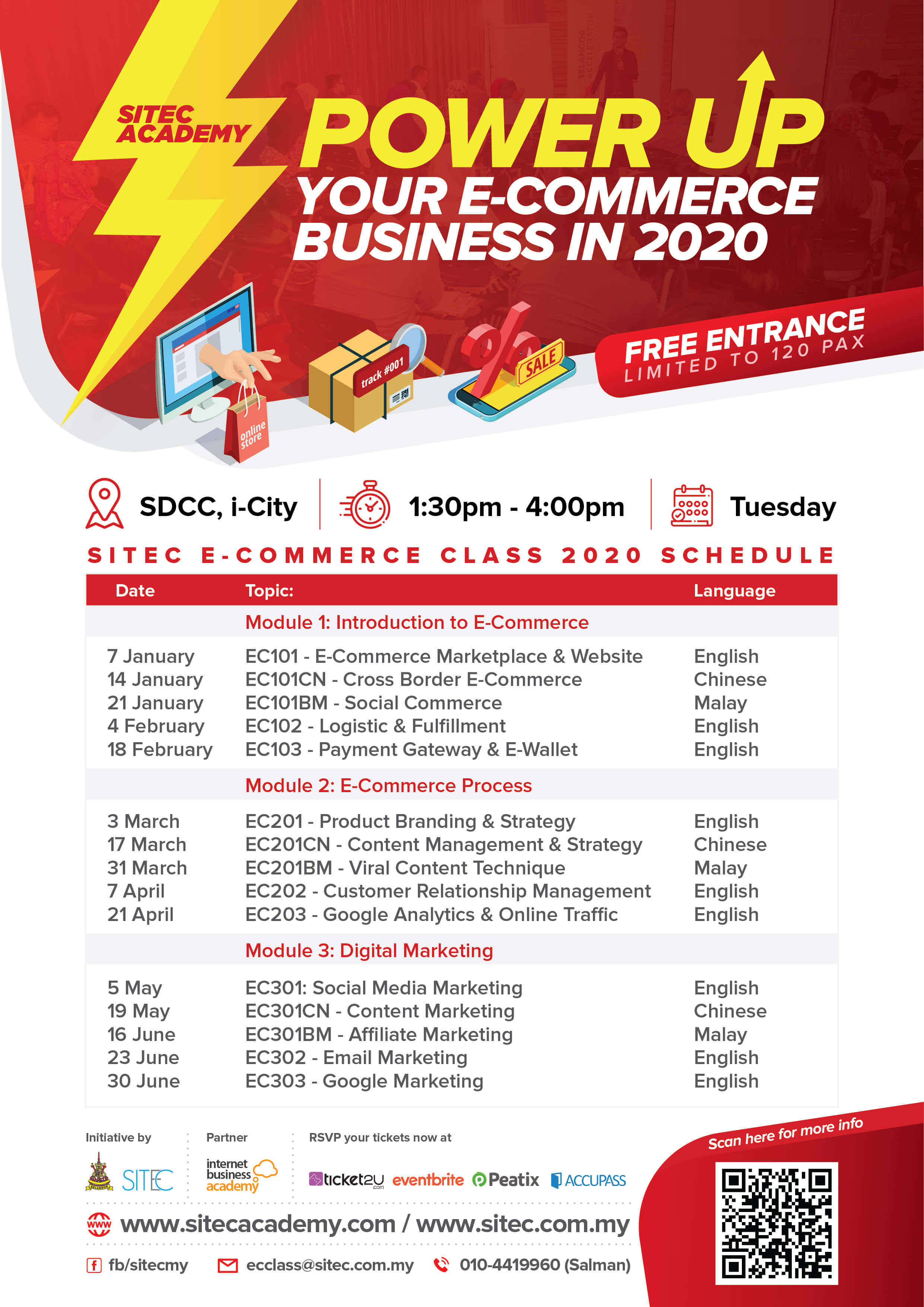 So I sincerely hope you do not give this a miss as especially if you are still new in the e-commerce industry. Thanks for reading this and I'll see u soon!

Best regards,
SITEC E-Commerce Division
0104419960
SITEC