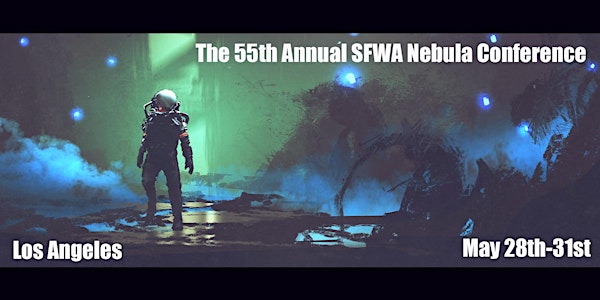 2020 SFWA Nebula Conference
When and where
Location
Warner Center Marriott 21850 Oxnard Street Woodland Hills, CA 91367
Description
May 28th-May 31st, 2020
---
SFWA members and other individuals who are interested in the field of science fiction and fantasy are welcome to attend SFWA's Nebula Conference. Attendees may participate in workshops, programming and special events throughout the weekend.
You do not need to be a member of SFWA to attend. We encourage anyone with a connection to the field to join us.
Focusing on three tracks relevant to professionals in the genre, attendees will be able to choose from career management, professional development, and expert knowledge panels and workshops. We are very early in the programming process but if you'd like to know what past conferences were like, you may access the 2019 schedule.
You will be able to meet with major industry vendors and sponsors throughout the weekend. In 2018 and 2019, companies like ARCHIVOS, Choice of Games, Draft2Digital, LMBPN Publishing, Parvus Press, PublishDrive, Tor, and Tor.com publishing were in attendance. We hope to have even more participation this year, so please watch this space for updates!
Our 'Office Hours' sessions in our expert knowledge room provides an opportunity to sit down with industry professionals on a wide range of relevant topics.
The conference will also feature the prestigious Nebula Awards and banquet along with receptions honoring SFWA's newest Grand Master and the Nebula Award nominees.
Like free books? Every full conference registration got a full bookbag with lots of excellent swag!
This conference is fully accessible and we will strive to make this event comfortable, safe, and engaging for all attendees.
Our policies on harassment and accessibility are located here:
Nebula Conference Accessibility

Understanding the Accessibility Checklist
If you have special requests for accessibility accommodation, for both on-site and off-site events. (e.g. transportation, mobility, vision, hearing, etc.), any information provided in the registration will be kept in the strictest of confidences.

HOTEL
Warner Center Marriott Woodland Hills
21850 Oxnard St
Woodland Hills, CA 91367
Phone: (818) 887-4800
$159 USD per night plus tax. In room internet included.
Book your group rate for SFWA's 55th Annual Nebula Conference
If you have questions, please do not hesitate to ask. You can reach the SFWA Events Team at events@sfwa.org.
The following nearby hotels listed below may be have availability. Please note that the SFWA Nebula Conference does not have a negotiated room rate at any of these hotels, and this list is provided as a courtesy for those who were not able to register at the host hotel.
Note: No transportation has been arranged between hotels.
Hilton Woodland Hills (0..9 miles away)
6360 Canoga Avenue, Woodland Hills, California, 91367-2501, USA
https://secure3.hilton.com/en_US/hi/reservation/book.htm?execution=e2s1
+1-818-595-1000
Knights Inn Woodland Hills (1.3 miles away)
21706 Ventura Blvd, Woodland Hills, CA 91364
(818) 456-4188
Courtyard Los Angeles Woodland Hills (1.3 miles away)
21101 Ventura Boulevard, Woodland Hills, California 91364 USA
https://www.marriott.com/reservation/rateListMenu.mi?defaultTab=standard
+1 818-999-2200
Best Western Woodland Hills Inn (1.4 miles away)
21830 Ventura Blvd, Woodland Hills, CA 91364
(818) 340-1000
Holiday Inn Express & Suites Woodland Hills (1.7 miles away)
22617 Ventura Blvd, Woodland Hills, CA 91364
(818) 222-2299
Canoga Hotel (2.2 miles away)
7126 De Soto Ave, Canoga Park, CA 91303
(818) 346-9499
Comfort Inn Near Warner Center (2.4 miles)
20157 Ventura Blvd, Woodland Hills, CA 91364
(818) 347-8080
Extended Stay America - Los Angeles - Woodland Hills (2.5 miles away)
20205 Ventura Blvd, Woodland Hills, CA 91364
(818) 710-1170
Woodland Hills Calabasas Guesthouses (2.5 miles away)
22942 Crespi St, Woodland Hills, CA 91364
(818) 225-5347
Best Western Canoga Park Motor Inn (2.9 miles away)
20122 Vanowen St, Canoga Park, CA 91306
(818) 883-1200
FAQs
REGISTRATION
Q: Who attends the SFWA Nebula Conference?
A: Authors, editors, agents, publishers, and other professionals come to the conference to attend programming, network, conduct business, relax, and to see friends.

Q: Do I have to be a member of SFWA to attend?
A: No. The conference is open to all who buy an attending membership.
Q: What is the dress code for the conference?

A: Most of the weekend is casual, wear whatever you'd like. There are receptions each evening, for which many dress up, business casual, cocktail dresses (but they don't all dress up). The banquet and awards ceremony will see everything.
HOSPITALITY SUITE
Q: Is there a SFWA Suite?
A: There will be a hospitality lounge, and it is open to all attendees of the conference.
Q: What are the hours of the hospitality lounge?
A:
Thursday - 2:00pm - 1:00am
Friday - 8:30am - 1:00am
Saturday - 8:30am - 1:00am
Sunday - 8:30am - 12:00pm
BANQUET
Q: Will I be able to eat if I'm a vegetarian?
A: Yes, we selected a Vegan option during our tasting session at the hotel in addition to a beef and chicken option.
Q: If I have dietary restriction, can I be accommodated at the banquet.
A: Yes, we even have a space for you to note your dietary restrictions on the registration form.
Q: Can I attend the Awards Ceremony if I don't attend the Banquet?
A: Yes, after the banquet, we'll open up the doors to all members. There will be seating set up for attendees who did not join us for the banquet.
Q: If I can't attend, where can I watch the Awards ceremony?
A: SFWA plans on streaming the Awards ceremony live via Facebook Live and Youtube Live.
PROGRAMMING
The Nebula Conference Programming Committee is looking for panels, workshops, and presentations geared toward working professional science-fiction and fantasy authors. Let us know what you want to hear and learn about at the 2020 Nebula Conference.
The deadline to suggest programming items and to express interesting in being a programming participant is Feb. 29, 2020. Please note that, with the exception of Nebula finalists, you can only express interest in participating in the programming via registering for the convention.
If you have a proposal for a presentation or panel in which you would like to participate, use this form.
If you have a request for a topic you would like to see to covered, but do not wish to present or partake in, yourself, use this form.
If you'd like to know what past conferences were like, you may access the 2019 schedule.
MASS AUTOGRAPHING
There will be a (free) mass autograph session for attending authors. We're still working on the details for that one. We'll update this space with a date and time.
BOOK DEPOT
The SFWA Book Depot is a unique conference bookstore stocking hardcovers, paperbacks, writing journals, cookbooks, and more, available to all attendees at the Nebula Conference weekend event. The Depot also remains open for sales to the general public during the mass-autographing session. We carry a wide selection of science fiction and fantasy books with a special focus on Nebula Award nominees and attending authors. This is an unparalleled opportunity to get autographed books by more than one hundred authors, including the Grand Master inductee. The full list of authors will be publicized closer to the event.
The Depot is very indie-friendly and will be stocked with books unavailable in most bookstores, including out-of-stock, out-of-print, hybrid, and self-published items, for which the authors will receive 80% of the proceeds.
This year the Book Depot is being held all days of the Conference at a prominent location within the Marriott Warner Center in Woodland Hill, CA. Please contact Sean Wallace at sean.wallace@sfwa.org should you have any questions or concerns.
OTHER
Q: How can I help support the SFWA Nebula Conference?
A: You can help publicize the conference by discussing it on social media. If you are attending, volunteer to help. It's a great way to meet people and make connections, especially if you are new to the field. If you live far away from Pittsburgh and are unable to attend, you might consider hosting a local Nebulas Event where you watch the streamed ceremony and have your own party with local SFWA members and other interested members of the SFF community. If you are interested in volunteering on site at the Nebula Conference, please email us at volunteers@sfwa.org.