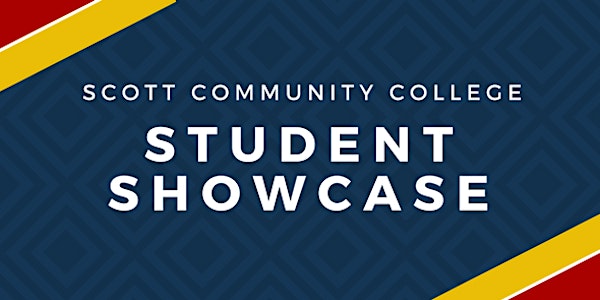 2020 SCC Student Showcase - BOD, Donors, Faculty, Staff, & Sponsors
When and where
Location
Quad-Cities Waterfront Convention Center 2021 State Street Bettendorf, IA 52722
Description
You're invited to join us for the Scott Community College Student Showcase!
You have received an invitation to attend the Student Showcase because you are an EICC/SCC faculty or staff memebr, a scholarship donor, an SCC Foundation Board of Director, a BASH 2019 sponsor, or a 2020 Student Showcase sponsor.
Come learn about SCC's programs and student clubs. Students will host interactive displays and booths for you to experience projects they have been working on over the past school year and to show what clubs are available at the college. The Showcase will take place from 5:00-6:00 PM. Dinner will begin at 6:00 PM followed by the recognition program.
If you are a scholarship donor, we will seat you with your scholarship recipient for the evening. If for any reason your recipient is unable to attend, we will notify you in advance and seat you with another scholarship recipient instead.
Dinner: Italian Buffet
Attire: Business Casual - Jeans are welcome.
Parking: Parking on site is free and there is a covered entrance for handicapped access.
RSVP's are required if you wish to attend. Seats will NOT be available the night of without an RSVP.
Questions? Call the SCC Foundation Office at 563-441-4063.