2020 Sarasota Jazz Festival - Saturday JAZZ PARTY Concerts
Description
The Sarasota Jazz Club's 40th Annual Festival
Saturday Afternoon JAZZ PARTY 4 Stage Concerts
BLUES STAGE - Holley Hall:
Noon - Bobby Blackmon Band
2:30 - Betty Fox Band
CLASSIC STAGE - Art Center Sarasota:
Noon - Katt Hefner Band
2:30 - Randy Sandke Quintet
CONTEMPORARY STAGE - Cohen Hall:
Noon - Art Seigal Band
2:30 - Jeremy Carter Quintet
LATIN STAGE - Bayfront Community Center:
Noon - Frankie Pineiro Band
2:30 - Gumbi Ortiz / New Grove City
HIGH SCHOOL STAGE - Municipal Auditorium
1:45 - 3:00 PM

JAZZ CLUB MEMBERS RECEIVE $10.00 DISCOUNT FOR THEIR INDIVIDUAL TICKET
JUST ENTER THE MEMBER CODE FOUND ON YOUR MEMBERSHIP CARD!
ONLINE TICKET SALES END THURSDAY MARCH 12 AT 11:30 PM
TICKETS PURCHASED ON THE DAY OF THE EVENT WILL ONLY BE AVAILABLE AT THE MUNICIPAL AUDITORIUM STARTING AT 1 PM - THESE TICKETS WILL COST $50.00 (PLUS PROCESSING FEES)
STUDENT TICKETS are available exclusively to Middle School, High School and Full Time College Students. High School and College Students must show school identification to enter the event. These tickets are NOT available to students enrolled in part-time adult continuing education programs. No other discounts apply to Student Tickets.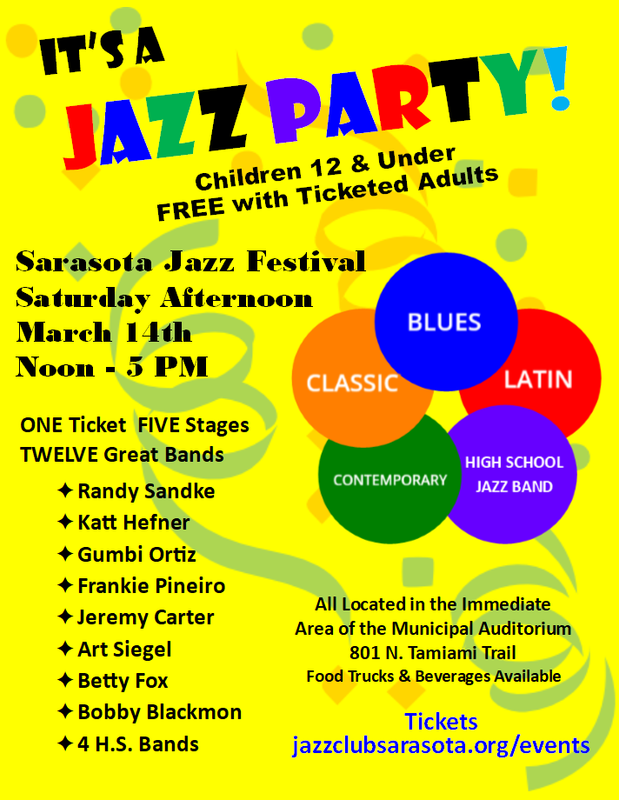 Visit the Festival website to learn more about about these events: www.sarasotajazzfestival.org