Sales Have Ended
Ticket sales have ended
Ticket sales have now ended. Please contact Dusty Trails at 308-530-0048 if you wish to inquire about attending this tour.
Sales Have Ended
Ticket sales have ended
Ticket sales have now ended. Please contact Dusty Trails at 308-530-0048 if you wish to inquire about attending this tour.
Description
COVID 19 Statement
Thank you so much for your support of our Sandhill Crane and Prairie Chicken tours. As a small business owner just getting started in offering these wildlife viewing opportunities, I appreciate your booking very much.
The Dusty Trails Sandhill Crane and Prairie Chicken tours are small groups. The capacity for the bus tours to the Crane and Prairie Chicken viewing sites is 18 and the river viewing blind is 15. This will provide ample opportunity to enjoy these experiences while safely maintaining the recommended social distancing.
In addition, we will provide hand sanitizer for all of our guests and will thoroughly sanitize all of the surfaces in our bus and the blind between tours. We will be screening our visitors for signs of illness – sneezing, coughing, fever – and also ask them to self-screen. Should anyone exhibit signs of illness, we would ask them to postpone their visit to the 2021 season.
Should you decide that you do not want to travel this year, we will honor your reservations for the same tour in the 2021 season.
Thank you so much for your understanding. We are looking forward to helping you to experience the amazing spring birding opportunities here in North Platte.
~~~~~~~~~~
Each spring the most incredible migration event in the world passes through the North Platte, Nebraska area. More than 200,000 Sandhill Cranes will spend about six weeks in the North Platte River valley fortifying themselves for the nesting period to come. While they are here, they will engage in beautiful courtship and pair-bonding behaviors.
Courting cranes are magnificent as they stretch their wings, pump their heads, bow, and leap into the air in a graceful and energetic dance. Parents will dance with their chicks for the entire first year of their lives. Juvenile Sandhill Cranes will use the complex dance steps they learned to select a mate when they are two to five years old. They will mate for life, though continue to show their affection to their mates each spring with their dancing prowess. The energies and, dare we say emotions, released during the dancing rituals are essential to successful breeding.
These graceful, exuberant rituals can best be observed while the Sandhill Cranes are in the feeding and loafing grounds, which are the meadows and crop fields within five miles from the river.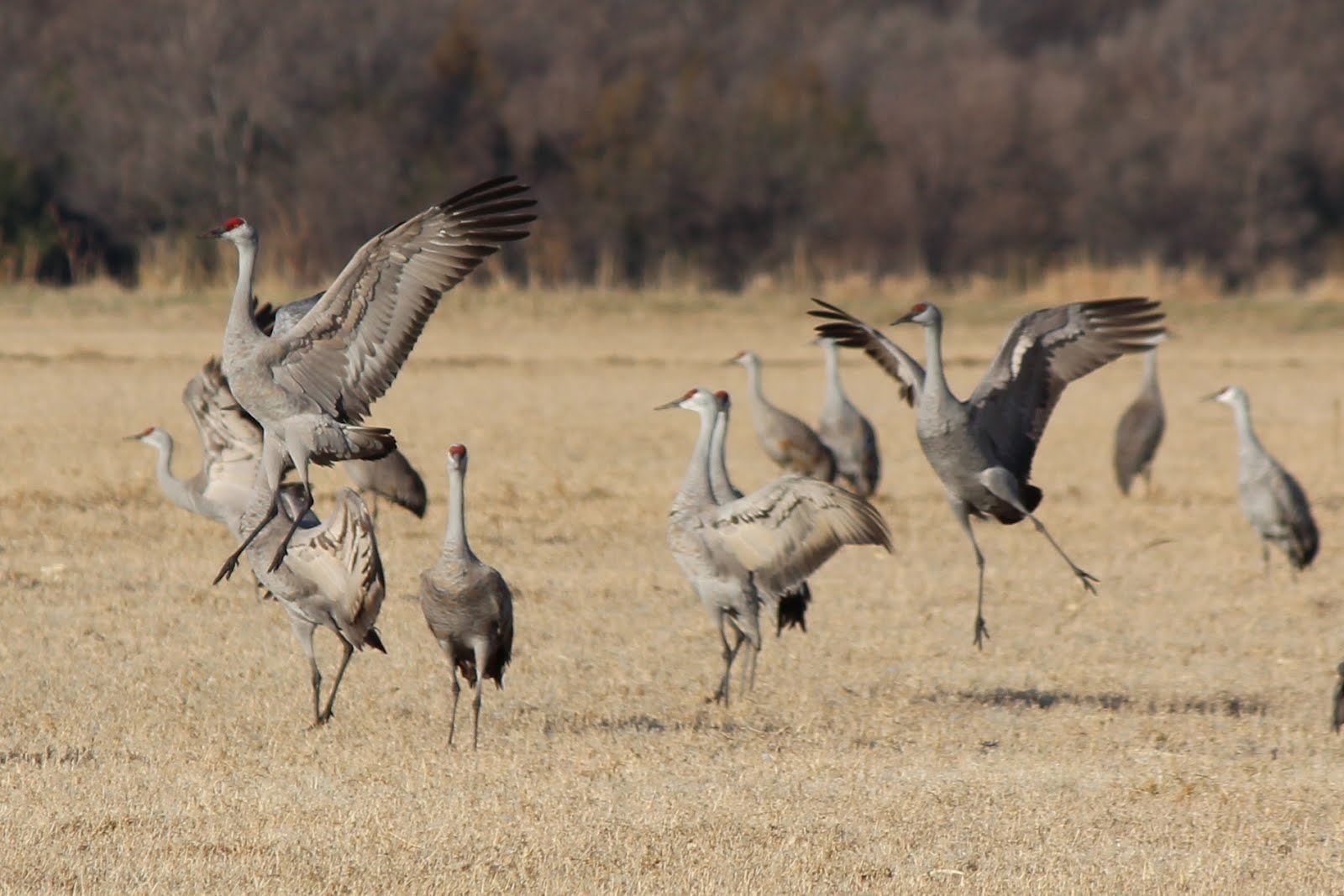 Sandhill Crane Tours
To aid you in your experience of the Sandhill Crane migration, Dusty Trails LLC, your outdoor specialists in North Platte has developed tours during the most active time of the day for the Sandhill Crane courtship behaviors. These tours are scheduled from 2:15pm until approximately 5:00pm. There will be a bathroom break at a portapotty during the tour.
The Sandhill Crane Tours are scheduled Saturday and Sunday March 14 and 15, and then daily March 20 - through April 8.
Saturday and Sunday tours will depart from Pals Brewing Company, 4520 S Buffalo Bill Ave. Monday through Friday tours will depart from the Visitor Center at 101 Halligan Drive in North Platte.
All tours include a round trip through the North Platte River valley between North Platte and Hershey. The tour will linger along the rural roads wherever there are large groups of Sandhill Cranes so that you can observe, video and photograph as much as you would like.
While on the tour, you will be treated to information about the Sandhill Cranes, their migration and behaviors you may observe in the fields.
The transportation for the tours is a converted school bus that will be warm and dry and afford elevated visibility for Crane viewing. You will be supplied with a welcome bag including a snack and a water bottle.
Each tour size is limited to 18 individuals. For larger groups, please contact Dusty Trails LLC Outdoor Specialists at 308-530-0048.
Some binoculars will be available to share, but please feel free to bring along your own to enhance your experience, as well as whatever photography and videography equipment you would like.
Adult tour prices are $35.00 per person; Children ages 5 - 10 are half price ($17.50). Children 4 and under are free.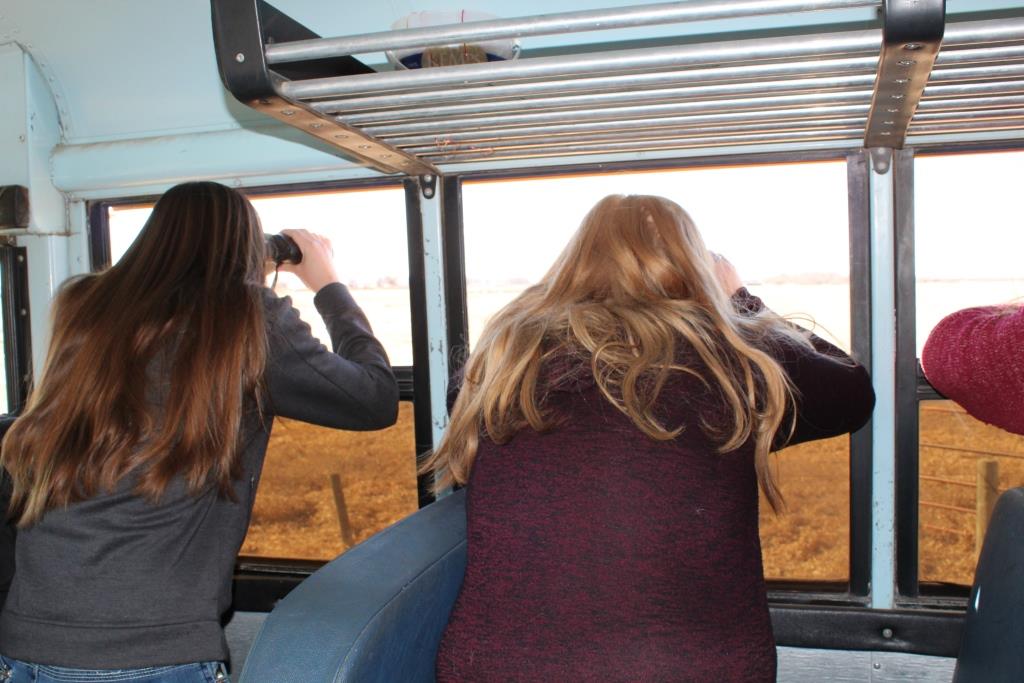 The fine print:
Tickets to these excursions are non refundable. Refunds will only be made if a particular tour is not held. The tours will go on even in inclement weather unless it gets so bad as to be a safety issue.
Dusty Trails has no control over the wild animals these tours will be viewing or the weather. There are no guarantees as to how many birds will be seen, or what they will be doing
While you're in town to experience the Sandhill Crane migration, be sure to check out these other adventures:
Please enjoy these hotel partners for your stay:
North Platte Super 8 - Birding Rate $62.00 plus tax for any room type. Contact the Super 8 directly at 308-532-4224
Holiday Inn Express - Birding rate 99.95 plus tax. Contact the Holiday Inn Express directly at 308-532-9500
Best Western Plus - Birding rate 89.95 plus tax. Contact the Best Western Plus directly at 308-534-3120
RodeWay Inn – Birding Rate $50.00 plus tax for any room type. Contact the Rode Way Inn directly at 308-532-6650.