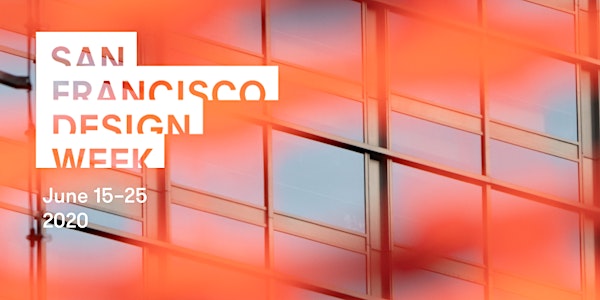 2020 San Francisco Design Week: ALL-ACCESS PASS FOR 2020 Events
JOIN US FOR AN EXPERIMENT! The First Regional Virtual Design Festival
About this event
Thats a wrap! Thank you for joining us in this experiment! If you have an all-access pass you can go back and watch event recordings until the end of July! Reduced tickets still on sale.
Get your discounted pass to watch event recordings and access to SF Design Week Roblox Experience. Please note this is for 2020 SF Design Week virtual events!
-----------------------------------------------------------------------------------------
Due to the circumstances surrounding COVID19, San Francisco Design Week is transitioning to the first regional design festival to go Virtual during the pandemic!
Join thousands of attendees connecting online to digitally gather for virtual experiences, digital and online programming, livestreamed studio crawls, networking events and more!
While we'll definitely have online events, we're also working hard to create experiences that bring human connection that goes beyond staring at a screen and participating in chat windows.
The first set of events will be announced on our calendar May 15th and we'll be adding more over the next few weeks!
What IS included: This pass will give you access to the majority of events taking place between June 15th–25th, 2020. Some events, such as BrainDate and events which are limited to a small number of participants are first come, first serve so make sure you register as soon as individual registration is announced!
What is NOT included: A few of our workshops and smaller events require an additional ticket fee and this pass does not include Private or VIP/Invite Only events. All-Access Pass gives you access until registration is full for popular events (like Braindate!) so make sure to register for individual events on June 8th!
PLEASE VISIT OUR FAQ FOR ADDITIONAL INFORMATION:
To learn more visit our FAQ and sign up for our digital newsletters for notifications when individual event registration goes live and follow us on social media.
I purchased an All-Access Pass, how do I access event registration?
You'll receive an email on June 8, 2020 with information on how to gain access to the event site. We will be sending you a unique password which only works with your email address to use to gain access.
Do I need to register for individual events?
Once you receive your unique password on June 8th, you'll be able to login to our platform to register for individual events.
Do I have to register for individual events?
Yes, we highly recommend you register for each event you'd like to attend starting on June 8th. Especially for the events that have limited spots available. Once you do, you'll be sent automated reminders so you can add it to your calendar.
I previously purchased a ticket to the Official Party at Pier 27, what do I do?
The in-person event has been canceled but your ticket will be transferred to an all-access pass so you're good! Look for an email via SF Design Week Eventbrite with instructions!
Questions?
Contact virtual@sfdesignweek.org
TICKET FEE WAIVER
We strive to make our programming accessible and affordable to those who wish to attend but find cost to be a barrier. We have a very limited amount of free tickets reserved for attendees in underserved communities. To submit an application to obtain a fee waiver please fill out the form here. Please make space for these individuals and only apply if you are a person of minority, immigrant or from other underserved communities. Note: Due to the small size of our team, we will only be notifying recipients of the acceptance of waived fee on or before June 1st. If you do not receive an approval via email it means you were not accepted or we're out of available waived tickets!
REFUND POLICY
Due to the nature of this event, we do not currently offer refunds. Purchased a ticket but can't go? Consider it a donation to support the design community and non-profits during the pandemic. All ticket sales go directly to supporting San Francisco Design Week programming and events which are produced by a 501c3.
RELEASE FOR EVENT RECORDINGS
By purchasing this ticket you agree to participate in events that will be recorded and are signing a release that allows SF Design Week or its partners to use the photos/video for promotional purposes.