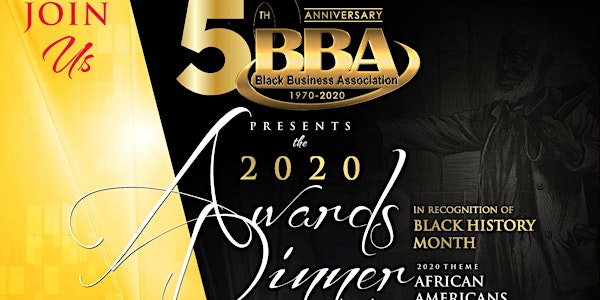 2020 Salute To Black History Annual Awards Dinner
When and where
Location
California African American Museum 600 State Drive Los Angeles, CA 90037
Description
Los Angeles, CA — The Black Business Association (BBA), the oldest ethnic business
organization in the State of California, will commemorate Black History Month (aka African
American Heritage Month) during its Salute To Black History Annual Awards Dinner on
Thursday, February 27, 2020, at the California African American Museum, 600 State
Dr. Los Angeles, CA 90037.
In recognition of African American Heritage Month Theme for 2020 is "African
Americans and The Vote." Black History month, 2020 marks the centennial of the
Nineteenth Amendment. The year 2020 also marks the sesquicentennial of the Fifteenth
Amendment (1870) and the right of black men to the ballot after the Civil War. The Black
History Month theme, then, recognizes the struggle for voting rights among both black men
and women throughout American history. It is an ongoing struggle experienced by people
of color that continues into the 21st century.
The BBA will pay honor to outstanding individuals who have made contributions in the
advancement of the African-American vote.
Honorees for this year's tribute will be:

 Hon. John Lewis
U.S. Representative for Georgia's 5th Congressional District, serving in his 17th term in the
House and is the dean of the Georgia congressional delegation.

 Rev. William Barber II
Member of the national board of the NAACP and has been president of the NAACP's North
Carolina state chapter. Barber has served as pastor Greenleaf Christian (Disciples of Christ)
in Goldsboro, North Carolina.
 Hon. Wille Brown:
Former California State Assembly, spending 15 years as its speaker. He became mayor of
San Francisco and was the first African American to hold that office.

 Dr. Adrian Dove:
Dr. Dove is a former field staffer who worked under Dr. King as a Voter Registration
Worker in the Deep South during the 60s.

 Rev. Amos C. Brown
President of the San Francisco branch of the NAACP and has been the pastor of the Third
Baptist Church of San Francisco.

 Alice A. Huffman
President of California Hawaii NAACP and a member of the National Board of the NAACP.

 Hon. Karen Bass
U.S. Representative for California 37th congressional District in the United States House
of Representatives.

 Sebastian Ridley-Thomas:
African American Voter Registration, Education, and Participation (AAVREP) Political
Action Committee. AAVREP is the longest continuously-operating voter registration and
turnout organization in the State of California.

About National African American Heritage Month
This February National African American Heritage Month (as amended from Black History
Month). Will celebrate significant contributions that African Americans have made to our
great Nation. African Americans have made contributions that stand as a testament to their
resolve, resilience, and courage. Over the course of our Nation's history, African Americans
have endured egregious discrimination and bigotry. They have, nevertheless, always been
determined to contribute their earnest efforts to America's greatness. This annual
observance is an opportunity to remember the challenges of our past, but also to honor
countless African-American heroes who inspire us to shape our country's future.

About The Black Business Association:
Celebrating 50 Years of service, the Black Business Association (BBA) was founded in 1970.
Headquartered in Los Angeles, the oldest active ethnic business organization in the state of
California, has been committed to ensuring that African American and other diverse
business owners benefit from our advocacy efforts to impact, improve and implement
policy that improves access to contracting and procurement
opportunities with the public and private sector,in addition to providing access to financial resources. The BBA is a 501(c)(3) non-profit organization.
Contact Details: For tickets and more information on the BBA's Salute to Black History
Month Awards Dinner, visit www.bbala.org or email the BBA at bbamail2009@gmail.com