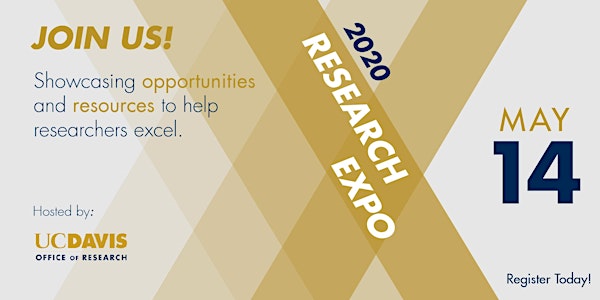 2020 Research Expo
When and where
Location
UC Davis Conference Center 550 Alumni Lane Davis, CA 95616
Description
The annual UC Davis Research Expo showcases the latest research-related tools, resources and insights to help you advance your research programs and careers. The event includes exhibits, presentations and workshops. We welcome you to enjoy the full event or attend portions that are of particular interest.
This year, the main hall presentations will include a keynote address by Professor Jonathan Eisen on the hope and hype of microbiome research, followed by an introduction to the new Spaceflight Research Center by Vice-Chair for Research and former astronaut Steven Robinson.
You can also select from an array of morning and afternoon sessions to strengthen your skills and knowledge in specific areas related to research.
And new this year, we will be partnering with Seed Central to offer an extended afternoon session devoted to ag innovation, where we will bring experts from various specialties together with industry partners. This additional section will include a workshop, presentation and networking event.
If you are involved in research, you will not want to miss this event!
---
Who should attend: Faculty, post-docs, staff, research administrators, students and industry partners involved in research.
Cost: Free
When: Thursday, May 14, 2020 from 10:00 a.m. to 7:00 p.m.
Where: UC Davis Conference Center
Note: Alternative plans to stream sessions may be made available depending on the state of the evolving COVID-19 situation. Any such plans will be communicated to registrants as the date of the event approaches.
---
Schedule of Events:
Part One: Research Expo General Sessions
10:00-11:00 – Morning
Breakout
Sessions
Option 1:

Publishing: Identifying the right journal and tips for a successful submission





Michael Ladisch, Scholarly Communications Officer




Option 2:

Research administration, what's new in 2020
Cindy Kiel, Executive Associate Vice Chancellor for Research Administration
Option 3:

Protocol execution: A beginner's guide to conducting research involving human participants
Dannelle Jimenez, Clinical Research Education Program Manager
11:
15
-12:30 – Main Hall Presentation
11:
15
-12:30 – Main Hall Presentation
11:15- 11:20 Opening Remarks
Prasant Mohapatra, Vice Chancellor for Research



11:

20

-12:

10

– The Rise of Microbiome Science: From Hope to Hype and Hopefully Back to Hope

Jonathan Eisen

, Director of the UC Davis Microbiome Special Research Program and Professor in the Department of Evolution & Ecology




In his talk, Professor Eisen will discuss the rapid and recent rise of studies of communities of microbes (also known as microbiomes) including examples from research in his lab on comparative studies of microbiomes across diverse systems. He will also discuss the potential importance of microbiome studies to diverse systems as well as the exceptional amount of hype that has occurred in the field and the need for careful communication to prevent the hype from doing too much damage

.
12:10-12:30 – Meet the New UC Davis Center for Spaceflight Research

Steven Robinson

, Professor Vice-Chair for Research, UC Davis Department of Mechanical and Aerospace Engineering



In the fall of 2019, UC Davis established a Center for Spaceflight Research. In his talk, Professor Robinson will discuss some of the many opportunities for multi-disciplinary research in the rapidly-diversifying fields of both robotic and human-crewed spaceflight.
12:30-2:00 – Research Exhibits (lunch provided)
2:00-
3:00
– Afternoon Breakout Sessions
Option A:

How to write a successful op-ed
Karen Nikos-Rose, UC Davis News and Media Relations
Option B:

Conducting compliant human subject research: What to do after IRB approval
Nicole Walters, Trainer for the IRB Administration
Option C:

High-Performance Computing for Research: UC Davis and national resources
John Conway, Faculty Director for the High-Performance Computing Core Facility

Julie Auger, Executive Director of the UC Davis Research Core Facilities Program
3:00-3:30 – Break
Part Two: Ag-Innovation (Collaboration with Seed Central)
3:30-4:30 – What's New in Ag-Innovation and Commercialization
Dive into some of the latest advancements in microbiome research, new capabilities from related core labs and resources available to support commercial translation and partnerships.

Microbiome Research

Jonathan Eisen

, Director of the UC Davis Microbiome Special Research Program

Core Lab Facilities

Matt Settles, Manager of the Bioinformatics Core at the UC Davis Genome Center

Commercialization Resources and Opportunities

Kristine Johnson, Associate Director at InnovationAccess
Michael Carriere, Business Development Manager at InnovationAccess
4:30-6:00 – Networking & Ag-Related Exhibits (appetizers & wine provided)
Campus and industry exhibitors. View the

full list

of participants below.
6:00-7:00 – DNA Takes a Ride on a Nanotube: Genome-Edited Crops
---
Office of Research Exhibitors:

Animal Care Program

Innovation & Technology Commercialization

Institutional Review Board Administration

Interdisciplinary Research Support

Limited Submissions Program

Research Compliance & Integrity

Research Core Facilities Program

Research Unit Development & Strategic Initiatives

Sponsored Programs
Exhibitors from Across Campus:

AMCaT Laboratory

Biorepository and Clinical Research Oversight Committee

Biosafety & ChemTag

Biotechnology Program

Bodega Marine Laboratory Reserve


California National Primate Research Center

Campus Mass Spectrometry Facilities

Cellular and Molecular Imaging Core

Center for Healthcare Policy and Research

Center for Molecular and Genomic Imaging

Clinical and Translational Science Center

Coastal and Marine Sciences Institute

Comparative Pathology Laboratory

Contained Research Facility

DataLab: Data Science and Informatics

Emergency Management & Mission Continuity

Emergency Medicine Research

Energy and Efficiency Institute

Feminist Research Institute

Field Research Safety

Flow Cytometry Shared Resource

Foundation and Corporate Engagement

Genomics Shared Resource

Global Affairs

Global Migration Center

Health Sciences District Advanced Imaging Facility

Innovation & Technology Commercialization

Institute for Global Nutrition

Institute for Innovation and Entrepreneurship

Institute of Transportation Studies

Interdisciplinary Center for Plasma Mass Spectrometry

John Muir Institute of the Environment

Keck Spectral Imaging Facility

Lab Safety

Library, Researcher Services

Mouse Biology Program

Natural Reserve System

Nuclear Magnetic Resonance Facility

One Climate

Perinatal Origins of Disparities Center

Precision Medicine: All of Us Research Program

Polar Forum

Public Health- Environmental Health

San Francisco Estuary and Watershed Science

School of Medicine Office of Research

Stable Isotope Facility

Status of Women at Davis Administrative Advisory Committee

Stem Cell Program and Gene Therapy Center

Supply Chain Management

Tahoe Environmental Research Center

Travel Medicine Program

Veterinary Clinical Diagnostic Laboratories

Western Agricultural Center
---


Nearest Parking Lot
South Entry Parking Structure, Lot VP 1 or Lot VP 2. Parking is $9, except for a few coin-operated metered spots ($.25 for ten minutes).
Permits may be purchased from the dispensers in the parking lots. The machines will accept quarters, $1 bills, $5 bills, Visa or MasterCard credit cards. Parking Map