Description
The Networking In Red Event of The Year! Please Join The National Women's Empowerment Ministry as we recognize power house women in the community of the metro Atlanta area who are influential and empowering other women in their respective industries, community, and within faith based organizations. Come learn from these women that are right here in your city and how they are making major impacts and empowering others to do so as well.
We are excited that 2020 is here and we will be recognizing 20 Amazing Women and Girls . This is our first year recognizing girls at our Red Dress Brunch, and now is the time to expose the younger generations to women's empowerment in order for the legacy to continue, HER story must be told.
Our Keynote Speaker: Deshawn S. Bullard
DeShawn Bullard is an entrepreneur and author, who specializes in helping women regain their confidence that have experienced hair trauma. What began as a way to make money while earning a Bachelor's degree in Computer Science during her college days at Tuskegee University has grown into a means of turning passion into profit. NouriTress Perfect Hair Products is the company she founded in 1998 and are distributed nationally in major retail stores such as J.C. Penney, Target and Walgreens with international distribution in countries such as Canada, UK & Africa. This beauty mogul has shown the beauty industry how you can go from standing behind the chair servicing clients to working on top celebrity clientele such as T-Boz, Lynn Whitfield, Ann Nesby, Tramaine Hawkins and Betty Wright, all while building a successful hair product line and other business entities.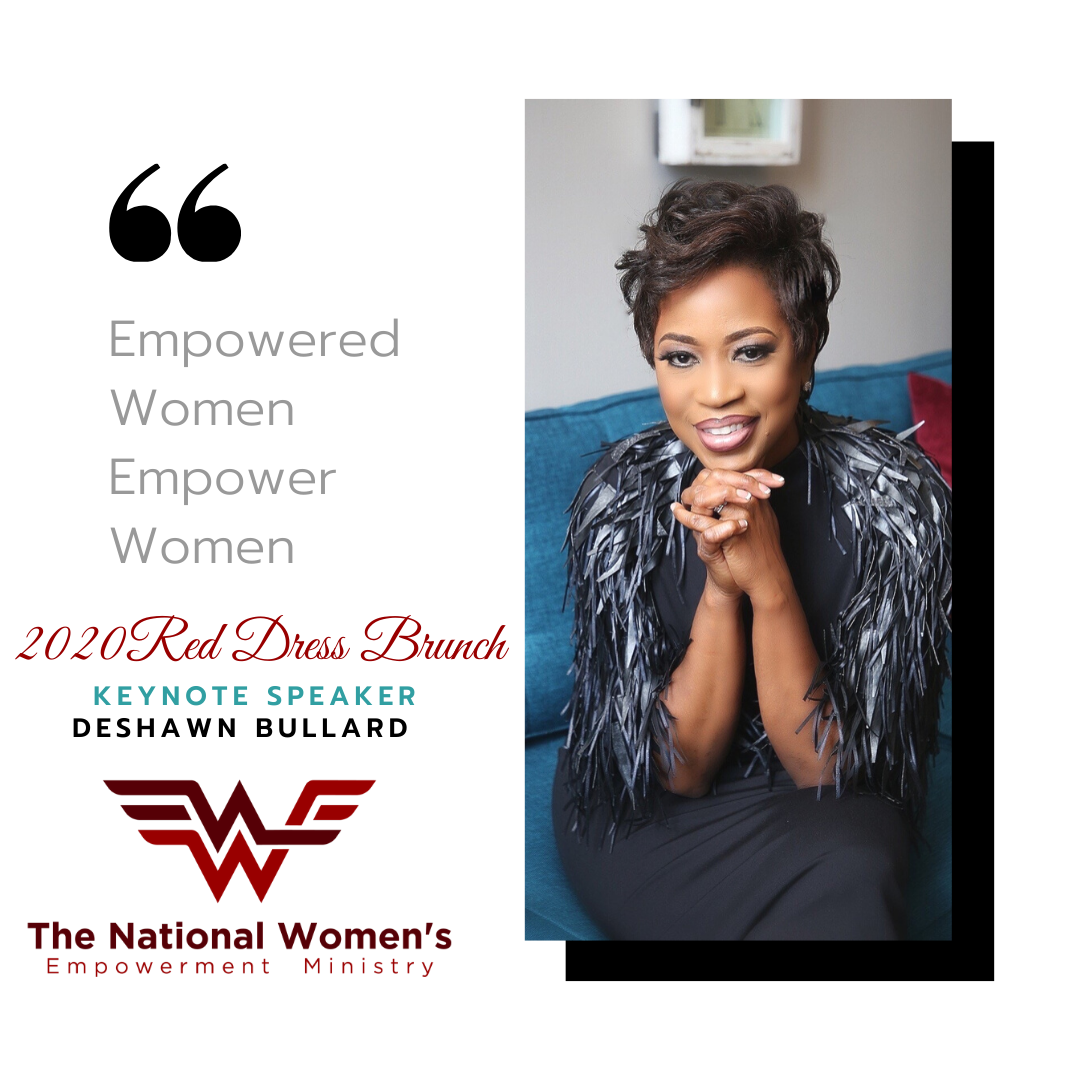 Our Award Recipients: Learn about our 21 Award Recipients in Our Online EMPOWER Magazaine ( Click Here)
Event Information:
This event is for women only and will be fun, empowering, a wonderful opportunity to network with like minded women, and just what you need to understand your purpose. Childcare is not provided and due to the length of the generational empowerment experience , girls age 10 and up are recommended to attend. We will have some of Atlanta's Best Women Owned and Operated Vendors showcasing their products and services. Grab a friend, Grab a Red Dress, and BE EMPOWERED to Walk In Your POWER in 2020.

Attire: Red Dress
Learn More:
Learn more about the Atlanta Women's Empowerment Ministry, it's upcoming programs , and events.
****Please hurry and register as seating is limited, we sale out really fast,normally 30Days before the event***
Vendor & Sponsorships:
The 2020 Red Dress Brunch is offering Vendor & Sponsorship Opportunities. If you are interested in becoming a sponsor, please contact Kristi Walker at atlantaweministry@gmail.com. If you are interested in becoming a Vendor, please see the below vendor registration information, this is a great opportunity to connect with one of Atlanta's best women's communities supporting women ran businesses. The Red Dress Brunch is an annual sold out event with over 200 women attendees. We look forward to showcasing your business at our wonderful women's empowerment experienc* Tickets - Notice of Filming and Photography: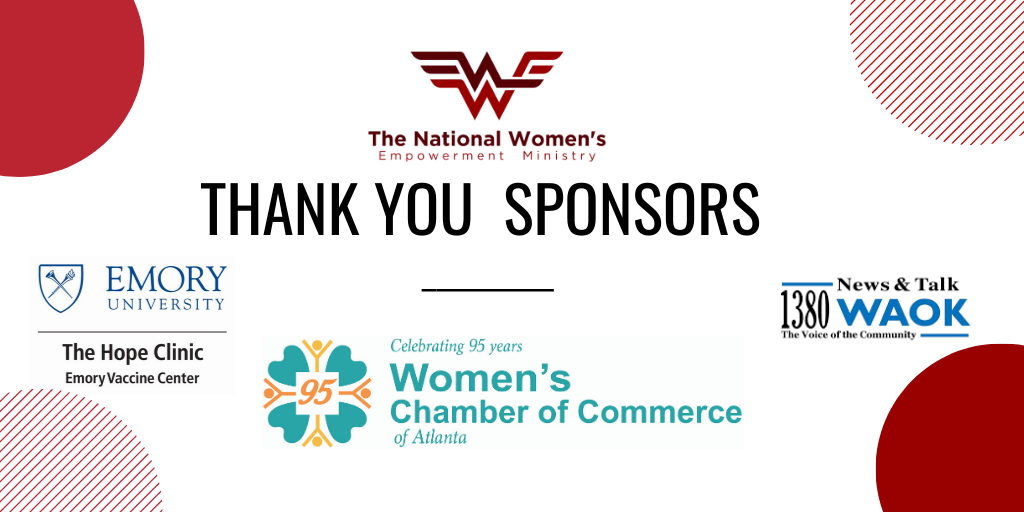 Ticket Purchase:
When you enter the Red Dress Brunch event , you enter an area where photography, audio and video recording may occur. By entering the event premises, you consent to interview(s), photography, audio recording, video recording and its/their release, publication, exhibition or reproduction to be used for news, web casts, promotional purposes, telecasts, advertising, inclusion on websites, social media or any other purpose by The Atlanta Women's Empowerment Ministry and its affiliates and representatives. Images, photos and/or videos may be used to promote similar AWEM events in the future, highlight the event and exhibit the capabilities of AWEM. You release AWEM, its employees and each and all persons involved from any liability connected with the taking, recording, digitizing, or publication and use of interviews, photographs, computer images, video and/or or sound recordings.

By entering the event premises, you waive all rights you may have to any claims for payment or royalties in connection with any use, exhibition, streaming, web casting, televising or other publication of these materials, regardless of the purpose or sponsoring of such use, exhibiting, broadcasting, web casting or other publication irrespective of whether a fee for admission or sponsorship is charged. You also waive any right to inspect or approve any photo, video or audio recording taken by AWEM or the person or entity designated to do so by The Atlanta Women's Empowerment Ministry.

You have been fully informed of your consent, waiver of liability, and release before entering the event.