2020 PR Academy of Family Physicians Annual Congress
Description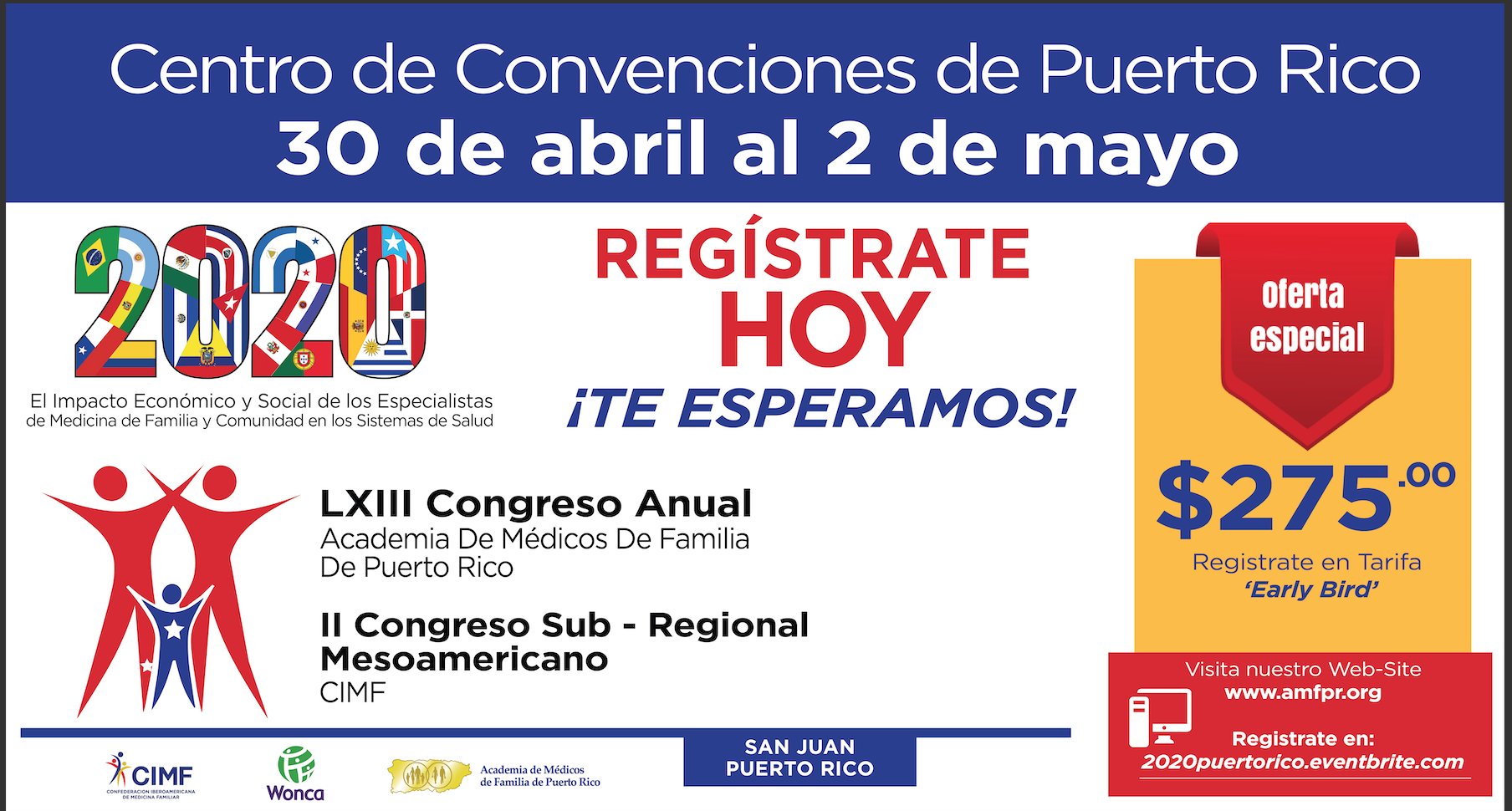 *Sujeta a Cambios. Luego del 31 de diciembre de 2019, la tarifa esta sujeta a aumento.
*Subject to Change. Before December 31, 2019 the Registration Fee may increase.
EARLY BIRD REGISTRATION (Closes as December 31, 2019)
* Fees are quoted in USD. Prices are final.
REGISTRO CON TARIFA ESPECIAL (Cierra el 31 de diciembre de 2019)
* Las tarifas se cotizan en USD. Estos precios son finales.
---
Why Attend?
> In this 3-day Congress, the participants will have a range of sessions to choose from. Family Medicine experts from Puerto Rico and Iberoamerica, have been invited for the plenary and other special lectures, among other networking activities that will prominently feature in this scientific agenda.
> Do not miss the opportunity to learn from and meet a faculty of excellence.
> Free access to the exhibition area and gain insights of the latest product information and trends.
> Earn CME points / AAFP Prescribed Credits
¿Por qué asistir?
> En este Congreso de 3 días, los participantes tendrán variedad de sesiones para elegir. Expertos en medicina familiar de Puerto Rico e Iberoamérica han sido invitados para la sesión plenaria y otras conferencias especiales, entre otras actividades de confraternización que se destacarán en esta agenda científica.
> No pierdas la oportunidad de aprender y conocer una facultad de excelencia.
> Acceso gratuito al área de exhibición, para que obtenga información sobre las últimas tendencias e información de productos.
> Créditos CME & Créditos Prescritos AAFP
---
Terms & Conditions
1. Registration fees vary according to payment date
2. An additional fee will be applied to all payment processed with a credit card (paper and online). Processing fee is 3.5% + $1.59 per transaction.
3. Registration cannot be confirmed without payment.
4. Upon successful payment, an automated receipt and confirmation of your registration will be sent via email.
5. Checks and money orders will be accepted by mail, if the payment is made before the deadline of the selected period. The registration fee of the following period will be applied, and the difference will be invoiced for immediate payment, if the payment is made after the deadline.
6. A $30.00 fee will be charged on all returned checks. In the event that a check has been returned, the issuer will be notified and informed that he/she has 10 days to make restitution, including any related fees to prevent any collection activity and CME Certificate will be placed on hold. Restitution must be made in the form of cash, certified/cashier's check, or money order. Personal check will not be accepted as repayment.
Términos y condiciones
1. Las tarifas de registro varían según la fecha de pago.
2. Se aplicará una tarifa adicional a todos los pagos procesados ​​con tarjeta de crédito (en papel y en línea). La tarifa de procesamiento es 3.5% + $ 1.59 por transacción
3. El registro no puede confirmarse sin pago
4. Al completarse el pago, se enviará por correo electrónico un recibo automatizado y la confirmación de su registro.
5. Los cheques y giros postales se aceptarán por correo, si el pago se realiza antes de la fecha límite del período seleccionado. Se aplicará la tarifa de registro del siguiente período y la diferencia se facturará para el pago inmediato, en el caso de que el pago del registro sea recibido después de la fecha de cierre del evento.
6. Se cobrará una tarifa de $ 30.00 en todos los cheques devueltos. En el caso de que se haya devuelto un cheque, el emisor será notificado e informado de que tiene 10 días para hacer la restitución, incluidas las tarifas relacionadas para evitar cualquier actividad de cobro y se retendrá el Certificado CME. La restitución debe hacerse en forma de efectivo, cheque certificado o giro postal. No se aceptarán cheques personales como repago.
---
Cancellation Terms
All completed transactions will be final. Registration Fees are NON-Transferable.
Refunds will be made ONLY with written notice of cancellation and must be received within30 days of initial transaction and are subject to the Board of Directors approval. Request for Full Cancellation Refund will be granted less a $50 administrative and full processing fee. After 30 days, NO REFUNDS WILL BE ISSUED. No-shows are not eligible for a refund. Approved refunds will be processed after completion of the convention, paid by check and mailed to the postal address provided on the registration form.
Términos de cancelación
Todas las transacciones completadas serán finales. Las tarifas de inscripción NO son transferibles.
Los reembolsos se realizarán SOLAMENTE con un aviso de cancelación por escrito y deben recibirse 30 días luego de realizar la transacción y están sujetos a la aprobación de la Junta Directiva. La solicitud de cancelación total se reembolsará menos una tarifa administrativa de $ 50 por procesamiento completo. Después de 30 días, NO SERÁN REEMBOLSADOS. No presentarse no es una opción elegible para un reembolso. Los reembolsos aprobados se procesarán después de la finalización del Congreso, se pagarán por medio de cheques y se enviarán por correo a la dirección postal proporcionada en el formulario de registro.