Sales Have Ended
Registrations are closed
The 2020 SAME San Antonio Post Elections have ended
Sales Have Ended
Registrations are closed
The 2020 SAME San Antonio Post Elections have ended
To vote in the 2020 SAME San Antonio Post Elections.
About this Event
You will be voting for candidates(s) for the available elected positions and on some changes to the Post Bylaws. The Bylaws changes are the result of changes to the Post's elected Directors structure which the Post Board is recommending to better implement SAME's new 2025 Strategic Plan.
The details about the candidates for the six (6) elected positions and the Bylaws Changes are shown below.
VOTING DETAILS
You MUST BE as San Antonio Post member in good standing to vote - see Post membership rosters.
Only one vote per member is allowed.
If you want to enter a "WRITE-IN" candidate in lieu of the candidate(s) listed for a position, please be sure the individual is a member of the Post and interested in the position.
Be sure to vote for each elected position and the proposed Bylaws changes.
The deadline to vote is Monday, November 30, 5 pm (CT).
Use the SAPOST VOTE registration above to vote.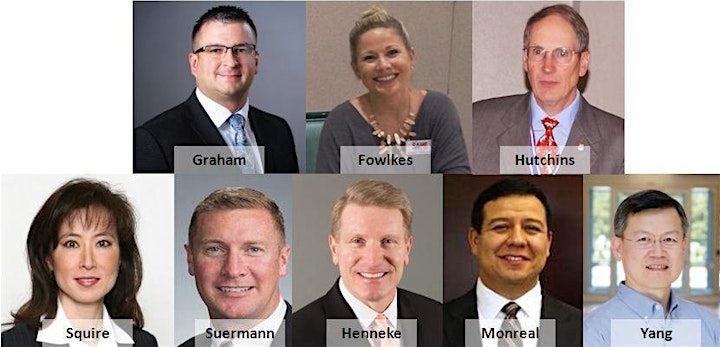 2021 VICE PRESIDENT/2022 PRESIDENT-ELECT:
Joshua Graham - Joshua, a SAME Young Professional and member since 2010, is a project manager with HDR overseeing construction phased service contracts. He is finishing his term as our Professional Development Director and wants to continue serving on the Post Board to continue his support of the Society and Post. Joshua has served on the Post Scholarship Committee, as our SAME E&C Camp Coordinator, UTSA Student Mentor and Professional Development Director. He also is a member of SAME STEM Community of Interest (COI) and is the Chair-elect for the COI. Joshua also was the winner of SAME's Tudor Medal for engineering excellence by a civilian Young Professional.
2021 TREASURER:
Sam Hutchins IV, F.SAME - Sam works for City of San Antonio and manages the Transportation and Capital Improvements project management software and schedulers. He also builds databases and models in support of the department. Sam has been a SAME member since 1990 and our Post Treasurer since 2002 and also serves as a Post Golf Committee volunteer helping make our Post Education & Mentoring Fund Golf Tournament a huge success each year. Sam is a member of SAME's Academy of Fellows.
2021 SECRETARY:
Sarah Fowlkes - Sarah, a SAME Young Professional and member since 2017, is a Marketing specialist for AmaTerra Environmental, Inc. Due to COVID-19 restrictions, she primarily works from home and supports AmaTerra with virtual conferences and meetings. She is currently serving as our Post Secretary and wants to continue her involvement with such our amazing organization and continue serving with such an amazing Board. Sarah has served as the Post Secretary since 2018, assisted with the SBMRF and Golf Tournament for the past three years, supported the Young Professionals by attending majority of events and worked with both the UT and UTSA Student Chapters.
2021-22 DIRECTOR, RESILIENCE (formerly an appointed position):
Miyoung Squire - Miyoung is the President of the MSE Group and has been a SAME member since 2014. She filled the 2020 appointed Resilience Director position. She wants to continue in the new elected position and focus on training other members that are interested in resilience efforts for the Post. As well as serving as the appointed Resilience Director, she serves as the Chair of the Post Resilience Committee and has been a long-time member of the Committee.
2021-22 DIRECTOR, STEM & COLLEGE OUTREACH (new title)
Patrick Suermann - Patrick is the Department Head of Construction Science, College of Architecture at Texas A&M University and has been SAME member since 2007. As a former military engineer and now academician, he knows how critical the STEM pipeline is to achieve our nation's requirements for achieving not only national security objectives, but environmental and infrastructure goals for improving the human condition. As the leader of the largest STEM-coded construction program in the country at the largest University in the country, he is uniquely qualified to help lead one of the nation's largest and most successful SAME Chapters in this effort. He has provided worldwide support of SAME from the southeast, to the Pacific, to the Arctic, to Texas and led multiple golf tournaments, speaking engagements, scholarship drives, and University engagement with engineering at Texas A&M.
2021-2022 DIRECTOR, SERVICE-MEMBER & VETERAN SUPPORT (new title)
Col Markus Henneke, USAF (Ret) - Markus is the Director of Military Programs for IMEG Corp. His primary responsibilities are to enhance and expand IMEG's presence and support in the DoD and Federal markets. He has been a SAME member since 2011. He wants to be actively engaged in our Post, and to help the Post members and local community. He previously served on the Washington DC Post Board.
Capt Michael Monreal, USN (Ret) - Michael is the Vice President at The Broaddus Companies and Project Director for new construction of the UHS Women's & Children's Hospital and associated projects. He has been a SAME member since 1996. He recently retired from the US Navy and feels he can provide recent and relevant experience to those transitioning into the AEC community. Michael is now serving on our Scholarship Committee and is a Past Post President of the Jacksonville and Japan Posts.
Lt Col David Yang, USAF (Ret), F.SAME - Dave is a Project/Program Manager at Merrick & Company. He leads the management, staffing, resourcing, and execution of multidisciplinary A-E services for facilities and infrastructures projects worldwide, to include planning, design, repair, renovation, commissioning, and energy retrofit. Dave has been a SAME member since 1992. He wants to continue to serve our membership and our Society as we begin our new century and to better support our service-member and veteran community through more direct involvement. He is one of our Past Post Vice Presidents and Presidents and has supported various Post events and programs such as Basura Bash, Leadership Lab, Science and Engineering Fairs, Wounded Warrior projects, SA Rodeo, Scholarship Committee, E&M Fund Golf Tournament and the AFIMSC I-WEPTAC Industry Day Social. He is also a member of SAME's Academy of Fellows.
POST BYLAWS CHANGES:
Implementation of SAME's new 2025 Strategic Plan begins in 2021. The new plan has five (5) goals; each goal has five (5) objectives. Along with the new Strategic Plan, there will also be a new Post Streamer program and new criteria for the Membership Streamer.
To address these changes, the Board has decided to change to five (5) elected Directors instead of the existing four as follows with responsibilities directly linked to the Strategic Plan:
The current elected Director of Relationships will change to elected Director of Industry-Government Engagement and be responsible for the new Strategic Plan Goal 1 "Strengthen Industry-Government Engagement."
The current Appointed Director of Resilience will change to an elected position for 2021-2022 and be responsible for the new Strategic Plan Goal 2 "Build and Sustain Resilient Communities."
The current elected Director of Leadership & Mentoring will remain unchanged, but be responsible for the new Strategic Plan Goal 3 "Develop Leaders for the Profession."
The current elected Director of Personal Growth will change to elected Director of STEM & College Outreach and be responsible for the new Strategic Plan Goal 4 "Enrich the STEM Pipeline for the Nation."
The current elected Director of Professional Development will change to elected Director of Service- Member & Veteran Support and be responsible for the new Strategic Plan Goal 5 "Prepare Service Members and Veterans for the A/E/C Industry."
As a result of these changes, a few revisions to the existing Post Bylaws (last approved in 2017) will be needed. The number of elected Directors stated in the Bylaws requires changing. We are also clarifying that the Past Post President (previously elected by the general membership as the Vice President and President-elect) is a Post Officer along with the President, Vice President, Treasurer and Secretary. These changes are identified in RED in the proposed 2020 Post Bylaws at our website. The changes were approved by the Post Board at the October 29 meeting and now require a vote by the general membership to be finalized.
Thank you for taking time to vote in this year's Post elections!