About this Event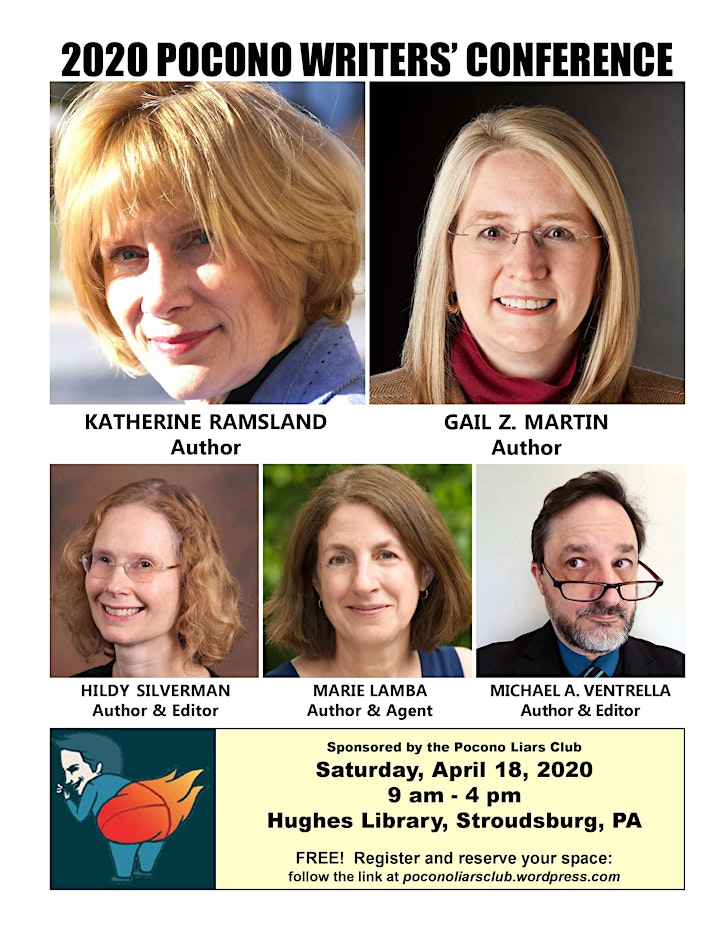 SCHEDULE
9:00: Check in
9:30: MICHAEL A. VENTRELLA: Introductions
9:45: HILDY SILVERMAN: "What Editors Look For": With so many submissions to sift through, what can a writer do to elevate their work above the rest? Surprisingly, including a few simple things can leapfrog your tale ahead of half your competition immediately. I'll share what these are, and provide additional tips to help improve the likelihood of your story making the cut.
11:00: MARIE LAMBA: "How to Revise Your Novel for Submission: Self-Editing Techniques that Work": Finishing the first draft of a novel is a major accomplishment, but that's just the beginning of a writer's work. The next step is to do a thorough revision, shaping that novel into its very best form. Top-notch revision skills are an important part of a writer's toolkit, especially now that agents and editors expect manuscripts to be well-polished. But revising a long work of fiction can be daunting. Where do you begin? How do you decide what's working and what isn't? And how, exactly, should you go about fixing things?
12:00: Lunch (not provided, but there are lots of places nearby or you can bring your own)
1:00: GAIL Z. MARTIN: "Promoting Your Books on Social Media": How can you use social media to connect with readers and reviewers, build relationships with other authors, and maintain your book's visibility? Which social media platforms are right for you? What do you talk about—and what should you avoid?
2:15: KATHERINE RAMSLAND: "The Yellow Brick Code: Seeking the Wizard in La-La Land": Ever wonder how you can get Hollywood to develop your ideas? Dreaming of a Netflix series? The world of Hollywood can be daunting, and few projects actually make it. I'll tell you about pitching, writing treatments, working with teams and enduring the serendipitous arena where ideas are considered for production.
3:30: MICHAEL A. VENTRELLA: Panel Discussion and Question and Answer session with all panelists
Admission is free but seating is limited. Please only sign up if you are sure you will be attending. If you later discover you cannot attend, please delete your reservation so there will be enough room for everyone. Do not reserve space for anyone other than yourself -- if there is more than one reservation under your name, the extra ones will be deleted.
....
WORKSHOPS
Each of the participants are holding smaller sessions during the presentations where you can get individual critiques and comments.
These sessions are $20 each. You can sign up for as many as you want but you must pre-register because space is limited. Please note that by signing up for these personal sessions, you will miss some of the other presentations.
The panelists will contact you by email prior to the session to discuss writing samples and other requirements.
9:45: Gail Z. Martin
11:00: Katherine Ramsland
1:00: Hildy Silverman
2:15: Marie Lamba
....
ABOUT THE PRESENTERS
Marie Lamba (www.marielamba.com) is author of the young adult novels What I Meant… (Random House), Over My Head and Drawn, and of the picture books Green, Green (Farrar Straus Giroux) and A Day So Gray (Clarion). Her articles appear in more than 100 publications and is a frequent contributor to Writer's Digest. She has worked as an editor, an award-winning public relations writer, and a book publicist, and has taught classes on novel writing and on author promotion. As an agent with The Jennifer De Chiara Literary Agency in New York, Marie is currently looking for young adult and middle grade fiction, along with general and women's fiction and some memoir. She is also open to submissions from picture book authors or illustrators who are already established, or whose work she has requested through conferences. Marie is also open to non-fiction submissions for all age categories. For more details and her submission guidelines, please visit: https://www.jdlit.com/marie-lamba
Gail Z. Martin has an MBA in Marketing and is the author of four social media how-to books, including The Essential Social Media Marketing Handbook and 30 Days to Social Media Success, which was named by Life Hack to be one of the top 20 business books to read in 2016. Gail also writes epic fantasy, urban fantasy and steampunk for Solaris Books, Orbit Books, SOL Publishing, Darkwind Press, Worldbuilders Press and Falstaff Books. Recent books include Convicts and Exiles, Sellsword's Oath, Inheritance, and Night Moves. With Larry N. Martin, she is the co-author of the Spells Salt & Steel, Wasteland Marshals, Joe Mack and Jake Desmet series. As Morgan Brice, she writes urban fantasy MM paranormal romance including the Witchbane, Badlands and Treasure Trail series. Recent books include Flame and Ash and Loose Ends.
Dr. Katherine Ramsland is a co-creator and executive producer of Murder House Flip, a production available on the new Quibi streamed service. She teaches forensic psychology at DeSales University, has published 68 books and more than 1,000 articles, and writes a regular blog for Psychology Today. She has appeared as an expert on numerous true crime documentaries and consulted for CSI, Bones and The Alienist. Having pitched in Hollywood many times to major studios, she currently works closely with Sony.
Hildy Silverman was the Editor-in-chief of Space and Time Magazine for 12 years. She is a short fiction author whose recent publications include, "My Dear Wa'ats" (2018, Baker Street Irregulars II: The Game is Afoot, Ventrella & Maberry, eds.), "The Lady of the Lakes" (2018, Camelot 13, French and Thomas, eds.), and "Sidekicked" (2019, Release the Virgins, Ventrella, ed.). Her nonfiction articles have appeared in numerous legal and medical professional journals and blogs. In the mundane world, she is the Digital Marketing Manager for Oticon Medical US.
Michael A. Ventrella is a Stroudsburg writer with four novels so far, including Big Stick and Bloodsuckers: A Vampire Runs for President. He's edited quite a few anthologies, including the Baker Street Irregulars anthologies, co-edited with New York Times Bestselling author Jonathan Maberry; Across the Universe, co-edited with Randee Dawn, and Release the Virgins. He's also written nonfiction books about the US Constitution and the Monkees. At his web page (MichaelAVentrella.com), he interviews writers and editors and gives advice for the starting writer.
....
The members of The Pocono Liars are committed to making this conference one where every person in attendance feels supported and respected for their endeavors, and a place where all writers feel welcome and are treated with courtesy, patience and respect. While we as individuals might not share the same world views, we in The Pocono Liars believe it is imperative to develop a safe environment for creatives from all backgrounds and beliefs to gather in support of one another. It is our collective wish to provide such a venue in support of the intellectual integrity of all those who attend and wish to participate.
Additionally, as writers, we feel it is especially important that we respect the boundaries of each individual. Therefore, while proactive critiques are most certainly welcome and appreciated, we especially request that those in attendance refrain from putting fellow writers in a position of validating their choice of genre, lifestyle or story. Thank you.