20 years of making history! Join us when we celebrate not only 20 years of Berlin Salsacongress, but also being ONE FAMILY whereever we go!
About this Event
One Family - The Global Edition
We share a common passion
Bringing dancers together from all over the world for a weekend of dance. We won't be able to meet in one spot, but how about dancing simultaneously in more than 20 locations all over the world? Because dancing is our passion and we won't stop pursuing our love!
Our dreams. Our mission.
From our very beginning in autumn 2001, Berlin Salsacongress's mission has always been to bring people together in one spot from all over the world to share our passion for dancing. Fortunately we have been able to help building a worldwide community gathered around our love for dancing.
Our language. Dancing.
We truly appreciate that now all of us we can travel to any spot in the world and we will be able to meet likeminded people which are connected to us through a common language - dancing.
Bringing people together.
For lovers of Social dancing such as us - and you - there is truly nothing which can replace to meet and dance with new people from literally everywhere in the world. It is truly unfortunate that the COVID-19 pandemic brought all what we have achieved in decades to a sudden stop and it seems that for the foreseeable future, events as we have become used to attend, will not be happening.
What we will do. Go global.
If we can not meet all in one place, that should not mean that we can not meet at all. Our conclusion has been to go even more global! Keep reading about all details below.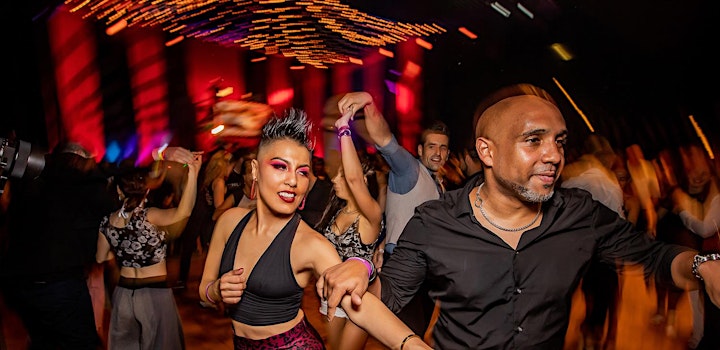 Berlin. The heart of the Global Edition
In Berlin we will bring up an entire weekend of parties, from Thursday evening to Sunday night, all in one place. This is going to be a rather small-sized event with a maximum of 400 dancers taking place right in the center of the city. We will have many of the best European social dancers with us to make sure that the level of dancing will be high and that you will take home the best memories, as usual.
We are all part of something bigger. Connecting us worldwide.
Using today's technology we will connect us with many other events, other parties happening all over the world at the very same weekend and we will be dancing simultaneously to the music of the most amazing DJ Line Up ever. This way we will dance worldwide, connected through dance and music even though due to the circumstances we can not be together in one place.
Some of the best DJ's. In Berlin.
We are fortunate. Some of the best DJ's in our community have it easy to come to Berlin. Meet and dance with those talents in Berlin:
DJ Dimitri (Dubai)
DJ Cycy (Paris)
DJ The Patrick (Vienna)
DJ La Morena (Ljubljana)
DJ Wilber & Flori (Berlin)
DJ Papapeter (Berlin)