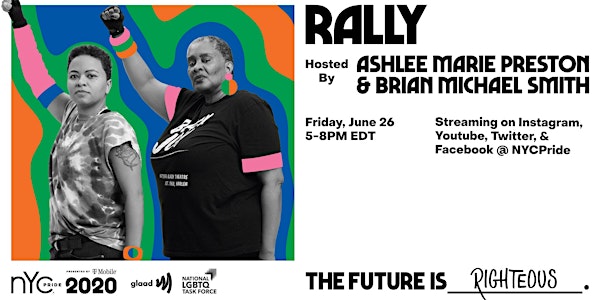 2020 NYC Pride Rally
Be a part of history as we kick off the main weekend of NYC Pride with a community call to action. Stay tuned for more! #thefutureisvirtual
About this event
TUNE IN NOW:
FACEBOOK: https://www.facebook.com/NYCPride
YOUTUBE: https://www.youtube.com/watch?v=_TUxOuM7Pug&feature=youtu.be
LGBTQIA+ rights and human rights are under attack by the current political environment. Join NYC Pride, community activists, organizers, politicians and more for a virtual Rally on Friday, June 26, from 5pm - 8pm on Facebook and YouTube! This nontraditional Rally event comes at a time when conversation, education and activism is needed most.
Hosted by trans journalist Ashlee Marie Preston and trans actor Brian Michael Smith, join the community as we rally together to take a stand against police brutality and discrimination. Show up in force as a community to change the future and make your voice heard in this re-imagined Rally experience.
The first Rally occurred one month after the Stonewall Riots in June 1969, when 500 people gathered for a "Gay Power" demonstration in Washington Square Park, followed by a candlelight vigil in Sheridan Square. Follow @NYCPRIDE on Instagram, Twitter and YouTube to continue the conversation with Jillian Mercado from "The L Word: Generation Q" and others.
Stay tuned for more announcements leading up to the event.
General Admission is free and available for all!
There are no tickets required, but RSVP is encouraged in order to receive updates on details.