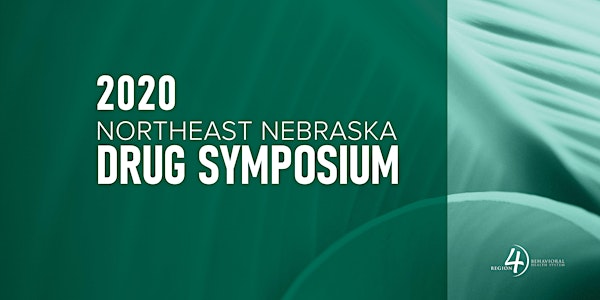 2020 Northeast Nebraska Drug Symposium
3 virtual sessions. No fee to attend.
About this event
TUESDAY, DECEMBER 8
SESSION 1
9 :00 - 11:15 AM
Cannabis: Emerging Research and Lessons Learned in a Changing Legal Climate
JASON R. KILMER, PH.D., University of Washington Associate Professor, Psychiatry & Behavioral Sciences School of Medicine
In this virtual presentation, we will review recent science on cannabis/marijuana with implications for schools and academic outcomes, mental health, prevention, and intervention. Lessons learned after legalization will also be discussed, with a focus on what these mean for your communities.
SESSION 2
1:00 - 3:15 PM
Identifying Drug Endangered Children: A Collaborative Approach
DAVE CLOSSON, Director, Mid-America PTTC
STACEE READ, Director of DEC Network Development, National Alliance for Drug Endangered Children
ERIC NATION, Director of Training and Development, National Alliance for Drug Endangered Children
The National Alliance for Drug Endangered Children defines drug endangered children as children who are at risk of suffering physical or emotional harm as a result of drug use, possession, manufacturing, cultivation or distribution. They may also be children whose caretaker's substance misuse interferes with the caretaker's ability to parent and provide a safe and nurturing environment.
The primary challenge with drug endangered children is in identifying children at risk and coordinating the various systems and disciplines charged with intervening and providing services to these children and families.
WEDNESDAY, DECEMBER 9
SESSION 3
1:30 - 3:45 PM
The Emotional Impact of Disasters
DR. TINA CHRISTINE L. CHASEK, LIMHP, LADC, LPC, Associate Professor / Department of Counseling and School Psychology, Director of BHECN at UNK
When we experience a natural disaster or other stressful life event, we can have a variety of reactions, many of which are normal responses to very abnormal situations. This workshop will cover the signs of disaster stress and ways to weather the emotional storms.
ADDITIONAL INFORMATION
Registration Limited To 200 Attendees. Links to access each virtual session will be sent via e-mail and posted online. Please watch your e-mail or check here for more details.
EDUCATION CREDITS
LADAC and Criminogenic CEUs pending. 
Upon request, a certificate of attendance will be given to participants to submit for CEU Hours.
This symposium is funded in whole or in part by state funds via the DHHS Division of Behavioral Health and Region 4 Behavioral Health System.