About this Event
Join us from June 10-14, 2020 for a weekend of unforgettable activities in Nantes, from a walking tour and a French class with an IES Abroad Nantes Professor to a day trip to a castle on the Atlantic Coast!
Alumni (and families) from all classes and Centers are welcome. This is a weekend you don't want to miss!
Notes:
- The 2020 Paris Alumni Weekend will be held immediately prior (June 5-8, 2020). Make the most of your trip abroad and join us for both weekends! Click here for more information about Paris 2020.
- The costs of the program do not include flights, hotels, or travel expenses. Space at individual events is limited. Register today!
Schedule of Events (click for full details):
Wednesday, June 10, 2020
Arrivals in Nantes
Thursday, June 11, 2020
7:30am - 6:00pm | Day Trip | Gulf of Morbihan & Château de Suscinio: Explore the beautiful Atlantic coastal area and gain a deeper understanding of the rich political history of Brittany by visiting the Château de Suscinio, the summer residency of the Dukes of Brittany. Learn about the extraction and refinement of fleur de sel from local salt marshes. Enjoy a picnic lunch on the grounds of a privately owned family château on the Gulf of Morbihan. Motor coach departs from and returns to IES Abroad Nantes Center | (includes transportation, tours, sea salt samples, and picnic lunch)
Friday, June 12, 2020
11:00am - 1:00pm | Welcome Program & Center Tour : Champagne toast celebrating IES Abroad's 70th Anniversary and 55 years of IES Abroad in Nantes. Meet other Nantes alumni, staff, and host families (tell us who your host family was and we will invite them!) | Complimentary
1:00pm - 2:30pm | French Class with an IES Abroad Nantes Professor: Brush up on your l'imparfait and learn how current students learn French at the Center. | Complimentary
Evening | Dinner with your classmates or other alumni | Pay on-site
Saturday, June 13, 2020
10:00am - 12:30pm | Walking tour of Nantes: Led by IES Abroad Nantes staff. Rediscover the beautiful, renovated city of Nantes through visits to several historical venues. Optional lunch at a crêperie following the tour.
7:00pm - 11:00pm | All Alumni Dinner | La Passerelle de Marcel: An evening celebration where the Loire and Erdre rivers meet! (includes program, dinner, and beverages)
Sunday, June 14, 2020
Departures
Consider beginning your stay in France at the Paris Alumni Weekend (June 5-8, 2020)!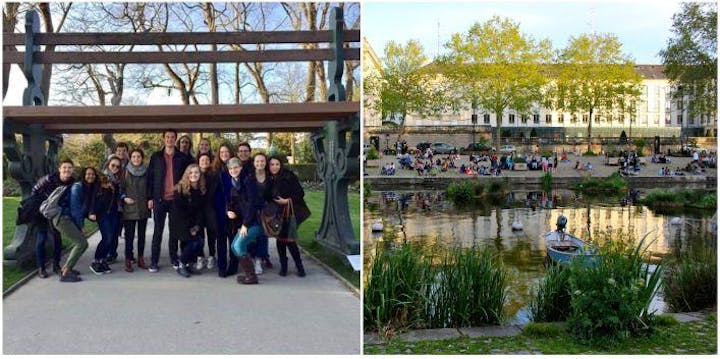 FAQs
What is an alumni weekend? How is this one different?
The IES Abroad Alumni team hosts weekends at select Centers around the world where alumni can reunite with their classmates, revisit their old stomping grounds, and make new memories with friends and family. In 2020, there are seven Alumni Weekends in different cities with unique activities in celebration of 70 Years of IES Abroad.
I did not study in Nantes, can I still attend?
Yes! The event is open to all those who studied abroad with IES Abroad or IES Internships.
Can I bring friends and family members?
Absolutely! In fact, we encourage it! Make sure to purchase the appropriate amount of tickets and record their information.
What are my airport, transportation and hotel options?
Attendees are responsible for their own transport and accommodations. We recommend arriving on June 5th for the Paris Alumni Weekend, and then traveling to Nantes. See our Return to Nantes Guide for a list of recommended hotels, restaurants, and popular activities in Nantes.
What should I bring to the event?
Warm-weather clothing, light jacket, comfortable shoes and water bottles for walking tours, a camera, and charging converters are staples for the weekend!