About this Event
We're excited to share that for the first time ever, the NABC will host two days of advocacy-related meetings and events in advance of our Spring Meetings in Washington, D.C.
On March 3-4, the NABC's reconstituted Legislative Committee will be sharing the NABC's new policy platform for review and discussion. We'll also have presentations on U.S. trade policy for blueberries; a luncheon and roundtable with industry representatives; advocacy training and a "Hill Climb" to meet with Representatives and Senators.
The following two days – March 5-6 – will resemble the traditional schedule of the NABC and USHBC meetings, with some minor changes.
Please join us for what's becoming a blueberry rally in our nation's capital and help us make our four days in Washington, D.C., a success!
GENERAL HOTEL INFORMATION:
NABC has reserved a block of rooms at The Alexandrian in Alexandria, VA at the rate of $235/night (plus taxes). Reservations must be made by Feb. 1, 2020 to receive the discounted rate.
We encourage attendees to make reservations by clicking here to get into our group's block.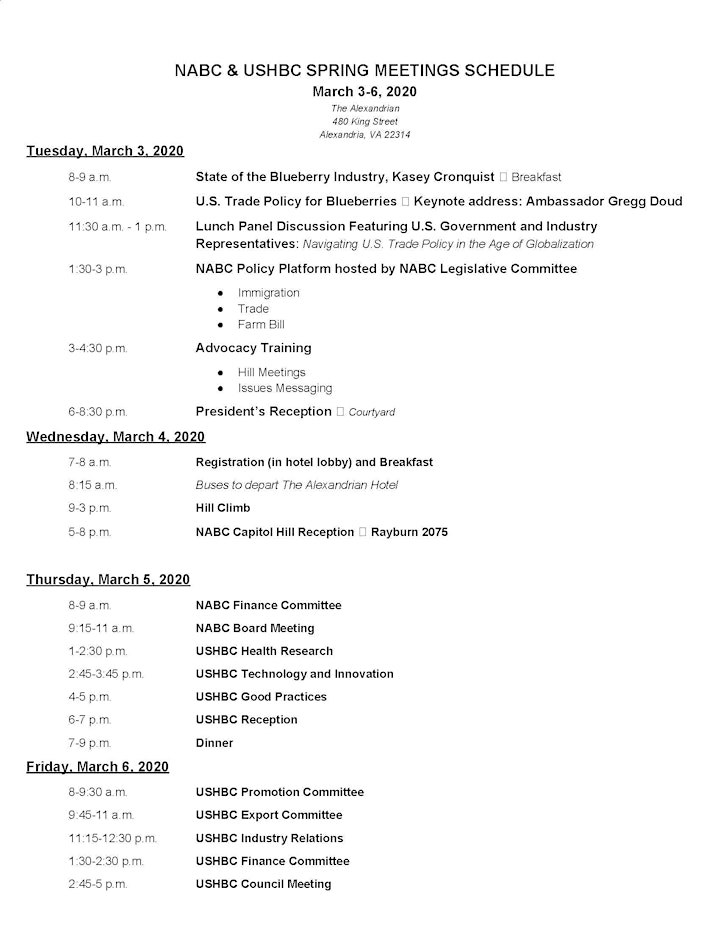 Our Advocacy Support Team
This year, were partnering with Prime Advocacy, a logistics firm that specializes in organizing Hill day visits in Washington, D.C. In 2019, they completed 90 of these events and secured over 10,000 meetings, of which the actual member of Congress was in attendance 39% of the time. Since 2010 they've secured over 32,000 meetings for over 37,000 attendees.
Prime Advocacy will be assisting with the logistics of our Hill Climb, including all scheduling of Capitol Hill meetings.
Here's how the process of arranging your meetings works:
Your home and business(es) address(es) will be used to match you with the appropriate Representative and Senators.
You'll then be grouped with 3-5 other NABC attendees according to district, state, then region if necessary.
You'll meet with the offices of Representatives and Senators where your home and/or facilities are located, and any relevant members of Congress that fall under the committees most pertinent to NABC legislative issues.
You'll have 3-5 meetings.
In the registration form, there will be a section where you can indicate any personal relationships you have with offices so we can facilitate the appropriate meeting request.
There will also be a field where you can indicate early departure time (via flight etc) so we can arrange your meetings accordingly.
The time frame for our Hill Climb is 8 a.m. to 3 p.m. A Capitol Hill reception will follow from 5-8 p.m. in Rayburn 2075.