Networking to Expand Computer Science Education
About this event
Educators Together: Networking to Expand Computer Science Education
The MNCodes Virtual K12 Computer Science Ed Summit is a chance for any K-12 educators interested in computer science, from across Minnesota, the US, and the world, to come together to connect, learn and share ways to expand equitable and engaging computer science learning opportunities to all students, with a focus on integrating computer science and computational thinking into a variety of K-12 curricular areas and learning formats!
The MNCodes Virtual Summit provides a space for educators from all over to come together to share their knowledge, passion, and resources for computer science ed through interactive sessions, labs and discussions on a variety of topics.  Educators, administrators, community education staff, lawmakers, and anyone else who is interested in computer science education -- all are invited to join in on this virtual event related to expanding equitable and engaging K12 computer science education!
This event aims to bring the K-12 computer science education community together to learn and share, and to to keep momentum for CSforAll going during these unprecedented times! We believe we are stronger together and appreciate the collective efforts to continue expanding equitable and engaging computer science education to all students!
**Early bird registration through Oct 30th**
Student and group discounts available. Please contact Andrea for the discount codes.
5 CEUs are available for attendance at the Summit. Check our Summit website for more information and details: http://www.mncodessummit.org/
Learn more about Code Savvy's MNCodes Educator Training Program: https://mncodes.org/
Follow us on social media: Twitter: @mncodes, IG: @mncodes #mncodes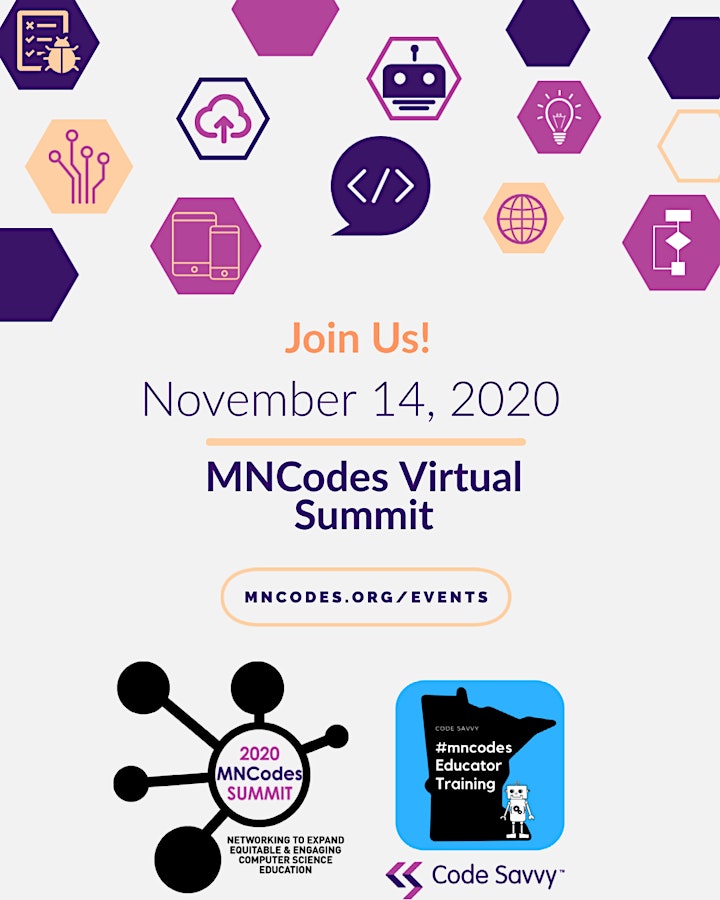 Organizer of 2020 MNCodes Virtual K12 CSEd Summit
Code Savvy is a nonprofit organization dedicated to inspiring a diverse new code-savvy generation.  Please visit our website  www.CodeSavvy.org to lean more about our programs reaching thousands of Minnesota youth.