2020 MLK Drum Major Awards & Breakfast
A Royal Breakfast and Awards with 600 Leaders Honoring and Celebrating the Hard-work and Selfless Acts of those in our community.
About this Event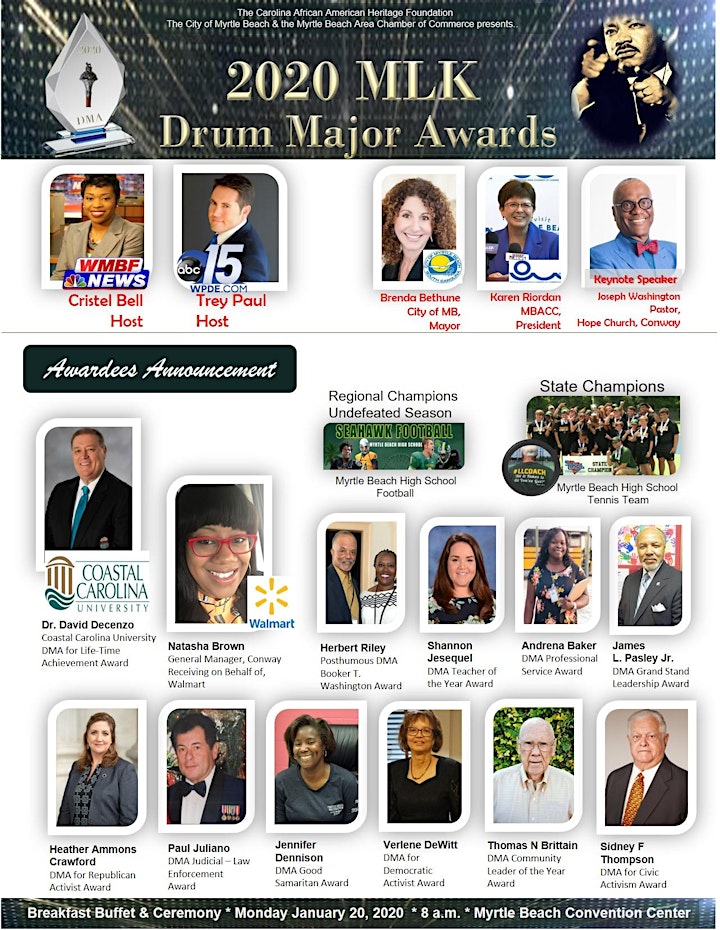 This year, the business community, elected officials, students and educators from all area schools would like to stand together and celebrate fifteen of our local heroes.
Please accept our sincere invitation to meet, greet and fellowship with those who sacrifice their time, lives and organizations for our communities.
As Chairman of the 2020 Myrtle Beach Annual MLK Celebrations and the Grand Strand Freedom Week's activities, I am extending an invitation to you, your family, friends and co-workers to the 2020 MLK Drum Major Awards and Breakfast.
This year marks the 14th Annual Celebration and is a seven day event that hosts numerous activities centered and focused on introducing the public to the educational values preached by Dr. Martin Luther King, Jr. and his vision of a united, colorblind society.
The Annual Drum Major Awards and Breakfast is the signature event of the week that honors and celebrates fifteen local residents for their dedication and selfless acts in the community. The awards is hosted by the Myrtle Beach Convention Center, Monday January 21, 2020, 7 to 11 a.m.