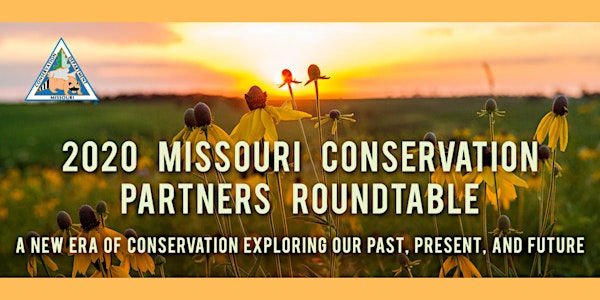 2020 Missouri Conservation Partners Roundtable (Virtual)
Sales Have Ended
Registrations are closed
Thank you for choosing to attend the 2020 Missouri Conservation Partners Roundtable! We will be following up with additional information about the virtual event platform, Pathable, soon. At that time you will be able to login, create your profile and view the event schedule. We are excited to have you!
Fourth Annual Missouri Conservation Partners Roundtable
About this event
Mark your calendar for our fourth annual Missouri Conservation Partners Roundtable to be held Oct. 13-14, 2020. While not what we expected when planning for a new year, new location (originally planned for Springfield), and expanded format, we've made the hard decision to host this year's event virtually. Even though we won't be able to see you in-person, we're excited about exploring some new technologies to engage with you from afar. It also means we can expand our invite list and the number of people who will be able to participate!
The Missouri Conservation Partners Roundtable is an opportunity to interact with partners who have an interest in conserving our state's fish, forest, and wildlife resources, including connecting people to those important resources. Whether you work with conservation issues daily or want to connect with nature more, our goal for this event is to help partners learn from each other, voice unique perspectives, and improve our collaborative efforts in the future. We cannot deliver conservation without our partners. We would love to have you be part of the conversation this fall to continue our work together.
Our theme this year is "A New Era of Conservation: Exploring our Past, Present, and Future," and we're excited to offer a plenary session featuring nationally recognized speakers reflecting on past conservation successes and offering thoughts on how we all can keep nature relevant in changing times. A variety of workshops and networking opportunities are also planned.
• Keynote speaker: Simon Roosevelt (great-great-grandson of President Teddy Roosevelt)
• Plenary panelists:
o Susan Flader (Professor Emerita, History, University of Missouri)
o Tara Teel (Professor, Human Dimensions of Natural Resources, Colorado State University)
o Collin O'Mara (President and CEO, National Wildlife Federation)
o Lauren Garrott (Urban Planner, Freese and Nichols)
*Please note that the event is being hosted on an online platform called Pathable. Once you register here you will be sent separate information about how to login, create a profile and view the schedule of that site at a later date.