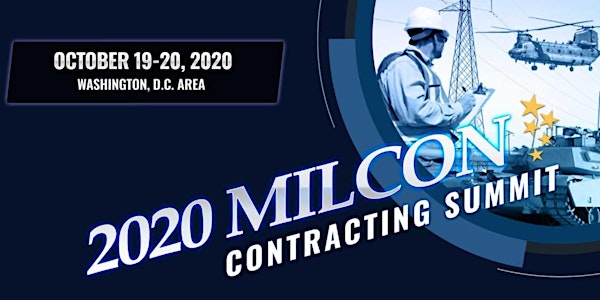 2020 MILCON Contracting Summit
The nation's top conference on military construction priorities and contracts. Both in-person and virtual attendance options are available.
When and where
Location
Tysons Corner Marriott 8028 Leesburg Pike Tysons Corner, VA 22182
About this event
The 2020 MILCON Contracting Summit is designed as a hybrid event for in-person and virtual attendance. Downloading the event app and setting up your attendee profile will allow you to view the summit agenda, view speaker presentations, participate in Q&A, polls, and individually connect with other in-person and virtual attendees/exhibitors/sponsors - during the live event and for 3 months following the Summit.
At the 2020 MILCON Contracting Summit, meet key decision-makers and get the latest information on:
Historic Defense Budget Spending - FY 2021 & 2022
Air Force, Army, Navy, and USMC Installation Priorities & Contracts
Military Construction Money in the 2021 Defense Budget, including the Facilities Sustainment, Restoration, and Modernization Account (FSRM)
The Military's Long-Term Infrastructure Modernization Strategy
New Contracts for Military Base Construction, Reconstruction, and Renovation
Base Operations Support (BOS) and Facility Operations & Maintenance (O&M) Contracts
Public-Private Partnerships for Base-Community Projects
Building the Military Bases of the Future, including Assured/Resilient Energy, Advanced Facility Security Solutions, and Disaster-Proof Construction Strategies
Teaming Arrangements
Government Small Business Contracting Opportunities
Government Contracting Financing
Opting for In-person Attendance: We welcome you and are eager to offer you real-life shared experiences and human connection in a modified environment with new safety protocols in place:
Meeting room capacity is capped at 50% occupancy (in accordance with the Phase 3 re-opening in Fairfax County, VA where the event venue is located) which translates into a limited number of attendee and exhibitor passes available for the event.
Seating in the meeting room will be modified to align with physical distancing protocols: extra distance will be placed between exhibitor tables, and maintained at all times between attendees inside the auditorium.
All food and beverages will be served pre-packaged or by an attendant wearing PPE behind a plexiglass screen. No open buffet service will be provided.
Masks/Face Coverings are required in the meeting rooms and throughout the hotel's public spaces. Make sure to bring a mask with you.
By registering for this in-person event, you agree that risk of exposure to viruses, including COVID-19, exists in any public place, therefore, you voluntarily assume any risks related to exposure to COVID-19.
If you or someone in your household feels sick, please refrain from traveling to the event and convert your registration to virtual-only.
Opting for Virtual Attendance: We welcome you and look forward to exploring and experiencing together the new virtual ways of doing business:
Download and test the event app and set up your networking profile 2 days prior to the first event day and enjoy the flexibility of accessing all Summit information and attendee, exhibitor, and sponsor profiles. Make business connections from the comfort of your home/office.
Be advised that any socially and professionally inappropriate comments in the Q&A or Community Connect sections will be immediately removed by the DLF event team.
Be patient and understanding in case any technical glitches occur.
Actively participate in Q&A's and polls.
Actively utilize the app's connectivity feature to request and set up virtual appointments with other attendees.
Access to all presentations and attendee profiles will be available for viewing for the 3 months following the Summit.
Room Block Details:
Tysons Corner Marriott
122 USD per night
MILCON Contracting Summit
Start Date: Sunday, October 18, 2020
End Date: Wednesday, October 21, 2020
Last Day to Book: Saturday, October 10, 2020
Book your group rate for MILCON Contracting Summit
Parking: On-site garage self-parking, $18
Please note that your credit card payment is being processed by Ultimate Events, LLC, the events management firm for the Defense Leadership Forum.
If your company will be sending more than one in-person representative, please consider participating as a Summit Sponsor. Sponsorship packages start at $1,495 with multiple VIP Passes. For more details on Sponsorship & Exhibiting Opportunities, please visit our website at www.usdlf.org. Select discounts may be available on Sponsorship Packages valid towards new registrations. To register, contact us at our Marketing and Sales Department at marketing@defenseleadershipforum.org for a manual registration form.
If you have any additional questions, please call our customer service center at (202) 552-0179 or email us at info@defenseleadershipforum.org. Thank you and we look forward to hearing from you!
Defense Leadership Forum Policies:
By completing this registration, you agree that no refunds will be issued. Event credit requests or attendee transfers must be received and confirmed no less than (10) business days prior to Day 1 of the Summit. If you would like to receive an event credit for a future event, please contact marketing@Defenseleadershipforum.org.
Coronavirus Policy Statement: By completing your registration, you agree that no sponsorship package, exhibit package, or attendee registration refunds will be given due to cancellations relating to the Coronavirus. Instead, an event credit may be applied towards a future Defense Leadership Forum event.
Complimentary registration is available to Active Duty Military, Government Officials, and Credentialed News Media only. You are required to present a valid ID or credential card to the registration staff in order to receive complimentary access. Please contact us after you register to confirm you are credentialed. Send an email to marketing@Defenseleadershipforum.org.
By completing this registration, you agree to be photographed/recorded at the Summit and agree that all photography/videos are the intellectual property of the Defense Leadership Forum.
Please note that payments will be processed by Ultimate Events, LLC, the events management firm for the Defense Leadership Forum.