MIDDLE WAVES is a two-day destination music festival in Fort Wayne, IN.
About this event
Two days, three stages, 20+ eclectic national and local performers, art, food, beverages and good times galore. This is Middle Waves.
There's something for absolutely everyone at Middle Waves! With food trucks, beverages, music, interactive art installations, events, fun and games around every corner—people of all ages, all backgrounds and all music preferences are bound to have the time of their lives. You must purchase a ticket to enter the St. Marys Stage and Maumee Stage area. This is where our national headliners, most national acts and a few regional/local acts will be performing. There will also be a VVIP section with special, unique amenities.
National Performers:
Cold War Kids
Big Boi
Yola
Ezra Furman
Joe Hertler & the Rainbow Seekers
Kiwi Jr.
Amythyst Kiah
*repeat repeat
Miki Fiki
Addison Agen
Also featuring:
Debutants
LÜBS
Mic Strong
Necromoon
Overlook
Rogues & Bandits
Stay Outside
swimming[into]view
Thematic
Tuesday Atlas
Uncle Muscle
The St. Joseph stage and MiniWaves are completely open and free for the public to enjoy.
Middle Waves is a volunteer-driven, not-for-profit festival and 501(c)3 organization that relies on the support of the community. This year's festival is presented by Sweetwater Sound.
Frequently Asked Questions:
What's the refund policy? There will be no refunds.
Is this event kid-friendly? Middle Waves is all-ages. Kids 12 and under enter the paid stage area for free.
What kind of music is at Middle Waves? An eclectic mix of indie rock, pop, hip-hop, alternative, Americana, rock and nearly everything in-between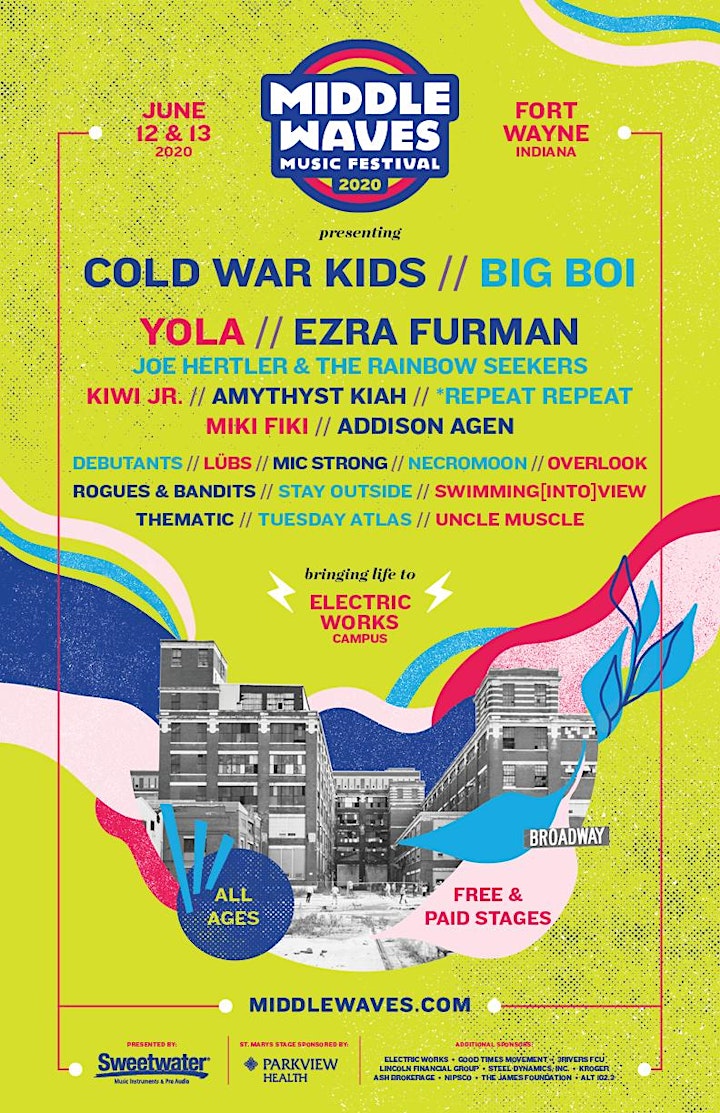 Organizer of 2020 Middle Waves Music Festival
Middle Waves is a two-day destination music festival in downtown Fort Wayne, IN. The festival features three stages and an eclectic mix of 30 performers. 
Debuting in 2016, Middle Waves has quickly become Indiana's premier contemporary music festival. With headliners including The Flaming Lips, MGMT and Best Coast, the festival showcases indie rock, hip hop, dance and more.