Description
2020 Mermaid Day 1M 5K 10K 13.1 26.2 –
*THIS IS A VIRTUAL RACE!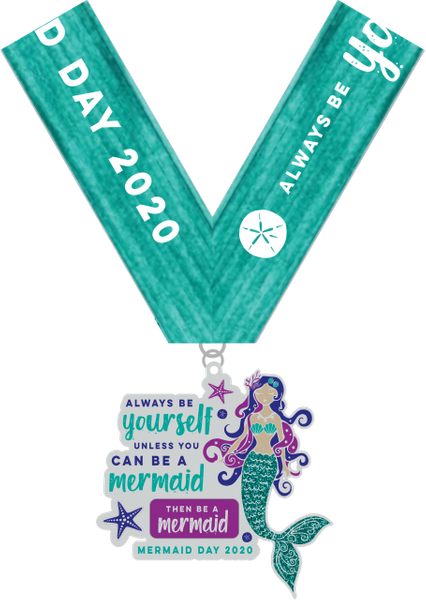 Okay people! International Mermaid Day takes place every year on March 29th! This is one of the best days ever for all of your mermaid fans out there. We love mermaids here and we are so excited to celebrate mermaids with our Mermaid Day 1M 5K 10K 13.1 26.2. The medal is beautiful and it says, "Always be yourself, unless you can be a mermaid. Then be a mermaid." So this is dedicated to all of you that want to be a mermaid!
Plus, we will also be donating 15% of each registration to
Mercy Ships
. Their "hospital ship provides free lifesaving surgeries for people where medical care is nearly non-existent." We love what this organization is doing and we're so excited to help them as much as we can!
*For a limited time you can purchase an official t-shirt and/or hoodie
HERE.
What:
This is a 1M, 5K, 10K, 13.1, 26.2 virtual run (or walk) to celebrate MERMAIDS! You choose which distance you want to complete!
When:
Complete your race any time in March, even better if it's March 29th!
*Medals and bibs will start shipping out mid-February. After that they will ship out within 2 to 5 days of signing up.
Where:
You choose the course and you time yourself (you'll report your finishing time to us).
Why
: Because this is our way of celebrating the mermaid inside each of us!
Cost:
The price is $22 and that includes your medal, bib and shipping. Plus, at least 15% of every entry will be donated to
Mercy Ships
. *We are in no way affiliated with this charity, we like to choose a different charity for each of our races and are happy to raise funds for them.
WHAT IS A VIRTUAL RACE? A virtual race is a race that can be run (or walked) from any location you choose. You can run, jog, or walk on the road, on the trail, on the treadmill, at the gym or on the track (or even at another race). You get to run your own race, at your own pace, and time it yourself. And your medal will be shipped directly to you. Complete a virtual 5K, 10K, half marathon and more!