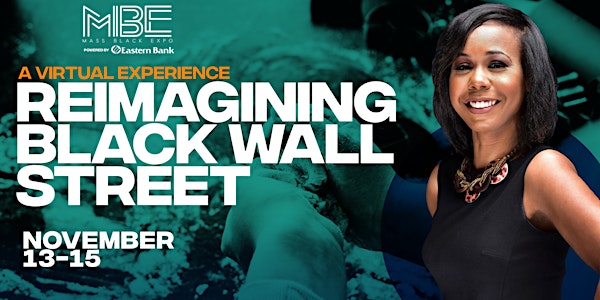 2020 Mass. Black Expo: Reimagining Black Wall Street
Join us for the virtual 2020 Mass. Black Expo, powered by Eastern Bank!
By Black Economic Council of Massachusetts
About this event
Attendee sales have ended.
To create your profile, click here.
To view the Main Stage, take part in workshops, or visit the expo hall, click here.
--
PLEASE BE SURE TO READ ALL OF THE INFORMATION PROVIDED BELOW PRIOR TO REGISTERING OR SUBMITTING A QUESTION
The Mass. Black Expo (MBE) is a one-of-a-kind annual event that brings together Black business owners and entrepreneurs, thought leaders, and Black communities of the entire African diaspora in Massachusetts. As advocates and resource-providers for Black businesses, we know that the growth and economic health of our communities are dependent on the success of these entities.
The annual event is organized by the Black Economic Council of Massachusetts (BECMA) and supported by important community partners and stakeholders.
* MBE Update *
This year, we are proud to have Eastern Bank as our Title Sponsor! Because of their generous contribution, we are able to offer free access to exhibitors. Just select the "Eastern Bank Sponsorship" option and your ticket will be fully discounted! This offer does not extend to government or corporate entities.
What to expect
The event features plenary sessions and workshops on crucial topics and will give business owners the opportunity to showcase their goods and or services to institutional decision-makers, procurement officers, and potential new customers. Participants will also have the chance to engage and learn from one another.
The goals of the MBE include highlighting Black businesses from all industries in Massachusetts, connecting them with procurement opportunities in the private and public sectors, sharing resources that help grow emerging or existing businesses, and creating an ecosystem of Black entrepreneurship.
NOTE: Workshops and special keynote speakers to be announced shortly!
To learn more about what to expect as an attendee, visit massblackexpo.com/wte-attendee
To learn more about what to expect as an exhibitor, visit massblackexpo.com/wte-exhibitor
2020 Theme: Reimagining Black Wall Street
In the midst of the global pandemic and our ongoing efforts to break down systemic racism, our theme this year is Reimagining Black Wall Street. Workshops, plenary sessions, and other events will focus on the broader economy of Black communities in Massachusetts and developing a vision for what the new world should be post-pandemic.
Learn more about the history of the Greenwood neighborhood known as "Black Wall Street" by visiting massblackexpo.com/blackwallstreet
BECMA Annual Meeting
For tickets to the BECMA Annual Meeting, please click here!
Our Annual Member Meeting will kick off MBE weekend and be held on Thursday, November 12th from 6:30pm to 8pm. This is an opportunity to update our members and supporters on our 2020 accomplishments, highlight our plans for 2021, and celebrate people and organizations who are making the Commonwealth a better place for Black businesses. Our keynote speaker will be announced in the coming weeks!
Tickets to the Annual Meeting are separate than general tickets to the expo. To obtain a discount code as a BECMA member, or event sponsor or partner, contact info@becma.org.
History of the MBE
In 2013, Boston resident and business owner, Yvens Germain, saw a severe need to connect minority business owners with resources and one another. Along with his team, Mr. Germain founded and ran the Minority Business Expo in the Roxbury neighborhood of Boston until 2017, attracting several thousand business owners and community members at the Reggie Lewis Center. In an effort to continue his contributions and vision, we have adapted this event and evolved it into the Mass. Black Expo to focus on highlighting Black business of the African diaspora here in Massachusetts.
Got questions? Reach out to us at connect@massblackexpo.com
About our Title Sponsor: Eastern Bank
Founded in 1818 and headquartered in Boston, Eastern Bank has combined prudent management with well-timed acquisitions to evolve from a modest savings bank to a full-service commercial bank to meet your financial needs. With $11 billion in assets and more than 110 locations in eastern Massachusetts and southern and coastal New Hampshire, they have the size, stability, technology and knowledge to deliver custom-tailored financial solutions in a convenient way.
Learn more at easternbank.com
About the organizer
The Black Economic Council of Massachusetts (BECMA) was established to support the advancement of the economic well-being of Black-owned businesses, organizations that serve the Black community, and Black residents in Massachusetts.