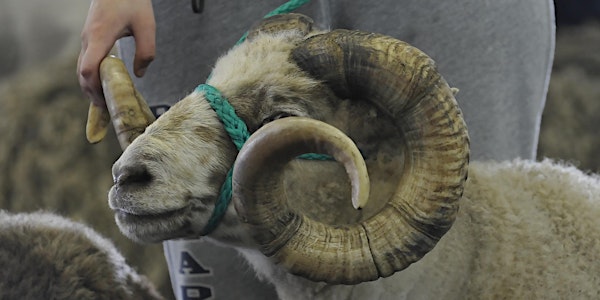 2020 Maryland Sheep & Wool Festival
When and where
Location
Howard County Fairgrounds 2210 Fairgrounds Road West Friendship, MD 21794
Refund Policy
Contact the organizer to request a refund.
Description
The 2020 Festival has been cancelled

With regret that is beyond words, we are announcing the cancellation of the Maryland Sheep & Wool Festival for the first time in our 47 year history. We had originally intended to reassess the situation surrounding the COVID-19 coronavirus outbreak at the beginning of April, but the ever-increasing bad news in terms of the virus and its effects, and the increasing government restrictions on public gatherings that we do not see being lifted in time for the festival have led us to follow the lead of national, state, and county authorities and make this extremely difficult decision.

We realize that there are many of you that will be disappointed, and, beyond disappointment, we realize that for many vendors the business they do at the Festival is the single biggest contributor to their annual income. However, we want all of you, your communities, and everyone you interact with to stay safe and well, so we feel that this is the correct decision to make at this time.

Because of the complexity involved in planning this event—over 53 different committees, plus several hundred committee members and volunteers—rescheduling the Festival for a later date is not a viable option. We are looking into things we can do to help our vendors, such as the possibility of providing some kind of online virtual marketplace. Some of you have expressed an interest in purchasing t-shirts even if we don't have a Festival, so that is something else we will be looking into. Stay tuned for further information.

Refunds will automatically be given to everyone who registered online for Fiber Arts Seminars, Shepherd Workshops, or Family Activities. Entry fees for the Sheep Shows, Fleece Show & Sale, and Sheep-to-Shawl entries will also be returned. If you purchased admission tickets, we will be happy to give you a refund, but ask that you consider donating your admission fee to the Festival to help defray the expenses that have gone in to planning the Festival thus far, as well as any fees we may incur because of this unanticipated cancellation. If you wish to request a refund of your admission fee, you may do so by going to "Tickets" in your Eventbrite account, finding your order, then selecting "Request a Refund"; or by emailing office@sheepandwool.org. If you do not request a refund, we will assume you have chosen to donate your admission fee.
Many of you expressed an interest in receiving a 2020 catalog even though the Festival has been cancelled. As these catalogs were all printed before the decision was made to cancel, we decided to go ahead and fulfill those orders, and are leaving the catalog sales open; just click on "Tickets". We have a couple of thousand of catalogs that would normally be given away at the Festival sitting on pallets at the fairgrounds, and we'd love to get rid of them. So order a catalog to commemorate the Festival that never happened! Your purchase will help offset the printing costs. Plus they are chock full of advertisers that could use your support right now!
We are also leaving the "Donate" ticket option open for those of you who would like to make an extra donation to help out.

Please remember to take care of yourselves and to take care of one another, and join is for the 48th annual Festival on May 1 & 2, 2021.