Sales Have Ended
Ticket sales have ended
Want to join a webinar? Email us at hello@ohiofarmersmarketnetwork.org.
Sales Have Ended
Ticket sales have ended
Want to join a webinar? Email us at hello@ohiofarmersmarketnetwork.org.
We hope you'll join us in our pursuit to advance our markets and their managers through the Market Manager Certificate Program!
About this Event
Like any other professional, we believe a farmers market manager should be paid for his/her/their work. And like other professionals, market managers should commit themselves to continuously learning and advancing their careers through educational and networking opportunities such as webinars, conferences and volunteering.
To that end, the Ohio Farmers Market Network is proud to introduce its Market Manager Certificate Program!
It wouldn't be unusual if we pointed to the fact that like most things, farmers markets could be analyzed and approached like a venn diagram, showing "logical relations between a finite collection of different sets." We believe the shape of a farmers market venn diagram is a star, with each point representing an integral part of a successful farmers market: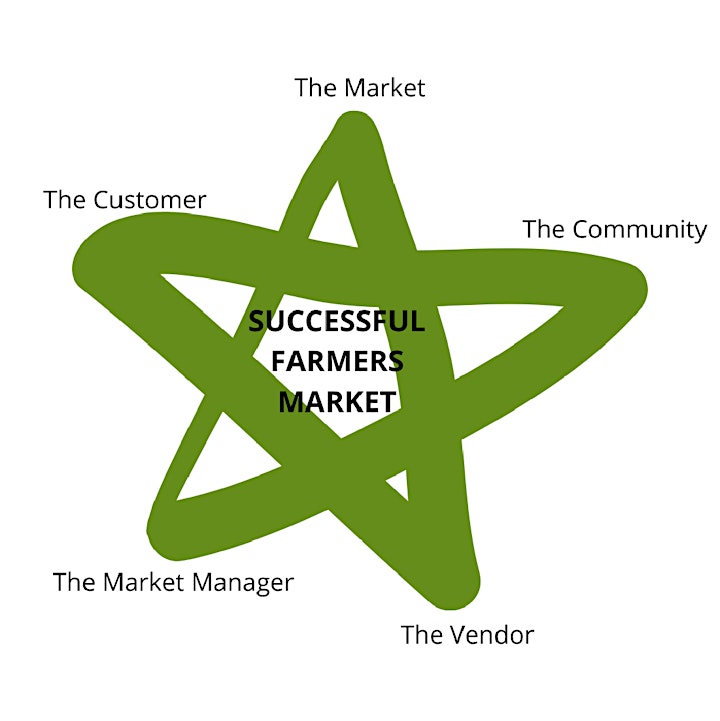 The Market Manager Certificate Program (MMCP) was designed for individuals with some experience in farmers market management. While not required for participation, students may find the content more advanced than topics covered in the annual Ohio Farmers Market Conference, such as mission, vision and values, events and entertainment, and food assistance programs.
The 2020 MMCP will include presentations on the following topics:
Conflict Management - Understand what conflict is (and isn't) and manage it.
Licenses, Permits and Regulation - Wouldn't it be great to have a checklist for this?
Vendor Engagement and Support - How can (or should) you support your vendors?
Vendor Inspections - What to know and how to conduct a successful inspection.
Marketing - You need a plan! The nuts and bolts of an annual marketing plan.
How to Express Market Value - Do you know your value and how to express it?
Data Collection and Use - Let's collect AND use data.
Building a Sponsorship Program - It's not just building it - it's managing, too.
Community Outreach and Development - Let your community work for you.
Customer Identification - Who are your customers and find more of them.
Finding, Developing and Managing Volunteers - Let's delegate!
Given the investment of time and money, this program may be of more value to those seeking to advance their career in market management, those with ownership interests in a farmers market, or those invested in developing a strong, sustainable market in their community. Again, while experience is not required for participation, the benefits exist for individuals committed to this field of study. The 2020 Market Manager Certificate Program includes the following:
11-12 webinars hosted live every Tuesday beginning February 4, 2020
Templates, worksheets and other supplemental documentation to support your learning
Q & A with speakers during live webinar presentations
Access to professionals and colleagues with knowledge and experience
Students are encouraged to participate during live webinars, but this is not required. All webinars will be available after the live production via a Google drive along with all documents shared during the webinar. OFMN wishes to recognize and reward farmers market managers who commit to certification and professional development, and those markets who hire and support certified market managers. As such, OFMN will:
Recognize graduates of the MMCP on OFMN website with his/her/their picture, name and market association, and;
Recognize farmers markets on OFMN website with their logo and website, and;
Provide a $20 discount to Certified Farmers Market Managers (CFMM) for the Ohio Farmers Market Conference hosted by OFMN, and;
Provide a printed form of recognition such as a certificate, ID card and pin;
Recognize CFMMs at the Ohio Farmers Market Conference.
We hope you'll join us in our pursuit to advance our markets, our vendors and the glue that binds it all together - our market managers!