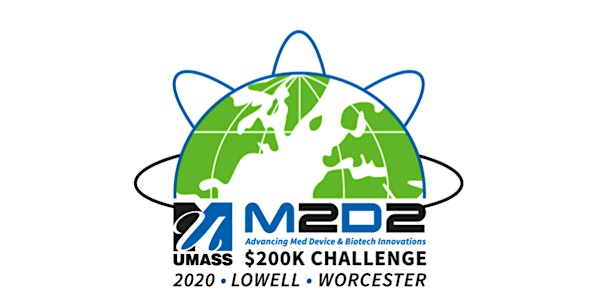 2020 M2D2 $200K Challenge Awards Celebration
In response to the coronavirus pandemic, we're taking our signature award ceremony online. Join us — REGISTRATION IS FREE!
Refund Policy
Contact the organizer to request a refund.
Eventbrite's fee is nonrefundable.
About this event
Calling all Investors, Medical Device Innovators, Biotech Entrepreneurs, Academics, Students, and Life Sciences Industry Professionals:
Join the worldwide life sciences community online as the $200K Challenge finalists selected through a competitive process last spring receive their share of our $200,000 purse of sponsor-provided, in-kind resources that can help take an innovation to the next level -- or even to market!
JUST ANNOUNCED: $50K FROM MASS LIFE SCIENCES!
Examples of in-kind resources awarded in the Challenge include lab space, equipment, and legal/regulatory guidance. And at the Challenge Pitch-Off on September 17, Jennifer Griffin of Massachusetts Life Sciences Center announced a FIrst-Place award of $50,000 in non-dilutive funding. This is an unprecedented Challenge award that WILL be a difference-maker for the top winner.
We've seen past winners advance to larger funding rounds, commence clinical studies, and enter strategic partnerships with global life sciences companies. Join us as we announce this years winners!
TICKETS ARE FREE:
Awards Celebration — Thursday, October 1st @ 5pm ET
Join us for the announcement of the $200K Challenge winners!
Mary Ann Picard, M2D2 Director of Operations, commented on the Finalist selection process: "Every year, the Challenge gives us a peek at amazing early-stage ideas in medical devices, medtech, biotech, and therapeutics. It's an all-consuming task to sort through dozens and dozens of entrants. But it's also exciting and energizing because the entries are always novel and innovative."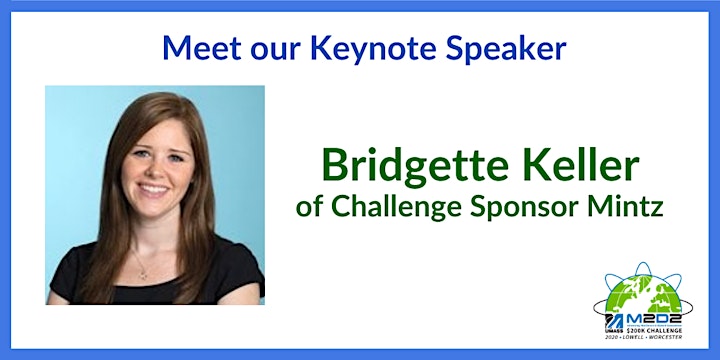 Bridgette applies her experience in health system administration and ethics in health care to her health law practice. Bridgette advises health care providers, ACOs, health plans, PBMs, and laboratories on a variety of regulatory, fraud and abuse, and business planning matters.
With a background in health care operations, Bridgette possesses practical insights that include focus on the business implications of health care enforcement defense activities, internal investigations, regulatory compliance, and fraud and abuse analyses of proposed new procedures.
Bridgette's work also includes a focus on ethics in health care principles. As a health care ethicist with the Department of Veterans Affairs National Center for Ethics in Health Care (NCEHC), Bridgette provided technical guidance on health care ethics problems to VA stakeholders, VA Central Office staff, and field-based consultants. She also collaborated on the development of an ethics consultation program and educational materials.
Meet 2020's $200K Challenge Finalists
15 finalists have been selected from more than 250 applicants for the 9th Annual M2D2 $200K Challenge. This year's participation sets a new record for the competition:
Aidar Health – MouthLab is a non-invasive, at-home, rapid health assessment device for early detection and management of exacerbation in COPD patients.
AiM Medical Robotics – Novel robotics platform with AI and machine learning.
Amachumu Bio – A supplement to cure intestinal worms that disproportionately affect individuals in developing countries.
Arrow Dx – A sensitive, inexpensive, user-friendly test to screen early for NAFLD & NASH.
CranioSense – IPASS device that helps save lives by rapidly assessing a patient's intracranial pressure non-invasively following traumatic brain injury.
Cx Therapeutics – A novel device to reduce preterm birth and improve outcomes for pregnant women with cervical insufficiency.
ExonanoRNA – Platform biotechnology company developing a new class of RNA nanotechnology-based therapeutics for cancer treatment.
Hyalex Orthopaedics – Transformational synthetic cartilage technology and implant systems for diseased and damaged joints.
Lowell Therapeutics – Small molecule short-acting anticoagulant and will be the only approved anticoagulant for ICU patients in need of an artificial kidney.
MicroBioMed – Patented vaginal biomechanics analyzer is an operator-independent measurement device to quantitatively study vaginal wall skin properties.
Navigation Sciences – An image-guided surgical navigation system for real-time GPS guidance to precisely locate and excise tumors with optimal margins.
Oriel Research Therapeutics – A platform for early detection of diseases using AI-Learning and Deep Neural Network methods.
Prolifagen – Developing a medicine for regeneration of cardiac muscle in patients with large myocardial infarcts, with the objective to prevent development of heart failure.
RBI Medical – Selective nerve stimulation platform offers patients better therapy options for life-altering conditions.
Savran Technologies – A unique and patented "lab-on-a-chip" technology to capture rare (~1 in a billion) cells from a tube of ordinary blood.
THANK YOU TO OUR 2020 SPONSORS: