Please join Helping a Hero for the Lee Greenwood Patriot Awards Gala at The Woodlands Waterway Marriott on December 2, 2020.
About this Event
5:30 PM – Reception & Silent Auction
7:00 PM – Dinner & Program
Cocktail attire
Helping a Hero will present South Dakota Governor Kristi Noem; Richard Childress, former NASCAR driver and CEO of Richard Childress Racing; Goya Foods CEO Robert Unanue; and U.S. Congressman Bill Flores (TX-17) with the Lee Greenwood Patriot Award for their commitment to our military and veterans. We look forward to an incredible night of patriotism, gratitude, and holiday spirit as we honor and support our nation's heroes!
Funds from this event are used to build specially adapted homes for our wounded warriors, including amputees, burn victims, paraplegics, and quadriplegics, who need our help to regain their daily independence. You will have a chance to meet many wounded warriors including those who have already received homes and those who will hear that they will be a Helping a Hero home recipient. River Oaks Magazine covered our more recent home recipient, CPL Sue Downes, USA (ret), a double amputee wounded warrior. We will also celebrate the 40th year of Lee Greenwood's "God Bless the USA!"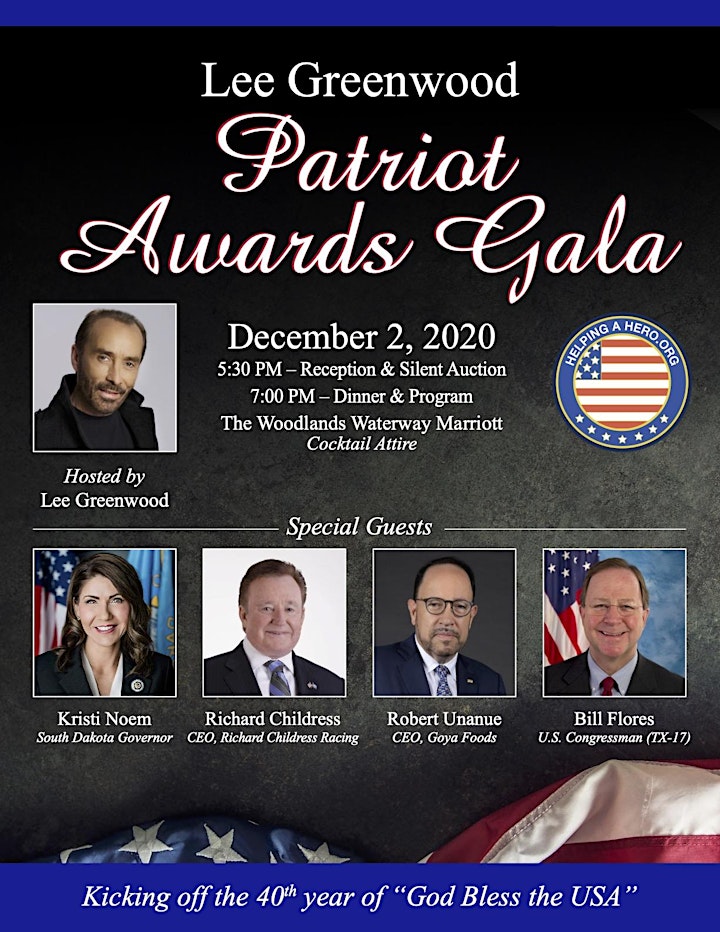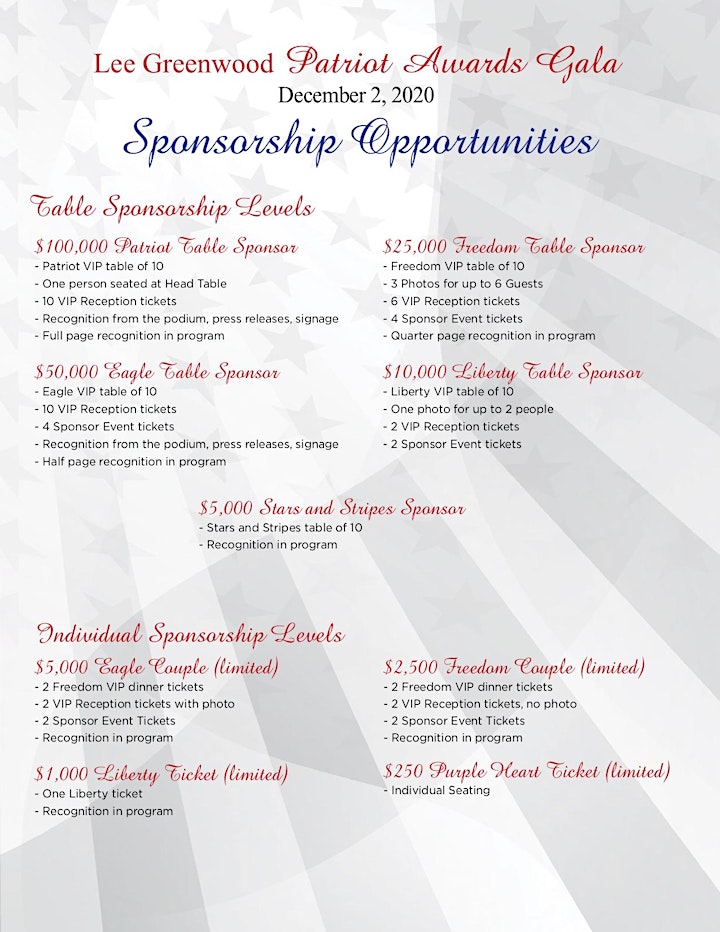 If you are interested in attending, sponsoring, or contributing an auction item, you can complete this form or register via Eventbrite. Contact patriots@helpingahero.org or (828) 246-4013 with any questions.
Background on the Lee Greenwood Patriot Award: For the past decade, Lee Greenwood has partnered with Helping a Hero to empower our wounded warriors by providing specially adapted homes tailored to their injuries. Over the years we have presented the Lee Greenwood Award to legends including Chuck and Gena Norris, Randy Travis, The Oak Ridge Boys, Kathie Lee Gifford, Roger Clemens, and Congressman Dan Crenshaw. We have presented the Patriot Award to many great Americans including former President George W. Bush, Ambassador Nikki Haley, Dr. Robert Gates, General Tommy Franks, the late Herman Cain, and former First Lady Laura Bush. This year we have combined the two awards and we will present the "Lee Greenwood Patriot Award" at our Gala to great Americans who have demonstrated outstanding patriotism and support for our military and veterans.
COVID-19 Safety: Our highest priority is to ensure the health and safety of our attendees, speakers, sponsors, and staff. The Lee Greenwood Patriot Awards Gala will be held in compliance with COVID-19 social distancing restrictions. The Ballroom will have CIMR pathogen scavenging technology installed – the same technology used to protect against airborne threats in the Pentagon and in surgery operating rooms.  Watch this KHOU clip for more information. 
About Helping a Hero: Helping a Hero is a 501(c)(3) organization based in Texas that has awarded over 100 homes in 23 states to our most severely wounded warriors injured in the Global War on Terror. Helping a Hero is certified by the Better Business Bureau as a transparent and accountable charity, and was also one of 12 charities selected by the BBB for the "Award of Distinction" for charities in 2017.