Description
LearnLaunch Across Boundaries is New England's premier education innovation event. Join us to explore the cutting edge of learning and teaching with educators, entrepreneurs, investors, and innovators from across pre-K to gray.
Our carefully curated program of keynotes, panels, and workshops will maximize your exposure to thought leaders and practitioners driving changes in education. More than just an industry conference, Across Boundaries brings together stakeholders from across the education sector - last year, invited speakers ranged from a student representative to the Boston School Committee to the Massachusetts Secretary of Education. You'll hear from early-stage startups, high schools students, top executives, and university leaders all in the same event, and sometimes even on the same panel!
Meet the people you need to know at Across Boundaries.

Explore our history
Across Boundaries features five keynotes, over 150 speakers in 50 breakout sessions, student showcases, startups, and more. Explore last year's agenda here and stay tuned for more information on our speakers and sessions in the fall.
Explore Learning Innovation Showcase projects.
Meet pitch competition finalists.
Advisory board
Our program is carefully curated by the LearnLaunch team with the guidance of experts from academia, K-12, business, research, and policy. The advisory board for the 2020 Across Boundaries Conference is:
Dan Abramson, SVP Instruction, Curriculum Associates
Sarah Bassett, Chief Marketing Officer, Certica
Nathaniel Brown, Associate Professor of Research, Boston College Lynch School of Education
Andrew Calkins, Deputy Director of Next Generation Learning Challenges, Educause
Mary Churchill, Associate Dean, Boston University's Wheelock College of Education and Human Development
Paul Crockett, CEO, Authess
Chris Dede, Professor, Harvard University
Daniel Downs, Director of Digital Learning, North Reading Public Schools
Mary Driscoll, Associate Superintendent, Boston Public Schools
Pam Eddinger, President, Bunker Hill Community College
Brian Fleming, Executive Director, Sandbox ColLABorative, Southern New Hampshire University
Renee Foster, Former President, Curriculum Associates
Elizabeth Freedman, Principal, Greater Lawrence Regional Vocational Technical HS
Chris Gabrieli, Chair, Massachusetts Board of Higher Ed
Sean Gallagher, Executive Director, Center for the Future of Higher Education and Talent Strategy & Executive Professor of Educational Policy, Northeastern University
Kerry Gallagher, Assistant Principal for Teaching and Learning, St. John's Preparatory School
Brent Grinna, CEO, EverTrue
Jean Hammond, Partner, LearnLaunch
Steve Hiersche, Superintendent, Beverly Public Schools
Michael Horn, Head of Strategy, The Entangled Group
Nina Huntemann, Senior Director of Academics & Research, edX
Jeremy Kelley, Director of Data Implementation, Burning Glass Technologies
Don Kilburn, CEO, UMass Online
John J-H Kim, Senior Lecturer of General Management, Harvard Business School
Ann Koufman-Frederick, Chief Academic Officer, LearnLaunch
Amar Kumar, SVP Product Management, Pearson Online & Blended Learning
Grace Magley, Director of Digital Learning, Natick Public Schools
Marta McAllister, Senior Program Manager, Google for Education
David Meyers, CEO, Teachers Connect
Mark Miller, Managing Partner, Good Harbor Partners
Omo Moses, CEO, MathTalk
Furqan Nazeeri, Partner, Extension Engine
Tisha Nguyen, Solutions Professional for Boston and New England on the US Education Management Team, Microsoft
Daquan Oliver, CEO, We Thrive
Beth Rabbitt, CEO, Learning Accelerator
Ramji Raghavan, Founder and CEO, Pragya Systems Corp.
Seth Reynolds, Managing Director, Parthenon-EY
Meredith Rosenberg, Practice Leader, Russell Reynolds
Eileen Rudden, Board Chair, LearnLaunch
Diane Sadowski, Vice President, Program Management Office, McGraw Hill Education
Alexandra Schaffrath, Chief Strategy Officer, Ultimate Medical Academy
Mary Skipper, Superintendent, Somerville
Jane Swift, President & Executive Director, LearnLaunch
Bill Triant, CEO, Stripes Learning
Dara Warn, Chief Operating Officer, Penn Foster
Interested in volunteering?
We love volunteers! Volunteer applications will open in the summer of 2019.
Pitch Competition

Early stage edtech companies are invited to participate in the 2020 LearnLaunch Across Boundaries Pitch Competition.
Applications will open in the summer of 2019.

Learning Innovation Showcase
The Learning Innovation Showcase is an opportunity for a school-based team, including at least one educator and three students, to share their innovative learning experience through a demonstration table and Ignite Session (1 minute student-led presentation).
Apply for the 2020 Learning Innovation Showcase here.
Learn more about last year's Learning Innovation Showcase teams here.
More information
The conference website can be found here.
---
Payment
Payment must be received before the start of the conference on Thursday, January 30, 2020. If payment is not received, your registration will be subject to cancellation. Those requiring a purchase order must complete the Purchase Order Form at the time of registration. For other details please contact LearnLaunch at conference@learnlaunch.org.

How do I use a promo code?
If you have a promo code, you can enter it on the first page of the ticket workflow, before selecting your tickets. See the image below if you have difficulty locating the dialogue to enter your promo code.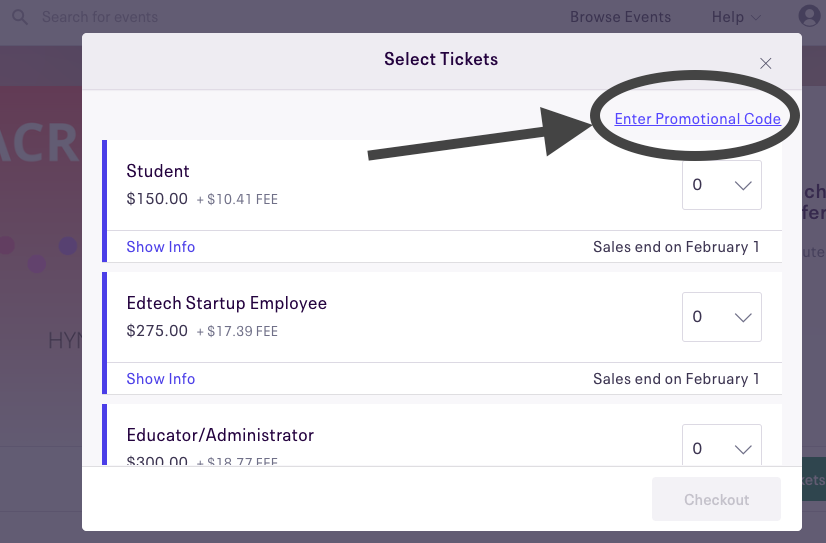 Cancellation Policy
Please note that after December 13, 2019, LearnLaunch will charge a $25 cancellation fee for any canceled registration. After January 1, 202, LearnLaunch will not be able to reimburse you for your registration.

Photo Release
By attending the conference, you agree to release and authorize LearnLaunch to use any photographs or videotapes of yourself in connection with the conference.