2020 Landscaping with Colorado Native Plants Conference
Description
Learn how to create a beautiful native landscape from the ground up with experts from around the state!
Seminar topics include:
Replacing lawns with Colorado native plants
Examples of existing native plant gardens
Seed collection and propagation of natives
Managing native plant garden pests
Rooftop and rain gardens
And more!
---
Doors Open at 8am

Keynote Session (9am):
Insect Apocalypse?
What is really happening, why it matters and how Native plants are a vital part of the solution
Scott Hoffman Black
Xerces Society for Invertebrate Conservation
www.xerces.org
Scott Hoffman Black is an internationally renowned conservationist who has been at the forefront of the conservation movement for three decades. He is executive director of the Xerces Society, which under his leadership has become the premier invertebrate conservation organization in North America. Scott's work has led to protection and restoration of habitat on millions of acres of rangelands, forests, and farmland as well as protection for many endangered species. He is an author of the best-selling Attracting Native Pollinators and Gardening for Butterflies and has written more than two hundred other publications including a recent chapter on climate change and insects. His work has been honored with several awards, including the 2011 Colorado State University College of Agricultural Sciences Honor.
---
Breakout Sessions
There will be concurrent sessions. When purchasing tickets, please indicate your preference for "New to Natives" versus "Knows the Natives." This will help us make appropriate room assignments. You will not be held to these choices.
Session 1 Breakout:
New to Natives: Native Plants for Patios, Pocket-Prairies and Postage-Stamp Yards - Deryn Davidson
Knows the Natives: Seed Collection and Germination Theory- Mike Bone
Session 2 Breakout:
New to Natives: Kill your lawn and save Colorado - Jim Tolstrup
Knows the Natives: Crevice Gardening and Bare root planting - Kenton Seth
Session 3 Breakout:
New to Natives: Your yard can make a difference: habitat gardening fundamentals --Irene Shonle
Knows the Natives: The Good, the Bad and the Ugly: IPPM for Native Gardens - Amy Yarger
Session 4 Breakout:
New to Natives: Right Plant, Right Place - Susan Tweit
Knows the Natives: Rooftop and Rain Gardens - Jen Bousselot


---
Endnote Session:
Before and After: Landscape Makeovers with Native Plants
Native plants can transform even the most degraded landscape into a lively oasis, but it takes planning and a lot of work. Deryn Davidson, Jim Tolstrup and Amy Yarger will walk you through three distinct native plant landscape projects and share how they navigated the opportunities and challenges along the way.
---
Visit our website for complete schedule, session descriptions, speaker bios and volunteer opportunities!!


---
Lunch, drinks and snacks are provided with your registration fee.
We will have vendor booths available during registration, lunch and breaks. Doors open at 8 am.
Please note: This event will be held regardless of winter weather conditions unless Denver County and/or major highways and interstates are closed due to inclement weather.
---
Thank you to our partners:
Butterfly Pavilion
Colorado State University Extension
Colorado Native Plant Master Program
Colorado Native Plant Society
Denver Botanic Garden
High Plains Environmental Center
Wild Ones Front Range
Susan Tweit
---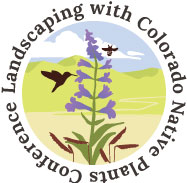 The Landscaping with Colorado Native Plants Conference promotes the inclusion of native plants in our landscaping to benefit pollinators and songbirds, save water, and restore the beauty and health of nature in the places we live, work and play.
While we recommend the use of straight species and local ecotypes wherever possible, we support the use of varieties and cultivars of native species as long as their breeding doesn't interfere with their ability to function in nature and maintain key relationships with pollinators and other lives.
---
FAQs
What are my transportation/parking options for getting to and from the event?
You will receive an email with explicit transportation and parking instructions.
How can I contact the organizer with any questions?
Please email Lisa Rountree with questions or concerns. lisa.rtree@gmail.com
What's the refund policy?
You may receive a full refund before 14 February 2020. See the order page for additional details.
Do I have to bring my printed ticket to the event?
Your name will be listed on a will call sheet at the registration table.
---
***Interested in volunteering for the conference?***
Please contact Ronda Koski -> ronda.koski@colostate.edu.