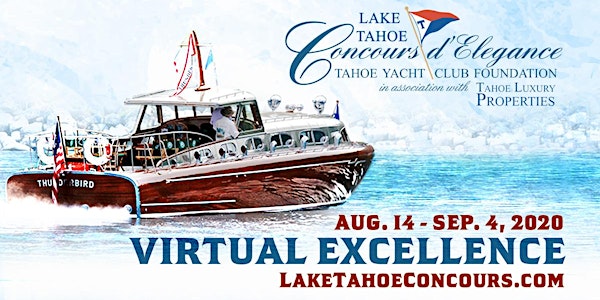 2020 Lake Tahoe Concours d'Elegance Virtual Boat Show
You Are Invited to Enter Your Boat in the 2020 Virtual Lake Tahoe Concours d'Elegance
When and where
Location
Obexer's Boat Co 5300 West Lake Boulevard Homewood, CA 96141
About this event
You Are Invited to Enter Your Boat in the 2020 Virtual Lake Tahoe Concours d'Elegance
Showcase your boat to the world from the comfort of your own home as North America's premier wooden boat show goes virtual! Over the past four and a half decades, the Lake Tahoe Concours d'Elegance has built an unsurpassed reputation as an exhibit of the most well-preserved and restored wooden boats in the world. In 2020, the Tahoe Yacht Club Foundation is taking this display of classic and antique boats from the shores of Lake Tahoe into living rooms around the globe. The exhibition will feature high definition photographs and video, the roar of engines, virtual boat rides, and a detailed history of each wooden boat. All boats will be vying for the highly coveted Concours People's Choice Award as boat lovers from all over vote for their favorite.
In a special celebration, as a part of the all new Virtual Lake Tahoe Concours, the show will highlight the legendary Thunderbird. A symbol of unadorned luxury, elegance, and indulgence, the mahogany yacht is possibly America's most recognizable and valuable wooden speedboat. The Concours is honored to commemorate the Thunderbird's 80th year with a showcase featuring never-before-seen footage from the boat's past and present.
To become part of this historic show and display your boat next to an icon, there is no need for you to travel or worry about that missed smudge on the stern - simply send in your tax-deductible entry fee along with photographs or video of your boat, the story of its history, and, if possible, an audio recording of you revving the engine. Your boat will get a featured page on the Concours website where it will contend for People's Choice.
Your registration will directly benefit the Tahoe Yacht Club Foundation with all proceeds going back into the Lake Tahoe Community. The Foundation's mission is to share its passion for wooden boats by aiding non-profit organizations within the Lake Tahoe community, such as the Tahoe Community Sailing Foundation, that help foster maritime skills and interests.
The deadline to register is Tuesday, August 11th. The Virtual Lake Tahoe Concours d'Elegance launches Friday, August 14th and will unveil the newly revamped Concours website. Voting for People's Choice will be open until Friday, September 4th with the winner announced Monday, September 7th.
The Lake Tahoe Concours d'Elegance will return to Lake Tahoe's west shore August 6th and 7th, 2021. Tickets for the show are on sale now.
This is your chance to be in the Concours!
By registering your boat in the 2020 Virtual Lake Tahoe Concours d'Elegance, you are able to showcase your boat to the world with the most acclaimed and prestigious wooden boat show in North America. Your boat will be featured on the Concours website alongside the iconic Thunderbird where it can be seen and appreciated by boat lovers from around the globe. After the 2020 showcase, the Tahoe Yacht Club Foundation will be personally inviting a select number of boats to be permanently archived as a feature on the website to be enjoyed for generations.
Registration: $50
Deadline to Register Tuesday, August 11th
Each boat entry into the 2020 Virtual Lake Tahoe Concours d'Elegance will have its own feature page on the Concours website
Submit up to 3 photos of your boat
Photos should be 1080x1920
Photos on water preferred
If you have video of your boat in action, we ask that you include that as well
Fire up your engines!
Submit an audio clip and give boat lovers a thrill by letting them hear that engine
History of your boat
Submit a written history of your wooden boat to be included on your feature page. The more details the better! What makes it unique? Was it a difficult restoration and if so, why? Is the boat rare? How many others like yours were built and how many remain today? How did you come by it? Does it have deep family ties? What lake does your vessel call home?
Once your boat is submitted, we will reach out to you with instructions on where to send video, audio and additional photo files.
We look forward to virtually floating alongside you and boats from around the globe this coming August!