Location
The Tap Room at Dubsdread
549 West Par Street
Orlando, FL 32804
The Kickoff to Cure is a charity luncheon celebrating the start of college football, featuring local sports radio personality Marc Daniels.
About this event
The Orlando Sports Foundation is excited to announce the second annual Kickoff to Cure: President's Luncheon! The Kickoff to Cure luncheon will take place on Friday, August 28th, 12:00 pm at the Historic Taproom at Dubsdread, and will include a catered lunch, and fantastic guest speakers to celebrate the start of the college football season.
This year's guest speaker is local sports radio personality and play-by-play voice of the UCF Knights, Marc Daniels.
Tables are available today – don't wait to purchase as this event will sell out! Table Sponsorship is $500, and includes the following:
A private table with 10 seats
Catered lunch provided by the Taproom at Dubsdread
Recognition as a sponsor of the event
To purchase your table please contact Matt Stover (mstover@theosf.com or 407-235-3925) or purchase online here.
--------------------------------------
DISCLAIMER: Registration for this event is a revocable license to attend the event listed on the registration. Such license may be revoked to the Holder without refund for noncompliance with terms. The purchaser consents to their belongings being searched upon entry into the Event. Purchaser expressly grants permission to use Holder's image, voice or likeness in connection with any live or recorded transmission or reproduction of the event in any media including the commercial purposes of the Orlando Sports Foundation, its sponsors, licensees, advertisers and broadcasters. The purchaser voluntarily assumes all risk and danger of personal injury, including death, and all hazards arising from, or related in any way to, the Event, whether occurring prior to, during, or after the Event. Unless specifically authorized in writing by the Orlando Sports Foundation, this registration may not be offered in a commercial promotion or as a prize in a sweepstakes or contest. Large bags and backpacks will not be permitted into the Stadium. Holder may not bring beverages, controlled substances or artificial noisemakers of any kind inside stadium. A full list of prohibited items can be found at www.theosf.com. Purchaser consents to receive e-mail communication from the Orlando Sports Foundation including optional surveys and sales messages. All children who have reached their second birthday by the date of the Event are required to have a ticket. Time, date and location of Event are subject to change. All registrations are purchased at risk of inclement weather. No re-admittance will be allowed. All sales are final. NO REFUNDS and NO EXCHANGES.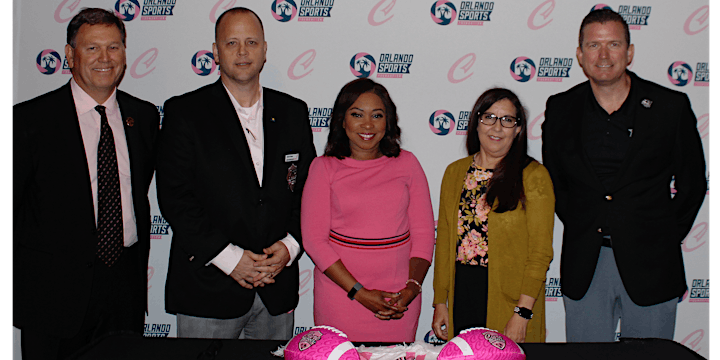 2019 Kickoff to Cure: President's Luncheon Speakers. From left to right: OSF Executive Director Alan Gooch, OSF Board President Scott Rose, WFTV Anchor Vanessa Echols, UCF College of Medicine Cancer Researcher Dr. Annette Khaled, and UCF Director of Athletics Danny White.