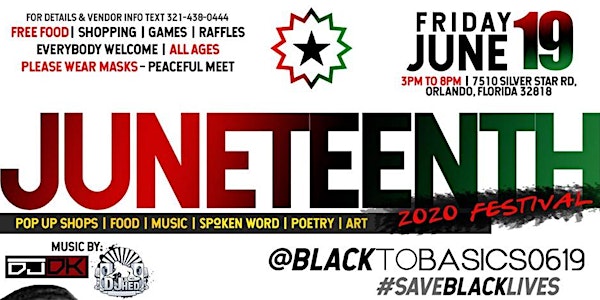 2020 Juneteenth Community Celebration
Juneteenth is the oldest known celebration honoring the end of slavery in the United States.
When and where
Location
Silver Star Christian Church 7510 Silver Star Road Orlando, FL 32818
Refund Policy
Contact the organizer to request a refund.
Eventbrite's fee is nonrefundable.
About this event
Juneteenth is the oldest known celebration honoring the end of slavery in the United States. Although the Civil war ended in March of 1865, during this time most slaves lived in isolation from each other and neighboring plantations. Many of the enslaved did not find out until much later that Slavery had been outlawed and that they had been freed. On June 19, 1865, Union General Gordon Granger led thousands of federal troops to Galveston, Texas to announce that the Civil War had ended, and slaves had been freed. In all, it took the United States of America 7 months, to put the 13th Amendment into effect in December of 1865; marking the legal abolishment of slavery in the United States.
Juneteenth is the time to celebrate the good news, fellowship, and love on our brothers and sisters; however, this year's primary objective is to be a tool for mobilization. As a community we have caused enough civil UNREST that we now have the attention of the entire world on every imaginable platform. WE MUST ACT NOW. Major corporations must take heed and hear our collective voice. Now is the time for Black owned businesses to thrive and for our community to stand behind them and not ask, but TAKE, the equality that we have been fighting for since we were stolen from our home land over 400 years ago. My hope is for this event to be a vehicle for civil discourse and education. I am looking to provide our community with a good time, as well as a starting place for Black Americans to band together and put ideas towards substantive judicial, legal, social, and economic changes. Changes I believe we can make happen both locally and nationally, with the proper strategy, education, and demands in place.